Our verdict: Not Recommended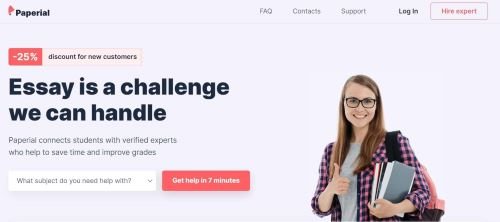 Top 3 services
VIP Support
From $14.99 per page
PhD Writers on staff: 80%
From $12.99 per page
Paperial Review Overview of Services
Like other best academic help reviews, this article breaks down each aspect of Paperial. Having been in existence for 11 years, this service remains functional. It has periodically rebranded the website and the business model to stay relevant. Despite this change, there is not particularly unique about the website.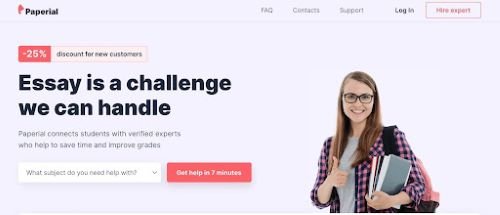 The price calculator on this platform is not the conventional type. The tool is not readily available on the homepage like most writing services. Therefore, we had to follow some steps to access information about each service.
The website is not very responsive. In particular, the chatbot that acts as the price calculator is very slow. The website's response time is relatively slower than what I experienced when reviewing other platforms.
Paperial Reviews of Services
Paperial has a limited list of services it offers clients. Therefore, many students and professionals choose to purchase essays and articles from sites that provide more. Plus, there is no clear list that highlights available types of papers and academic levels.
The lack of this information makes placing an order challenging. Nonetheless, you can order new articles, reports, and other paraphrased content. You may also use the best paraphrasing tools to improve the quality of rewrites if you choose to do it yourself. Although Paperial claims to have free samples, we could not find a way to analyze them, which is a shame because students will be unable to check the quality of writing before they order.
Guarantees
While conducting this Paperial.com review, we discovered they offer several guarantees. There is a refund guarantee that every client is entitled to. After ordering, you are sure of getting a refund of your money when a writer cannot complete the task. This option gives customers the confidence to spend money while expecting a positive outcome or their money back. However, refunds are only given when an expert is unable to deliver an order.
Another guarantee offered by this platform is a privacy guarantee. The information a client provides is received via encryption technology. During the review of Paperial, we read that no personal data is ever shared with third parties.
Customer Support
You can access the customer service of Paperial via three options. The first option involves sending an email to them. When we emailed them, we did not receive a response until after 4 hours. The second option is to call support, which connects to an automated system. We spent some time waiting when we called to speak with a representative. However, the rep we spoke with was not able to give us any tentative answer.
The third and final option is the AI assistant. This chatbot is not as supportive as communicating with a human.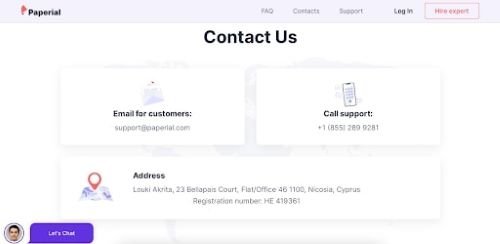 Our Order
I ordered a research paper. In general, the articles for this detailed Paperial review were well written. It is similar in quality to most of the best research paper editing services. One thing that must be mentioned is that although it is stated on the website that the minimum deadline is 3 hours, our 20-page paper could only be delivered in a minimum of 12 hours. This is inconvenient and can confuse students who expected a shorter deadline.
Furthermore, the 12-hour deadline I set was violated. I got my paper after 14 hours, which could be a problem if I was in a rush. After going through the order, I identified a few minor mistakes. I contacted support to have the mistakes sorted. It took them many hours to respond to my request. Ultimately, I received the correct paper the following day. As a result, I was not satisfied with the delivery rate for the order.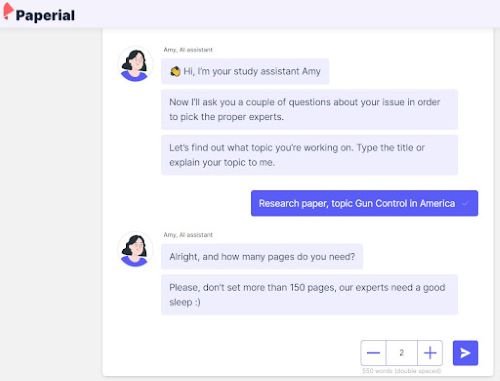 Paperial Reviews of Order Processing
Ordering from this website is not intuitive. It does not have a conventional price calculator. Instead, they have an AI assistant named Amy. Therefore, you will have to keep conversing with the chatbot to get what you need. The same chatbot used for making an order is also used for customer support. In any case, using this chatbot is not very convenient and doesn't offer a personalized user experience.
After stating the type of writing you want, the chatbot will ask you for the number of pages or words. Next, the Paperial.com chatbot will tell you the minimum price ($9.99) per page. You will then select a deadline, with 3 hours and 2 months being the minimum and maximum wait times. In addition, you can include additional instructions as an attachment. From that point, you will need to sign up or log in to make a payment.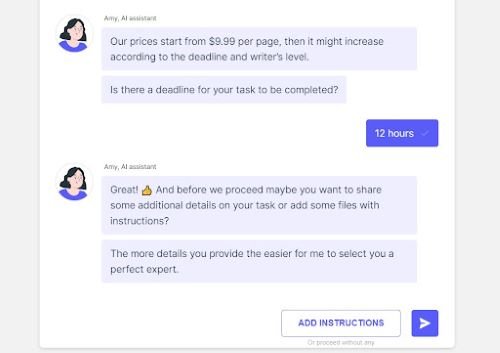 Pricing and Discount
Paperial offers discounts to new clients. The offer is quite substantial, as it begins at 25%. On the other hand, pricing begins at $9.99. However, the exact amount you pay depends on several factors, such as: paper length, academic level, deadline, subject.
In general, the more you demand, the more you are going to pay. If you are working on a budget and do not mind having some delay, you may want to order from this service. Due to the lack of a proper price calculator, we cannot give you a range per page for each type of service.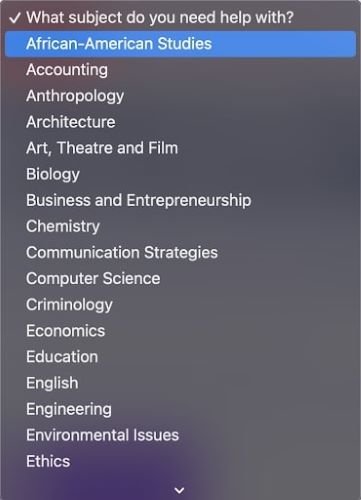 Writing Proficiency
This article is one of the few Paperial reviews that give an in-depth analysis of the proficiency of their writers. In general, writers provide good work that is free of plagiarism. They are also good in several fields, including CV editing services. However, there is some anonymity regarding the writers' identities. Also, writers can create unique content without relying on quotes.
Revisions
When we ordered or research paper on the topic "Gun Control in America", it required some revision. Although the paper was not bad, we detected a few errors, which required some adjustments. Asking for a revision worked without any issues, as many other paperial.com reviews confirm. Therefore, we went ahead to request a revision of an entire write-up. We contacted customer care via email. After about 6 hours, we received a response from support acknowledging our request. However, we did not receive the corrected article immediately. It took several more hours to get a revised order.
We had to wait for about 30 hours from ordering, receiving our first write-up, requesting a revision, and receiving a final paper. Judging by how long it took, we could easily have missed our deadline if our article needed to be turned in to a professor. Considering reviews of Paperial, after the review of our paper, research quality did not significantly improve.
Loyalty Plans, Extra Services, and Offers
In general, this service offers a very low rate. Beyond payment rates, this agency provides a substantial discount of 25%. Such a hefty discount encourages new students to give this platform a try.
Apart from this first-time discount, this business does not offer any other offers to clients. This claim contrasts with other reviews written in various online articles. For this reason, we are inclined to believe several of these Paperial reviews contain some inaccuracies to lure customers. In addition, there are no valid promo codes or coupons compatible with Paperial. As such, making bulk orders on this platform is inconvenient because these promotions were missing. We were also unable to get further information about it from customer care.
This platform takes plagiarism seriously. Therefore, an order we received was free of any significant plagiarism issues that can cause a student to fail. After these extras, you do not get any other services.
Online Reputation
The online reputation of writing service is an essential feature to check. So, you will find all Paperial reviews dedicate a section talking about it. A writing business with an excellent online reputation helps customers make good decisions. Therefore, this section highlights what previous clients have to say about this site.
Review Services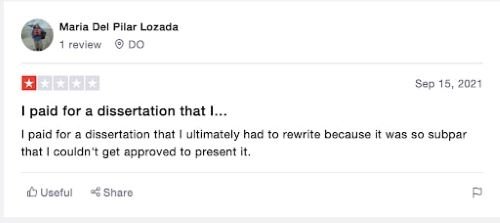 When gauging an online reputation of a writing service, we usually do a deep dive. In particular, we trust reviews on Trustpilot and Sitejabber because these sites offer honest information about different businesses. Likewise, we rely on Reddit to read through user conversations. Judging by different Paperial reviews, most customers consider their writing either as average or below average.
Social Media
Like many writing agencies, this platform has a social media presence. Yet, they only have accounts on Facebook and Twitter. In addition, these accounts were last updated in 2018. It appears that this site no longer values getting clients from these channels. Unfortunately, we believe there are missing good opportunities of getting newer customers worldwide.
Show Me Your Top Services
Faq
Is Paperial Legit?
Yes. This platform operates as a real business. It has been providing academic aid to clients for several years.
Is Paperial Good?
Although this site is a legit business entity, quality of its end product is barely average. You will have to go elsewhere if you want a high-quality writing outcome.
Is Paperial Reliable?
The reliability of this agency is not too good. You may end up missing a deadline if you order a 3-hour paper from them.
Is Paperial a Scam?
No. Although you may not get top-quality help from this platform, you will not be falling for a scam by ordering writing from this website. All online reviews we have read show that Paperial is a business that delivers different types of articles to students.