Our verdict: Not Recommended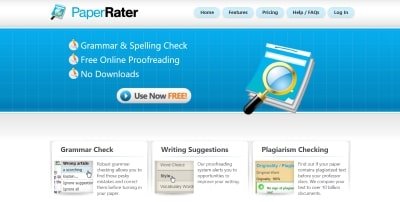 Short overview
Minimal deadline:
24 hours
Guarantees:
Privacy Policy
Payment Methods:
Available Services:
Proofreading Services, Grammar Checking, Plagiarism Detection, Automated Essay Scoring, Formats: DOC, ODT, TXT, RTF, and DOCX
Extra perks and features:
Vocabulary Builder, Additional Services Under Premium Plans, 'How-To' Notes on Writing, Editing, and Proofreading
Summary
My PaperRater review shows that PaperRater is not a typical online writing company. It is owned by BNED and some other third parties, and it is protected by the U.S. and international copyright laws. PaperRater used artificial intelligence technology to spot grammatical errors, detect plagiarism, and score uploaded essays. Free services on the website are good resources to identify and eliminate basic and obvious mistakes and typos. I recommend subscribing to the premium plan or using more sophisticated websites if your paper needs to be completed at higher academic levels. The website content needs to be reorganized to minimize the time it takes a customer to understand how it works.
Pros
Free service
Good for basic proofreading
Good alternative to Grammarly
Cons
No revision or refund policies
No customer support
Top 3 services
VIP Support
From $14.99 per page
PhD Writers on staff: 80%
From $12.99 per page
Service Overview
PaperRater should not be confused with a typical online writing service. I say this because it is not readily obvious when you visit the website. I feel they need to put up a clear explanation on top of the homepage. Otherwise, it will take you a while before you get a good sense of the services and differences between free and paid features. Still, the website design does not look bad. It is not overloaded with too much text or graphics.
Is PaperRater reliable? PaperRater was established in 2009. Barnes and Noble Education took it over in 2018. Essentially, it uses AI and Data Technology to check uploaded texts for plagiarism and detect any major errors and inconsistencies.
The best thing about PaperRater services is that it offers free service of checking a 3,000-word text at a time. This is particularly important for students who can't afford paid online writing services.
The 'feedback' image looks simplistic, and it does not add much value to what PaperRater wants to tell customers about its services.

So, where does it stack up in the list of the best proofreading services? I would rank it somewhere in the middle. It has some good and, importantly, free services. It is perfectly good for short texts that won't be subjected to serious academic scrutiny. For those that will, I recommend looking someplace else.
Types of Services Offered
According to my PaperRater.com review, PaperRater offers three main types of services.
Grammar check. You can upload a text of up to 3,000 words, and the website's AI bot will check it for any obvious errors and return it with corrections.
Proofreading. The system will check the text for word choice and style. It will suggest alternatives drawing on its vocabulary.
Plagiarism detection. The website compares your text with over 10 billion texts floating in the virtual space while checking your paper for originality. This is a particularly useful feature because it saves you the embarrassment of having your submission turned down by your tutor.
They are all great features, and they would work fine for high-school or college students, as well as technical writers dealing with relatively simple texts. PaperRater reviews show that you should not rely on these services only if you are working on a lengthy term paper or a dissertation paper. I recommend going through the Top Writers Review evaluations for identifying a writing service that meets your needs best. You will be able to identify professional writers with higher-level expertise and sophistication.
Guarantees
PaperRater legit? It is a legit entity, but I could not find the kinds of guarantees you get from online writing services (e.g., revision policy or money-back guarantee). In part, this must be due to the fact that some of its services are free. PaperRater has a privacy policy, which protects personally identifiable information. I reviewed the Terms and Conditions, but they are difficult to follow. Other PaperRater reviews also tell about challenges in understanding them. Most likely, they include standard legal provisions. PaperRater should do a better job of posting a summary of key, easy-to-understand guarantees.
Customer Support as per PaperRater Reviews
Simply speaking, PaperRater does not offer any effective customer support services. There is no live chat option. I could not find telephone number either. All you get is an email address for general inquiries. This is not terribly progressive in today's technology-driven world, where customer outreach is a priority. Since PaperRater is using AI tools, it could at least use an AI bot for responding to some of basic and common customer queries.
To back up my detailed PaperRater review, I sent an email to the indicated address and had to wait 2 days before I received a response. This is too long. It appears company does a good job of sticking to support hours of 9 am to 5:30 pm from Monday through Friday.


Experience and Paper Quality
I tested PaperRater for the degree to which it meets the stated promises. I pasted a short blog into the box, choosing an undergraduate level and plagiarism report for free. Website was getting back to me quickly enough. It took roughly about 2-3 minutes to do so. I was happy to see that PaperRater picked up on plagiarized content. I deliberately chose to post a text that had already been posted online. Website clearly spotted issue, and the report alerted me to the lack of original content. Many paperrater.com reviews also note that PaperRater does a good job of identifying plagiarized content.
The report did a less impressive job in terms of identifying grammar and spelling errors. Some types were easily noted, but system does not detect issues of a more complex nature. The system checked the paper for passive voice. This is extremely important because all leading writing manuals recommend maximizing the use of active voice. I did not get any additional advice on the choice of better styles. Overall, I felt like paperrater.com does a good job of assessing short pieces to detect conspicuous mistakes and typos. I would recommend using its free features for safeguarding against the most obvious and embarrassing setbacks. A great alternative to paid services if you do things on a shoestring.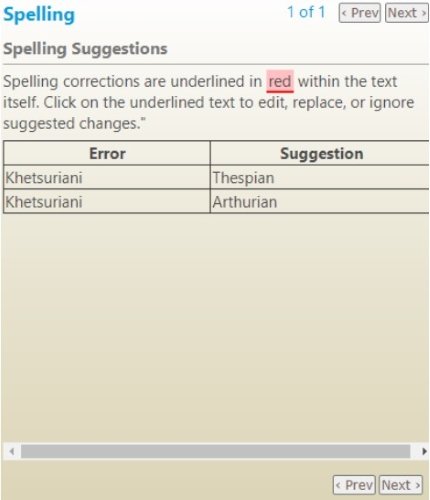 Ordering Process
This is a free service, so there is no 'place an order' button. All you need to do is paste or upload your text to website. Specify type of paper, inculcate an academic level, request a plagiarism checker, and wait for a few minutes letting website's AI-powered system generate a report. Reviews of PaperRater note that if you need additional services or if your paper requires a more detailed and in-depth check-up, you should subscribe for a paid subscription plan. They provide extra features, quicker processing, and more integrated tools.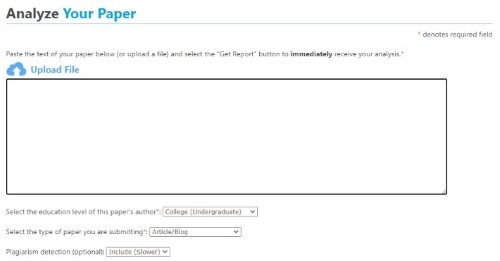 Pricing and Discounts
PaperRater offers basic proofreading, grammar checking, and editing services for free. For extra features, customers must choose a subscription plan and subscribe to a monthly or annual payment scheme. They need to sign up first to be able to choose a plan and make a payment.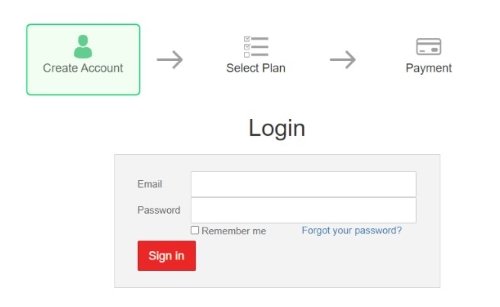 | Services | Prices per page |
| --- | --- |
| Monthly subscription | $14.95 |
| Annual subscription | $95.40 |
| 20-page submission, 200 submissions a month, 25 plagiarism checks, Writing suggestions, Grammar and spelling check, Automatic text scoring, No ads, Integrated plagiarism checker, Enhanced plagiarism checker, Document upload, Premium modules, Faster processing | Included in monthly or annual subscription fees |
I could not find any discounts or promotions for PaperRater's paid services. Nor could I find them in other Paper Rater reviews.
Writer`s Proficiency Based on My Paper Rater Review
Paper Rater does not use writers for checking your papers. Instead, it draws on an AI-based system for checking submissions for grammatical and proofreading errors and gauging the degree of originality. Consequently, you don't get to choose anyone. An AI bot does the job for you. All you can do is expand the range of services by opting for a paid plan. If you are looking for the best college admission essay writers, this service is not really for you.
Revisions at PaperRater
PaperRater is not an online essay writing service, so it does not offer revision services simply because there is nothing to revise. Customers simply paste their text into a box and wait till website provides a report with identified issues and recommended solutions. It is a simple and easy process to follow. Reviews of PaperRater suggest subscribing to the paid plan for gaining access to PaperRater's additional features for a more nuanced examination. This is important if you are working on dissertation papers, theses, or term papers.
Loyalty Program, Offers, and Extra Services
PaperRater does not offer a loyalty program. Customers can choose between free and paid services. Premium plans will set you back $14.95 or $.95.40 for monthly or annual subscriptions, respectively. They include extra services, such as premium-only modules along with faster processing. Plagiarism report is free. I have not found any discounts either. If you need professional writing services, do your research and identify the best coursework writing service that can meet your requirements best.
Online Reputation
Review Services
Is PaperRater good when it comes to online reputation? Let's check it out. Sitejabber includes only 4 reviews of PaperRater services. It ranks 102nd on the list of online writing companies. One customer appreciates the great feedback and proofreading services. There is also a negative review, but the content has nothing to do with PaperRater.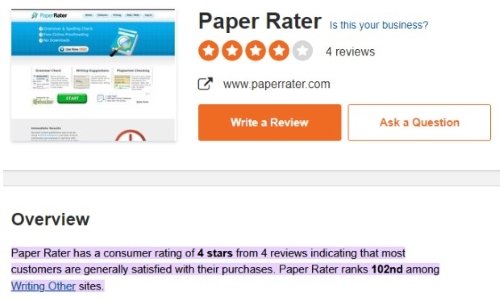 Reviews on Reddit are also scarce and mixed. One customer complains that a premium account is required to have access to the most critical and useful services of the website.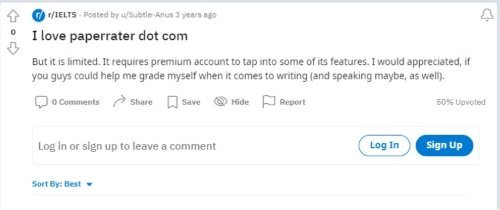 RatedByStudents gives low rankings to PaperRater. It gets only 1.4 points out of 5. This is relatively low compared to the rankings of the rival websites.
Social Media
Review of PaperRater shows that PaperRater is not active on social media platforms. On Facebook, PaperRater has more than 16,000 followers. However, it is not very active on this platform. The most recent post is dated September 2017.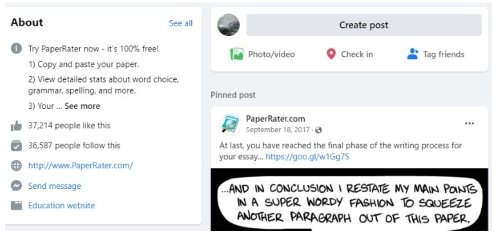 PaperRater is not very active on YouTube either. I found a 2015 video with a tutorial on how to use its services. But it is posted by one of the customers rather than the company itself.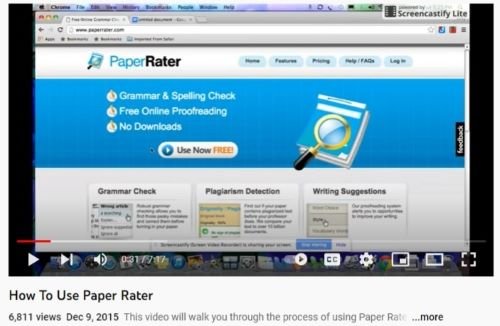 PaperRater also has a Twitter account with nearly 1,700 followers.
Show Me Your Top Services
Faq
Is PaperRater legit?
Yes, PaperRater is legit. It is owned by BNED, and it is protected by the U.S. and international copyright laws.
Is PaperRater safe?
PaperRater is safe to use. Basic services are free. Neither my nor other PaperRater reviews identify any major issues.
Is PaperRater reliable?
It is a reliable service for basic proofreading and plagiarism detection services. For high-level academic papers, you should subscribe to premium services.
Is PaperRater a scam?
I have no evidence to support a claim that PaperRater is a scam. It provides the services as advertised.