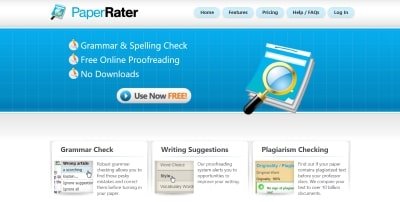 PaperRater.com Review
Paperrater.com is the subject of our latest review. In order to learn as much as we could about Paper Rater, and determine that PaperRater is not a fraud or scam, we did the following:
We placed an order for services.
We evaluated those services for timeliness and accuracy.
We explored the PaperRater.com website.
We compared prices and looked for savings and special offers including coupon codes.
We read customer reviews and testimonials
We searched the company on the BBB and found no complaints. We also found no company membership or registration.
Review Criteria​
We submitted a relatively lengthy paper so that we could test both the quality of services as well as evaluate this service's payment processing procedures. While this is not a traditional writing service, the majority of our criteria remained consistent with other writing services. These standards include:
Offering quality services.
Delivering services in a timely manner.
Having a well-designed and easy to navigate website.
Charging fair prices.
Please continue reading to see if our criteria has been met.
Factor 1: Types of Writing Services Offered​
This is not a writing service. Instead, it offers AI driven proofreading and editing services. Basically, customers upload documents to be analyzed for spelling and grammatical errors. Then, it is proofread by an AI bot.
Factor 2: Trust and Reliability​
Trust and reliability is not an issue here. We made a payment easily and received the services that we ordered. Going by our observation when making payment, the company uses a secure system to process payment. Everything appears to be on the up and up.
Factor 3: Level of Quality​
AI works by learning. It is clear that 'Grendel', the nickname of the system being used, is still learning. Because of this, there are some issues. The tool is still frequently missing pretty obvious mistakes. It's also marked some passages in our submission as being in error when they were not. One thing we noticed is that it struggles with exceptions to rules.
Factor 4: Pricing and Payment​
Students using the free version of this plan can submit up to seven pages of paper to have it evaluated by 'Grendel'. They can also submit up to 15 pages if they pay a one time cost of 7.95. Finally, a subscription of around 15 dollars per month gets unlimited submissions of material.
Obviously, there is no way to compare these prices as this is a unique service. However, Top Writers Review experts can say that discounts are not available. Students should expect that prices here will be 'as-is' with no opportunity to use a promo code or apply any other special offers.
Factor 5: Additional Important Considerations​
We did not find much in terms of extra content or bonus services. However, there is a comparison of features that allows users to see what they get by using the premium version of this tool instead of the free one offered by PaperRater.
Concluding Comments​
Unfortunately, we have to give Paper Rater a rating of below average. Students who need assistance from "the best site to write my paper" should take a pass on this one. We really love new technology, and we think that AI does have a role to play in the future of this industry. Still, after weighing the pros & cons, we have to say that this service is just not ready for prime time.
The bottom line is this. There are simply other tools and services that do a significantly better job of editing and proofreading papers. Because of this, we recommend that students and others seeking proofreading services look elsewhere. One place to start is by reading our other reviews.