Our verdict: Not Recommended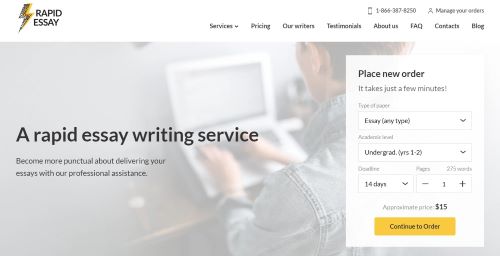 Short overview
Minimal deadline:
4 hours
Guarantees:
100% Original Content, Free Revisions, Loyal Support, Refunds, Custom Formatting
Payment Methods:
Available Services:
Essay writing, Coursework, Reports, Articles, Q&A
Extra perks and features:
Blog
Summary
I wanted to deliver this RapidEssay review as soon as possible because the number of your requests about it has been increasing lately. I covered the entire journey like a client, reading policies, speaking with customer support, placing my order and then assessing it. I also looked into this company's background. It appeared in 2008, which means that it has 15 years of academic experience. At the same time, it has a small number of online reviews. I'm not sure what caused this, but it doesn't look like the firm is all that popular. That's one of the reasons why I felt surprised at your interest toward it. Its name speaks for itself: the word "rapid" in it implies that clients could expect urgent assistance, but the shortest deadline you could order is 4 hours. This is misleading. RapidEssay.com provides writing help to its customers. Its services are limited otherwise, and it has no tools or other valuable features. You could talk to its operators and managers whenever you need via chat; you might also call them or use email. I was mostly satisfied with this company's support system and had mixed feelings about its writers, but its privacy policy is appalling and the order placement process is overly complicated. If you're curious about details, you can find all answers in this review!
Pros
Affordable essay prices
Transparent policies and interface
Friendly support team
Cons
No tools or dubious samples
Suspicious RapidEssay reviews
Bad revisions
Very flawed privacy policy
Top 3 services
VIP Support
From $14.99 per page
PhD Writers on staff: 80%
From $12.99 per page
Observing Interface and Evaluating Website
My review started with an overall evaluation of RapidEssay's website. I wasn't thrilled with its design. Yes, it has a modern layout where for accessing crucial info, all you have to do is scroll down the page, but there is no unique logo that would make this page memorable. The content has some language issues. They aren't severe, and it's clear that managers tried to edit everything, but the overall style gave me pause. It sounded like whoever wrote the content for the website wasn't a native English speaker. Some RapidEssay reviews complained about a similar problem, so this made me wary. Look at this example: "We can handle both small papers, a few pages long, as well as full-scale dissertations and coursework." It's easy to understand the meaning of this sentence, but it doesn't sound natural.
One of the biggest advantages of RapidEssay's site is its transparency. I was amazed at how detailed and thorough everything was. Clients could easily find information about how much they'll have to pay under which conditions, see what services are available, read some Rapid Essay reviews, and study policies. I wasn't happy with some of them: I'll tell you more about them later, but the fact is, if you'd like to know how the agency will treat your privacy and what it'll do in case you hate your paper, you'll be able to find every little detail. This is admirable.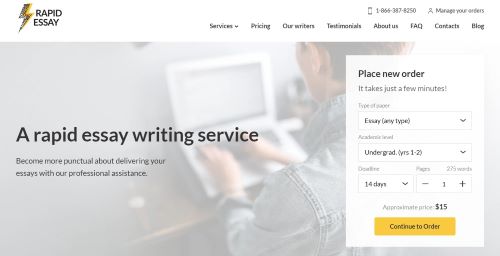 Array of Services and Choice of Samples
The more services a company provides, the better. More students will be able to acquire the help they need, which is why I tend to rate diverse providers highly. Unfortunately, RapidEssay doesn't fall into this category, at least not entirely. It focuses on writing, and that's it. If you need proofreading, editing, or re-writing, you'll have to discuss this with operators in advance. From better news, there are over 60 subjects available. Writers support different levels, including Doctoral, and types of essays differ to a great extent. Reflections, applications, reports, dissertations, question & answer tasks, journal articles — take your pick.
Another aspect I wanted to cover in my RapidEssay.com review is samples. Any& best college admission essay writing service must offer examples of work from its writers for free: this helps students see what level of quality they might buy. Many also gain great ideas from such papers. In 15 years, RapidEssay had multiple opportunities to create a large and impressive database, but it chose differently. I am not sure its samples can be called as such: they are located in a blog of all things, have no lists with references, and many of them don't look academic at all. Still, I examined one closely.
Title: The Roaring Twenties
Size: 593 words
Type: Essay
Topic: Sociology
Assessment: This is not really a sample, like I said. It's not academic: it has no thesis, no references to sources, and it doesn't follow appropriate structure. While some ideas have merit, the title is not explored sufficiently.
Quality: Low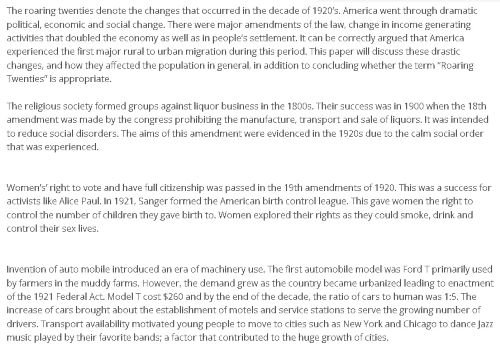 Policies Regulating Client Experience
Is RapidEssay good at securing happiness of its clients? Partly. Whenever working on the best essay writing services review for my readers, I make sure to read every line of each policy. I did the same thing here and had no complaints about revisions and refunds. You have up to 7 and 14 days, respectively, to request them. Mention the reasons for your complaint, and support will try to respond ASAP. Privacy policy, on the other hand, is shockingly bad. The company openly claims that it might send info about you to an endless list of third parties. These could be marketing teams, tech firms, researchers, and other entities that cooperate with RapidEssay for whatever reason. You'll never feel safe here.
My Experience with Operators
As I saw during my review of RapidEssay, it's easy to speak with operators at this company. You need to click on the blue circle on your right and choose whether you'd like to call or chat with support. You'll get an automated answer in case you choose the latter. It sounds confusing, implying that only clients who have already paid for an order can contact operators — I didn't appreciate it. But don't worry, these people are happy to speak with anyone. They helped me with every question and always replied quickly.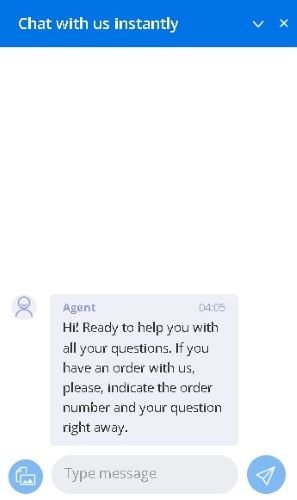 Learn About Writing Quality in This Part of RapidEssay Review
To make my essay or dissertation writing services reviews objective, I place orders with various providers. RapidEssay accepted my request: I wanted a paper of 4 pages on History, with a 2-week-long deadline, and they promised to deliver it timely. I paid $40 for it. They fulfilled this promise since my essay was in my inbox strictly by my deadline. I eagerly started reading it, and by the end, my impressions were mixed. The writer used good ideas and addressed all questions without fail. But academic structure was flawed — some ideas got just two lines while others got huge paragraphs. Sources weren't valid, and there were 72 language issues. They were not overly serious, but I had to ask for revision. Regretfully, it wasn't effective.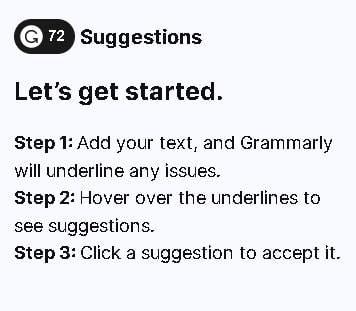 Placing Your Order in This Agency
RapidEssay.com reviews never mentioned issues with order placement, and this surprised me. I think this process is needlessly complex. Here's what clients should do:
Use order form. It's on your right. Choose type of paper, academic level, deadline and size.
Pick preferred deadline. Yes, this is yet another question about deadline. The company suggests delivering your essay some days earlier for extra price.
Add details. Choose subject and spacing. Confirm paper length again.
More details. Type instructions, select academic format and number of references you want to see.
Decide on paper level. RapidEssay offers to choose between essay in simple English, standard paper, and advanced work.
Pick add-ons. Decide if you'd like to have an advanced writer, see their samples, etc.
Create an account. Share personal data and contact info.
Pay for your essay. Select a preferred payment method.
So many steps and questions are frustrating.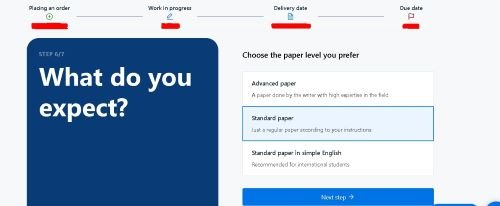 How Much Do These Writers Charge?
Rapid Essay reviews both praised and complained about prices. I join the former group. This company doesn't charge too much: most of its prices start at just $10. It promises discounts, but I found no tips about them anywhere.
| | |
| --- | --- |
| Services | Rate per 1 page |
| Essay writing | $10 |
| Dissertation | $20 |
| Presentation | $10 |
| Q&A | $10 |
You could also order samples from your writer for $5. Want to study explanations behind the writer's choices in your paper? Pay 20% of your order amount. Earlier delivery also costs extra.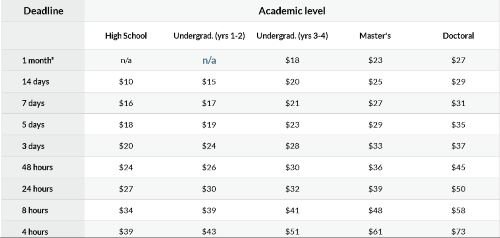 Writers' Levels and Their Performance
Another nuance reviews of RapidEssay don't mention groups of writers. For a standard price, you get a standard expert; an advanced writer goes for an extra 25%. Top 10 writers require you to pay 40% more, and native speakers need 30%. I dislike this division: it harms quality and expectations. I didn't pay more, and my writer wasn't perfect. They made frustrating mistakes and didn't revise my essay properly.
Magic of Revision — Or Its Absence
Ordering revision became another step in my detailed RapidEssay review. As I mentioned, my paper wasn't ideal, and revision didn't help matters. The allegedly improved version arrived two days later, and the only thing that changed was a couple of added sentences to some paragraphs. That was it. Other mistakes stayed, including non-academic sources. I considered such an attitude disrespectful.
Extra Tools to Make Students' Life Better
Academic tools are a nice addition to every platform. Firms that provide the best coursework writing services want to benefit students even if they aren't ready to pay. That's why they introduce plagiarism checkers, essay makers, conclusion generator, and other useful features. Alas, RapidEssay was too lazy to bother. There are no tools on its website, so we rate it accordingly.
What I Saw in Rapid Essay Reviews
Since reviews help understand the thoughts of older clients, I read them all. To my astonishment, despite being an experienced provider. RapidEssay didn't generate much feedback, and the comments I saw looked fake to me.
SiteJabber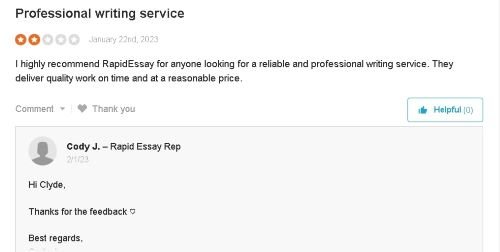 Reviews on SiteJabber are mostly good, but they all talk with other potential clients instead of a company. They use similar expressions and style, which indicates that the same person might be behind them. What reaffirmed my opinion was the review on a screenshot. It's technically negative since it has a low rating, but the reviewer has only praise for RapidEssay. This happens when firms want to make reviews look more authentic yet cannot bring themselves to criticize their service. An unsurprised reply from a manager seals fakeness for me.
TrustPilot
No reviews of RapidEssay.
Reddit

This review is negative. I'm not certain if it's real: while it mentions a specific writer, this Reddit account was suspended.
Social Media
The firm has abandoned Twitter and Instagram accounts with zero followers. It does not look like it bothered to set up any other social media.
Faq
Is RapidEssay legit?
Yes, this company is legit. It's registered officially, and it has traceable paperwork following its activity. It provides services on a legal basis.
Is RapidEssay safe?
No, it is not. Its privacy policy is concerning because it presupposes sharing customers' information with different third parties.
Is RapidEssay reliable?
Mostly, yes. These writers provide services of sufficient quality, and they are ready to edit it at your request. Most deliveries happen on time.
Is RapidEssay scam?
Not at all. This firm is real and if you need academic help, it could find a writer who'll deliver your project by your deadline.