Our verdict: Not Recommended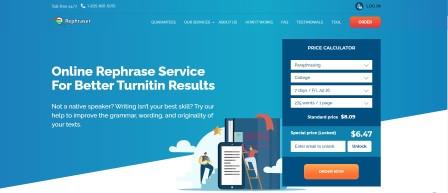 Short overview
Guarantees:
Original Texts, Safety And Privacy, Free Revisions, Fast Delivery, Legit Money Back, 24/7 Customer Support, Punctual And Competent Writers
Payment Methods:
Available Services:
Rephrase Sentence, Rephrase Text, Paragraph Rephrase, Reword Sentence, Plagiarism Rewriter, Paraphrasing Poem, Paraphrase Help, Summarizing, Article Rewriter, Paper Rewriter, Paraphrase Citation, MLA Paraphrase
Extra perks and features:
Free Reword Tool
Summary
Based on my Rephraser review, I find this service to be of mediocre quality. While it positions itself as a premier online writing and rephrasing service, it does not always live up to this image. I am concerned with the quality and effectiveness of their revision policy. There were cases when rephrased texts returned bad results through online plagiarism checkers. Refunds are tricky to claim and get. Once you have made your payment, you might as well consider it gone for good. I don't consider Rephraser a scam, but they don't give you good value for money. Check out my review for further details and an unbiased assessment of their pros and cons.
Cons
Fake testimonials
Unqualified customer support agents
Poor quality
Hidden costs
Top 3 services
VIP Support
From $14.99 per page
PhD Writers on staff: 80%
From $12.99 per page
Rephraser Reviews of Website Interface
Rephraser has been in business for 9 years, and it says it only hires the best essay writers only. Its website looks welcoming and pleasing to the eye. I like color combinations and well-structured content. It is always handy having a price calculator on top. A cost estimate is the first thing customers want to find out when contemplating orders. Interestingly, the standard rephrasing price the calculator shows is $4.62, but you can unlock a special price of $3.70 when you enter your email address. Basic price for writing is $10.66, including the same special offer.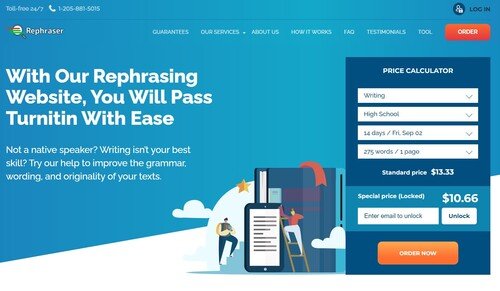 There is a whole section on positive testimonials. With an overall rating of 4.8, they look too good to be true. Even a quick browse through them should convince you that it's a collection of fake reviews. None of them has any specifics, just superlative adjectives. My Rephraser.net review indicates there is no way to find out if there are real people behind customer ID numbers. I think Rephraser needs to address this. Fake reviews don't do them much service.
The introduction generator is a nice tool customers can try for free. Truth be told, having tried it a few times, I was not impressed with the results. The system returns texts that you still need to work on. Some of them didn't make sense at all. Rephraser should work on this feature.
Types of Services Offered
Rephraser offers a range of services, including those related to rephrasing sentences, rephrasing texts, paragraph rephrasing, rewording sentences, plagiarism rewriter, paraphrasing poems, paraphrase help, summarizing, article rewriter, paper rewriter, paraphrase citation, and MLA paraphrasing. The company claims it uses clients' original ideas and turns them into texts that can easily pass plagiarism checkers. As per Rephraser.net reviews, if you are not happy with the results, revisions and edits can be requested within 2 weeks following receipt of your paper.
There are no samples provided except for one screenshot, which shows similar scores before and after using Rephraser on Turnitin, Copyscape, Plagiarism Checker, and Uncheck. Results look great as long as this was a real assignment from a real customer.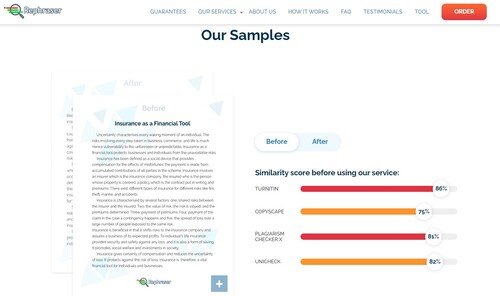 Rephraser Review of Guarantees
Rephraser makes lots of promises. It guarantees original texts, safety and privacy, free revisions, fast delivery, refunds, 24/7 customer support, and punctual and top college application essay writers. Well, their money-back guarantee looks like a hoax. Reviews show that customers are really struggling to get refunds. 24/7 customer support is also a myth. What you see is not always what you get. It is a smartly set up business model to entice you to place orders. If you do, do so at your own risk.
Customer Support
Is Rephraser good with customer support services? Not really. A toll-free number works, but you do not always get qualified agents to answer your questions. The website also has a live chat box where you can get in touch with agents quickly. Someone always seems available to support you. However, they are only trained to tell you what is already available on the website! If you have a complex question, agents won't be of much use. You are either referred to website content or asked to wait until someone gets back to you with more information. I believe Rephraser must invest in hiring more qualified agents.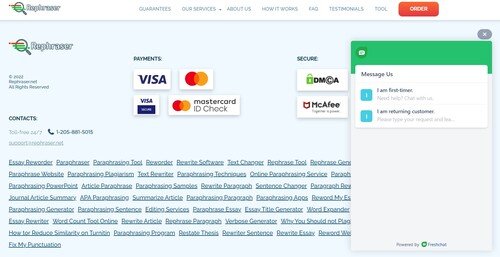 My Experience and Paper Quality
Is Rephraser reliable in terms of paper quality? I figured there was no better way to find out than placing an order myself and testing it for reliability and quality. My instructions were as follows: college level, rephrasing, 7 days, and 3 pages. The standard price was calculated at $16.83. As I moved to the next page, I got more options. I could add a top writer at $1.68 per page or a premium writer at $3.37 per page. The latter includes Rephraser's top 10 writers, or that's what it claims at least.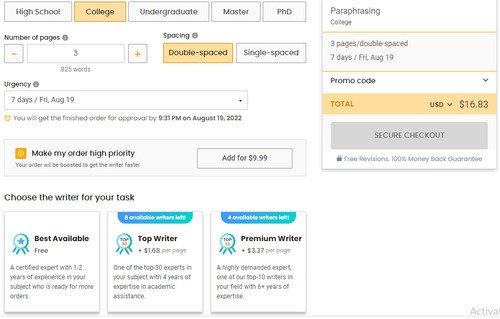 As I proceeded with the next steps, I got more options, such as plagiarism reports, full-text sources, a 1-page summary, and others. These are all paid extras, which I did not choose because the total cost would spiral out of control.
What I received was low-quality paper. There was no way I would submit it to my college without revisions and editing. I spent extra time editing the paper. For instance, I used an online conclusion sentence generator to finish the article better.
I know I did not choose a top writer. But I never regretted it because Rephraser reviews indicate that it is a complete waste of money. There's hardly any difference between writers assigned by default and those you need to pay extra for.
Ordering Process
The ordering process and sequence make sense. It is not too complicated.
Fill out a simple table to get an initial estimate.
Add instructions and figure out the exact amount you will need to pay.
Pick a writer. You can choose between a top writer, the best available one and a premium writer.
Proceed to checkout.
Despite seeming transparency, my review of Rephraser revealed that Rephraser is a bit sneaky about costs. You get a list of additional paid services you don't know much about when you start the ordering process. It is too much of a temptation to click that 'yes' button and add services that you don't need. They don't give you the bang for your buck, so you can consider them a waste of money.

Pricing and Discounts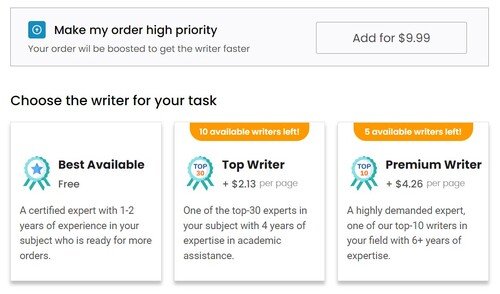 You get a 25% discount on any order, as claimed by Rephraser on its website. You will be asked to enter your email address to unlock the special price. You also get access to many extra paid services as you find your way through the ordering stages.
Rephraser takes payments in advance. Reviews of Rephraser show that although the company claims there are no extra charges, this is not entirely true. You are charged for almost everything as extra services. Once you have made a payment, don't expect to get any refund if things go astray. One option is to involve the company's Quality Assurance Department. However, apart from its pretentious name, this department does not provide helpful assistance.
| | |
| --- | --- |
| Services | Minimal Price per Page |
| Top writer | $1.68 |
| Premium writer | $3.37 |
| High priority | $9.99 |
| Plagiarism report | $14.99 |
| Full text of sources | $3.63 |
| Extra quality check | $16.98 |
| 1-page summary | $24.99 |
| Get initial draft | $4.86 |
Writer's Proficiency
Rephraser claims all its writers hold academic degrees. They allegedly have years of experience providing online writing and editing services. I doubt this claim is true. I advise you to take it with a grain of salt. My detailed Rephraser review clearly shows that writer proficiency is a cause for concern. Customers are offered choices between assigned, top, and premium writers. You think that the more you pay, the better services you get. All that glitters is not gold, as the saying goes. Most Rephraser writers use spinning methods to complete tasks. When you get them, you should expend extra effort and time to get it up to desired standard and quality. According to best dissertation writing service reviews, using ESL writers (which Rephraser obviously does) is fine for customers as long as the company is transparent about it.
Revisions
Rephraser lets you request revisions and edits to your paper without extra charge as long as you submit your request within 2 weeks after receiving it from the assigned writer.
Is Rephraser legit when responding to revision requests? When I got my paper, I saw some obvious errors, and I requested edits. But I ended up in a protracted dispute over original instructions. The writer kept insisting he did not divert from my guidance. The website did not do much, if anything, to address my concerns.
So, after all, free revisions are not that easy to get. You have to either spend more of your time or buy additional editing services. Many customers complain that even if revisions are made, they don't improve the original quality. Trying to get refunds is a tall order. Some think it's a lost cause. Prepare for long debates before you can settle.
Loyalty Program, Offers, and Extra Services
Rephraser offers no loyalty program. You get some discounts, and you can request the services of top or premium writers. Customers can also use the introduction generator for free, although I was far from impressed with it. You can also enjoy a 25% discount offer on all your orders.
Online Reputation
SiteJabber
Rephraser gets only 3 reviews on Sitejabber, so they can hardly count. The overall rating of 4.33 does not seem credible because of a lack of rigor. This is in line with many other Rephraser reviews with similar ratings. Sadly, Trustpilot doesn't seem to have a Rephraser review.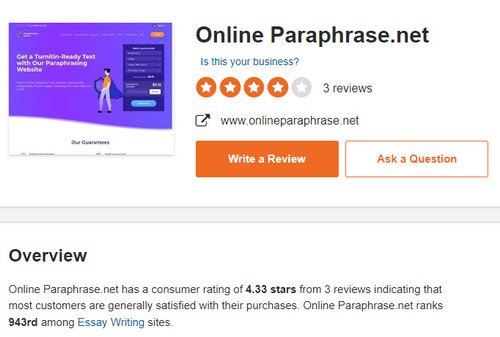 Social Media
Rephraser.net is not terribly active on social media platforms. On Twitter, they have as few as 9 followers! Hard to beat that one. I was not able to find them on Instagram or YouTube. Rephraser reviews also point to their absence on many popular platforms. Overall, this is strange for a company trying to attract a US-based clientele.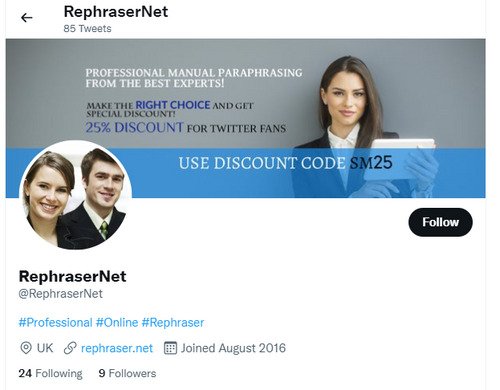 Show Me Your Top Services
Faq
Is Rephraser legit?
I believe it is a legit entity. Neither my nor other Rephraser reviews suggest otherwise.
Is Rephraser safe?
It is safe to use Rephraser services. Payments are protected, and the website uses secure platforms.
Is Rephraser reliable?
Yes and no. It really depends on which writer you get. If you are lucky enough, you might get one of their better ones.
Is Rephraser a scam?
No, I don't believe it is a scam. This is supported by other reviews of Rephraser. That does not mean you are guaranteed to get top-quality services, though.