Our verdict: Not Recommended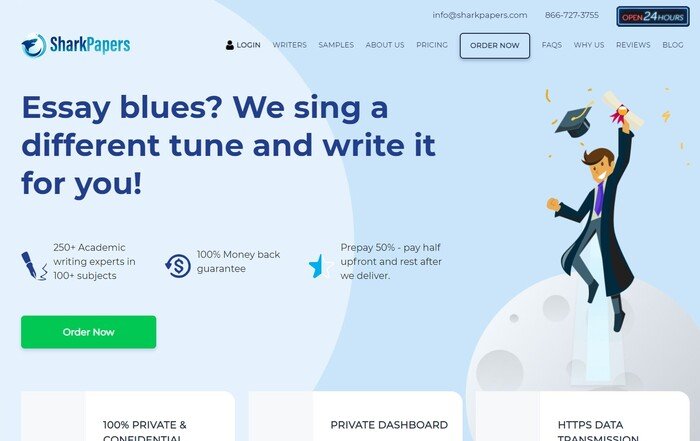 Top 3 services
VIP Support
From $14.99 per page
PhD Writers on staff: 80%
From $12.99 per page
Read SharkPapers Review And See if An Agency is Right For Your Project
The goal of our SharkPapers review is to shed some light on the writing quality of this academic service. Let's start with background facts: SharkPapers doesn't openly mention its founding date, but we estimate it to be around 2018 because that's when the first customer reviews appear. It works with high school and college projects of different types, and many customers left positive feedback about its services. But some moments gave us pause. Their website has awkward-sounding content. Whoever wrote it wasn't a native speaker. SharkPapers also seems to engage in blackmail and extortion in case of disagreements with clients, which is illegal and absolutely unacceptable. To find out more, we doubled our efforts and launched full-blown research.
Rules Governing Our Shark Papers Review
When students contact us with the words, "Will you write my essay review soon?", they mean they want us to explore a company they consider hiring and tell them what we discovered. We looked into SharkPapers' past, seeing what other clients said about it, how long it's been working and what policies it uses. We read and analyzed content on its website, as well as discussed the prices it charges and placed an order. Quality, research, and management replies all affected our opinion, and once we had a formal discussion, we decided what rating it deserves. This was an intense process full of various discoveries, so stay tuned and see whether SharkPapers is trustworthy.
Writing Services at SharkPapers
SharkPapers supports over 100 subjects. This is a bold claim we had no way of checking, as services aren't listed on its platform: you have to make an account and start placing an order to see what you could choose from. We think such an approach is faulty, as students need to know if an agency can help them right away, without wasting their time on registering. Fortunately for you, you're going to find out the range of available subjects from our SharkPapers.com review!
This company specializes in academic writing, editing, and proofreading. One page is 300 words here, and you could order research or term papers, application or analysis essays, dissertations, reflections, narrations, etc. SharkPapers also supports screenplays, PowerPoint presentations, and scientific explanations. If you think your grammar is weak or you made content mistakes, hire editors or proofreaders — this academic agency supplies them. It also covers multiple formatting styles. We had nothing to complain about in this area.
Shark Papers Reviews & Reliability
One of the steps we take when looking for the best admission essay writing service or other kinds of help is reading reviews. Clients can reveal a lot because they already have experience with a company and are ready to share their insights. With SharkPapers, we were happy with the number of such comments — there are more than 1000. But when we took a closer look, we were surprised by the praise this company got. The overwhelming positive amount of SharkPapers reviews seem fake. Here's why:
Unbelievable tone. Most good reviews are overly happy and almost dreamy. We understand what a relief it is to get quality writing help, but it's rarely life-changing. Looking at reviews, you'd think that SharkPapers saved the lives of these reviewers, with how passionately they advertise its services.
Similar structure throughout reviews. Most SharkPapers.com reviews revolve around the same structure. They share details from reviewers' life in a story-telling manner before starting their praising. Here are a few examples: one review starts with, "My mom always told me that I am a good student." Another review has these lines: "When I couldn't write an essay for English class the next day, it felt like a huge setback." This is a pure marketing writing formula, and it doesn't sound authentic.
Blackmail. Some reviews of SharkPapers mention threats of blackmail and offer proof. We personally saw screenshots of this company claiming it's going to contact a student's college if they don't remove their negative review. This is outrageous.
Extortion. Other reviews also provided evidence of SharkPapers forcing them to pay the remaining 50% & threatening to alert their college management otherwise.
Such situations are unacceptable, and this approach means that the company is insecure. We were very repelled by these findings. No matter what happens, confidentiality is sacred, and such threats are completely unprofessional.
Essay & Sample Quality
SharkPapers has free samples. This is a great element that we always value highly because students benefit from accessing free examples. SharkPapers has only five of them, though, which is surprising because it has been working for several years. Their quality is mixed. Language is awkward and content has grammar errors, and the depth of research is questionable.
But what we wanted to know most was how SharkPapers.com handles custom orders. So, we placed our own request. Our research essay arrived by our deadline — this was good news because timeliness is important. Our team began to read it, and that's where we developed questions. Only one provided source was academic. The introduction had no thesis and was too large, while body paragraphs presented weak thoughts with even weaker arguments. We are certain that our writer wasn't a native speaker because the mistakes they made were awkward and obvious. Asking for revision didn't change the situation much. The disappointment we felt was profound.
Writers & Customer Support
During our SharkPapers review, we took a good look at their writers and were underwhelmed with their level of language proficiency, writing skills, and lexicon. Managers and operators were nice right up until they weren't. When we placed orders, they acted friendly and helped us in every way. But like reviews of Shark Papers indicated, when we voiced our dissatisfaction with quality, their approach changed. They became sullen and rude.
Service Prices
SharkPapers has an interesting 50% prepayment system. Clients need to pay the first 50% upfront, and they need to complete their payment to download their essay. On one hand, this sounds fair, but on the other, we saw numerous reviews where people voiced how many problems they faced with it. The company should make certain its system is functional or it needs to introduce changes to it.
You can see prices online because SharkPapers doesn't bother to hide them. One page of high school paper with an 8+ day deadline costs $14.03. It's affordable when you compare it to market numbers.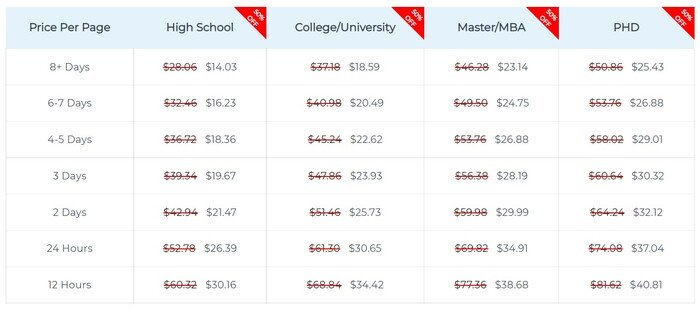 Additional Factors
We value companies that have top paraphrasing tools in addition to samples, but SharkPapers offers only the latter. This is a drawback. It has a blog with useful articles, but the writing is questionable. Once again, it is evident that writers are not English speakers.
Weighing Pros against Cons
So, what did we discover during our review of SharkPapers? This service has positive and negative sides. Judge them for yourself:
Strengths
Multiple writing options. Students are free to select any type of writing and editing service.
Affordable prices. Discounts seem permanent in this company, so its prices are affordable.
Weaknesses
Bad quality. The essay content was not satisfying at all. It was weak and full of errors.
Unacceptable approach of management. Managers became rude as soon as we told them we wanted a revision. Based on comments from other customers, they were threatened with breach of privacy for giving a company a low rating.
Dubious revisions. Our revision was useless.
Low-quality materials. Samples and blogs were not written by people with a good grasp of English.
SharkPapers: Final Verdict
Our decision is to give SharkPapers 2.7 stars. They offer plenty of writing services for good prices but fail to execute them properly. Their managers might apply intimidating tactics when clients are not satisfied and the academic materials have bad quality. We don't recommend this company. If you need to see plagiarism checker reviews or hire reliable writers, try our website for more recommendations. SharkPapers needs vast improvements before it can receive our approval.