Our verdict: Not Recommended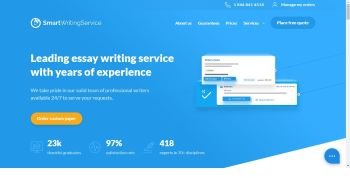 Short overview
Minimal deadline:
4 hours
Guarantees:
Refunds, Money-back, Pplagiarism-free, On-time delivery, Privacy
Payment Methods:
Available Services:
Custom essay, research paper, dissertation, book review, speech, lab report, annotated bibliography, ghostwriting, case study, literature review, personal statement, research proposal, article review, homework, business plan, grant proposal, marketing plan, scholarship essay
Extra perks and features:
Progressive delivery, Free samples, Bibliography generator
Summary
This SmartWritingService review assesses the website to be unreliable. Its range of services is impressive. Minimum price is affordable. However, SmartWritingService does not have a good reputation among customers. Many report untrustworthy writing quality and unqualified writers. The company is based in Cyprus, and it works with both native speakers and ESL writers. I like that it is transparent about this. The refund policy is tricky. Despite bold promises, if you request a refund, expect to be embroiled in a lengthy and protracted dispute. SmartWritingService makes every effort to get your money. If you have already used its services and are happy heed my advice. Stick to the same writer by all means.
Pros
User-friendly website
Citation generator
Cons
Low paper quality
1 free revision only
Slow customer service
No discounts or royalty program
Top 3 services
VIP Support
From $14.99 per page
PhD Writers on staff: 80%
From $12.99 per page
Smart Writing Service Review
This is a relatively young company with 7 years of experience in online writing service provision. It claims its services cover more than 70 academic disciplines, enjoying a 98% satisfaction rate. In general, I don't trust these self-developed and self-managed stats that can't be verified. So, they don't really tell customers much about usability. The website looks fine but not great. Instead of excessive sales pitching, it could place useful information and tools closer to the top. First thing students want to know is price range. Why not make it more visible and accessible? Live chat option is handy. Content gets really wordy and unwieldy as you keep scrolling down. Toward the bottom, you get inundated with information you don't really need.
SmartWritingService does not provide writer profiles. It claims its writers are English Native Speakers (ENL), but there is no way of verifying that. Judging by my essay writing service review, they mostly use ESL writers.
The website provides conflicting information. In the 'About Us' section, it states the company has been operating since 2008. In the FAQ section, it talks about 10 years of experience. Some SmartWritingService reviews talk about 7 years (e.g., writingpapersucks.com). SmartWritingService really needs to get this right. In any case, this confusion does not bode well for its trustworthiness.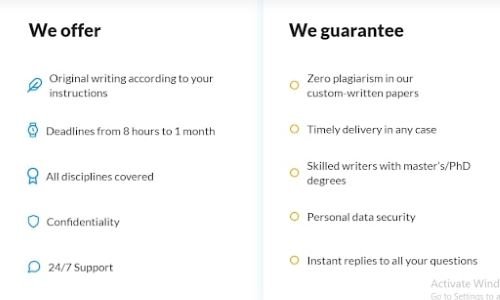 Types of Services Offered
SmartWritingService offers a wide variety of services encompassing custom essays, research papers, dissertations, book reviews, speeches, lab reports, annotated bibliographies, ghostwriting, case studies, literature reviews, personal statements, research proposals, articles reviews, homework, business plans, grant proposals, marketing plans, and scholarship essay. I reviewed one sample to assess quality and style.
Title: Michelangelo's David: A Reflection of Cultural Identity
Length: 4 pages
Analysis: It looks fine, but paper structure is flawed. There is no proper introduction explaining the purpose. References and quotes are impressive, but they don't help understand what the author is trying to put across. In academic writing, it is common practice to pose a thesis statement that is explored with the overall aim to validate or refute it. I don't see that in the reviewed sample. SmartWritingService reviews suggest other samples suffer from similar flaws.
Quality: Low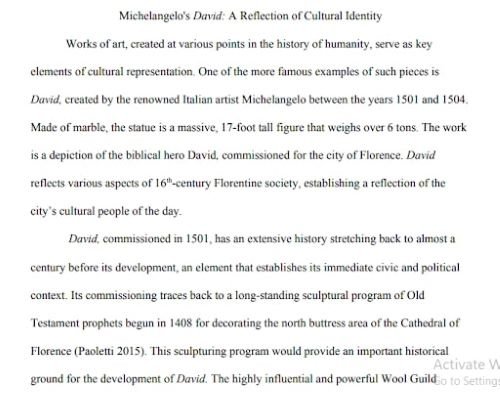 Review of Guarantees
SmartWritingService's guarantees envelop money-back, revision, privacy, and plagiarism-free policies. Money-back guarantee assurances are a cause for concern. Despite claims of guaranteed refunds, it is not clear what 'quality-based' refund requests mean. It is not as 'crystal-clear' as the website describes it. Anyway, you can submit your complaint within 14 days after the deadline. SmartWritingService makes a commitment to protect personal information using secure payment methods and platforms. My SmartWritingService.com review finds the company is dodgy about revisions too. Procedures are not explained. The website uses plagiarism checkers before returning papers.
Customer Support as per SmartWritingService Reviews
Multiple customer support options are standard for the top dissertation writing services. SmartWritingService does not disappoint in this department. Live chat is most reliable in terms of speed and accuracy. I have tried contacting them by phone, but it does not always work. Agents respond to calls selectively. Some calls are just ignored. Others don't make sense either since you are asked to wait for someone else to get back. Email is slowest. I send several inquiries from different accounts. I got a response 3 days later. It was not particularly helpful because it referred me to another agent. The latter never reached out to me. 2 other messages fell on deaf ears. Judging by smartwritingservice.com reviews, customer service agents are generally slow and ineffective here.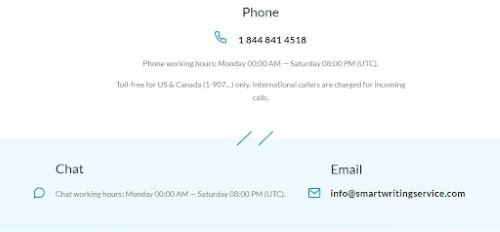 My Experience and Paper Quality
Is SmartWritingService reliable in terms of paper quality? How does it stack up with rivals? To find out, I placed an order. I went for a 4-page essay at undergraduate level in English. I set an 8-day deadline. With SmartWritingService, you don't get to select writers like with some services using bidding systems. The website picks and signs writers using its own judgment. You can request an advanced or a TOP-10 writer at extra cost. I settled for automatic selection. The total of $117 seemed expensive, especially given that I added no extras.
I was pleased with timely submission. Delays always tarnish company image and reputation. Paper quality was below par. Reviews of SmartWritingService highlight multiple issues with submitted essays, so I expected low quality. In fact, it was so bad that some customers might have regretted not opting for the best free essays online. I had to raise concerns over poor choice of words and phrases, grammatical errors, and formatting issues. It was obvious I was not dealing with an ENL writer. But there's only so much one can do with complaints. If SmartWritingService decides that your grievance is not 'quality-based,' you are in trouble. I had to learn it the hard way. No need to follow suit. Simply find a better service.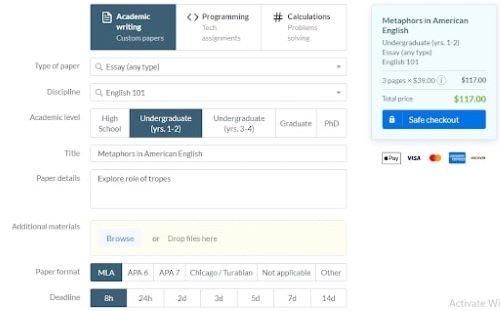 Ordering Process
Is SmartWritingService good when it comes to ordering steps? I believe so. I like that it gives you 2 different options of either asking for a quote or placing an order. If you are not ready to order, you can place inquiries to get quotes. You'll need to sign up before the system calculator rates and gets back. This is all very convenient. To file an order, enter all necessary details to let the system calculate the rate. Extras will bump it up further, so be careful about what you add to your wish list. When your payment is complete, SmartWritingService finds and assigns a writer. You can contact the writer to provide any additional guidance or expectations. You will be able to read a draft version before final submission.

Pricing and Discounts
Pricing is a bit tricky with SmartWritingService. You get sundry rates and options. They are a bit too much. As a customer, I would have preferred a more streamlined approach. There are times when too many options are counter-productive, as they inhibit rather than facilitate good decision-making. Additional 30% for a native speaker comes out of the blue! Why should customer pay extra for ENL writers? I haven't seen this with other companies. Even if you pay extra, you risk wasting money. Chances are high you will get a pig in a poke regardless.
Smart Writing Service reviews talk about some discounts, but I could not find them on SmartWritingService website. This is a missed opportunity because most rivals have generous discounts for first-time and loyal customers.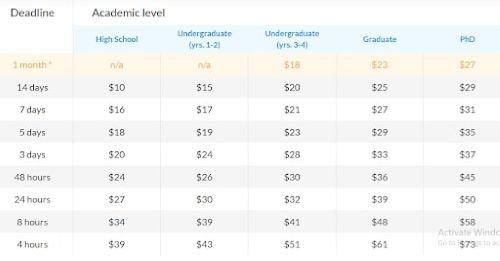 Writer's Proficiency
Writer qualifications are disappointing. They don't help SmartWritingService's attempts to establish itself as a top coursework help service in the marketplace. Review of SmartWritingService shows that the company uses ESL writers most of the time. There is nothing wrong with using ESL experts as long as companies are transparent about it. Some ESL writers have native-speaker skills too. But when you get cheated, it's painful. The company charges you for hiring a native speaker when it must be using ESL authors. If you, for any reason, decide to use its services, my advice is to settle for basic services. At least, you may avoid losing more money. If you are looking for top-notch writing services, look someplace else.
Revision Policy
Is SmartWritingService legit as to the extent to which it offers credible services, such as revisions? It claims it offers premier guarantees to ensure top paper quality. But revisions are difficult to get, and they often make little sense. My experience also confirms that the website does not live up to customer expectations. Revisions are common practice in academic world. No matter how skilled writers (including native speakers) are, there is always something to tweak, reword, or rephrase. It is a pity that SmartWritingService does not take revisions seriously. Once it gets hold of your money, things become complicated.
All you get with SmartWritingService is one free revision. This is not acceptable. Many competitors offer 3 or unlimited revisions.
Extra Services
As noted, there are no discounts with SmartWritingService. No loyalty program either. All you can do is refer a friend and, maybe, you get some discount or offer. According to SmartWritingService reviews, you can find details of referral program on your personal page. Extra services are diverse, but they are not always worth extra spending. The prices for additional services are ridiculously high.
| | |
| --- | --- |
| Services | Price |
| Best available or advanced writer | +25% |
| TOP 10 writer | +40% |
| Native speaker | +30% |
| Smart paper | +20% |
| Undergraduate (1 - 2 years) | $15 |
| Undergraduate (3 -4 years) | $20 |
| Graduate | $25 |
| Ph.D. | $29 |
| Writer samples | $5 |
| Copy of sources | $14.95 |
Online Reputation and Reviews
Review services
Based on my detailed SmartWritingService review, it is not rated high by others. Sitejabber includes only 7 reviews, which amount to a rating of 4.57 out of 5. All are positive. Customers are pleased with paper quality, but there is no substance in reviews. This makes me think they might be fake.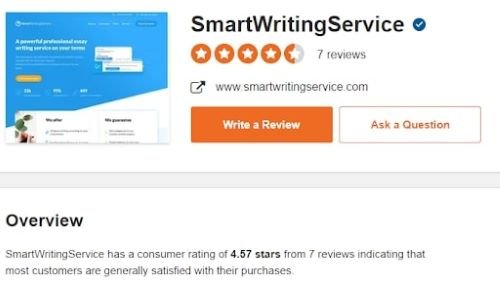 BestWriterOnline ranks the service really low. Customers regret wasting their money on low-quality service and late deliveries. Others think guarantees are fake. There are no refunds or revisions. Some highlight issues related to plagiarized content.

BestEssayServceReviews ranks SmartWritingService low too. Writers usually miss deadlines, and paper quality is below par. If you want your paper to be completed to the highest academic standards, you should not use these services.

Social media
With only 62 followers, smartwritingservice.com does not use Facebook a lot. The latest post is a year old.

A video on YouTube looks nice, but it does not have any views.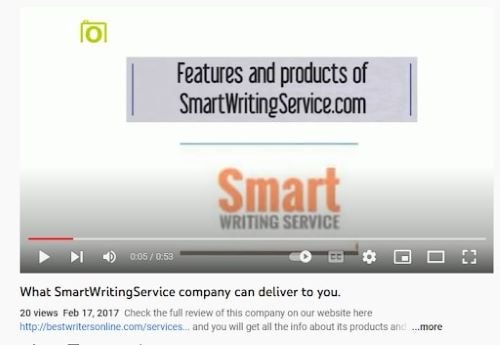 Show Me Your Top Services
Faq
Is SmartWritingService legit?
I believe it is. Reviews of SmartWritingService confirm the same. I have not found any substantiated claim arguing the opposite but the quality will not be good.
Is SmartWritingService safe?
SmartWritingService uses secure payment systems that are based on sophisticated encryption protocols to protect your data.
Is SmartWritingService reliable?
Reliability is an issue with SmartWritingService. If you need a high-quality academic paper, I recommend you look someplace else.
Is SmartWritingService a scam?
Despite reliability issues, I do not consider SmartWritingService a scam. Nor do other customer reviews.