Our verdict: Not Recommended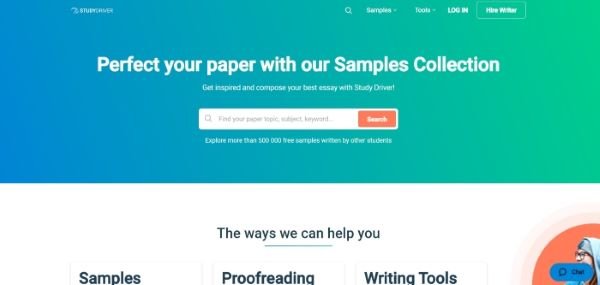 Short overview
Minimal deadline:
3 hours
Guarantees:
Timely Delivery, High Quality, Confidentiality, 24/7 Support
Payment Methods:
Available Services:
Essay Writing, Editing
Extra perks and features:
Samples, Plagiarism Checker, Citation Builder, Title Generator, Conclusion Generator
Summary
All students hope to hire good writers for their papers, but results of such actions could be pleasing or disappointing. When doing this StudyDriver review, I wanted to find a company with an ideal combination of content and prices. This service has been operating for two decades. It has a bidding system, meaning that writers determine how much they charge, and clients decide if such terms are acceptable. StudyDriver's policies look friendly, its chatbot is helpful, and it has an amazingly big collection of free samples. But is everything as good as it appears at first? After receiving a paper of bad quality, I was forced to change my mind, and as I took a closer look, I saw many other negative nuances. Join me as I discuss what went wrong with StudyDriver.
Pros
Over 500K of free samples
Various writing tools available
Convenient chatbot
Cons
Flawed and uninspired website
Fake StudyDriver reviews
Quality below all acceptable standards
Pointless essay revisions
Top 3 services
VIP Support
From $14.99 per page
PhD Writers on staff: 80%
From $12.99 per page
Website, Its Design and Usability
Appearances can say a lot. I strongly believe that the best essay review services should cover every aspect of the company they are analyzing, and interface plays a significant role in user experience. StudyDriver is a seasoned agency and I expected to see modern design plus a well-established logo. I found the opposite. The platform looks bleak. The Color combination that includes different shades of blue and green is pleasing to the eye, but that's the only positive thing. StudyDriver offers a random half-cut picture of a student and a vague logo with unclear meaning. No effort went into making it presentable, which is astonishing since the company had all the time in the world for this.
Content and how it's presented also leaves a lot to be desired. There is little useful info: you won't see what services are available, which subjects are present and how much everything costs. StudyDriver seems more interested in marketing its samples, but funnily, once you click on them, you get a pop-up with the words, "Stop wasting your time searching for samples." This same announcement keeps jumping out whenever you move between pages, which is extremely annoying. What disappointed me further was fluency. Check this sentence: "If the academic creativity is not of your strong side — our essay topic generator is a tool for the students that have problems to find something to write about on their essays." The wrong usage of an article, repeated wrong prepositions, misplaced punctuation and several grammar mistakes made me wonder who proofread this piece of content. Managers clearly don't care about fluency. For such an experienced writing provider, it's a shame.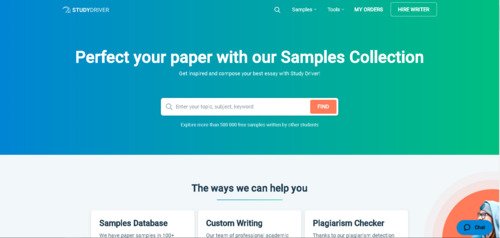 Paid Services and Free Samples
Most companies score easy points in this category, but I quickly realized that my StudyDriver.com review was going to be an exception. Its website doesn't list what services it provides, and there is no order form where you can see this info. Upon digging deeper, I learned that the agency is ready to accept any orders, but I disliked this approach. It sounds fishy: clients voice their requests, and writers eagerly accept them only afterwards. How can you be certain that they have sufficient qualifications? Imagine that I want an application letter. StudyDriver doesn't have appropriate experts, but since some writers really want to make money, they agree to take my order. This is not professional. A provider must state clearly what services it does and doesn't support.
Multiple StudyDriver reviews mentioned samples, so I knew they were going to be present even before I started my exploration of the website. This company has a truly impressive collection, but there is a problem: these free papers come from other students. Normally, samples comprise examples of writers' work that allow potential clients to see the quality they're about to purchase. Since StudyDriver collects students' papers, there is no way to check writers in advance. Out of curiosity, I selected one sample for analysis.
Title: I Believe in Laughter
Length: 437 Words
Category: Psychology
Analysis: Is StudyDriver good at collecting quality samples? Based on this one, not really. It is a juvenile composition on the topic of laughter, but it is not an academic essay, and it has nothing to do with psychology. Overly short sentences, constant usage of personal pronouns, no thesis and no sources cited. Unless you want to read someone's thoughts about what laughter is, I see no point in such a sample. It's worthless from an academic angle.
Quality: Low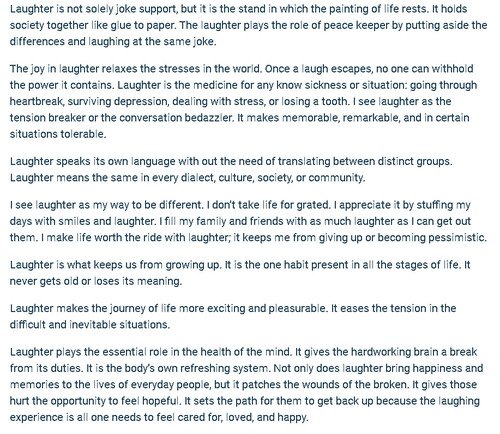 What Policies Regulate Client Experience
Reviews of StudyDriver don't discuss policies because students rarely bother with them. It's understandable, but it could also be dangerous, so whenever I'm working on top dissertation writing services reviews for you, I pay close attention to what the agencies promise. StudyDriver has relatively positive policies. It provides revisions within 14 days after essay submission: if you don't like something, you could ask for changes.
The situation with refunds is worse. You only have 3 days to ask for your money back. Unless you understand your topic well and have an excellent command of English, you might not realize how bad things are until it is too late. Privacy policies are acceptable but unclear. The company mentions that it might share some data with others but doesn't specify it, claiming that if you're interested, you could contact it personally with this question. It also collects info from your social media if you happen to log in with its help.
How to Speak With Operators?
If you want to speak with human operators, you need to click on a blue box in the lower right part of the website. Someone is going to reply in less than ten seconds. Overall, during my review of StudyDriver, I was satisfied with the operators' work. They were helpful and friendly. The only complaint I have is that I think none of them was a native speaker. Their English was awkward, and sometimes I felt they didn't understand me. They need better training, but their heart is in the right place.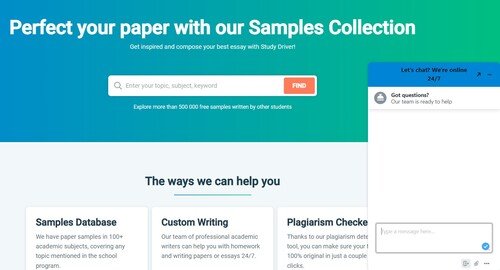 Study Driver Review: Paper Quality Analysis
I ordered a paper of 5 pages on the subject of Sociology. The topic was simple, so my writer had enough time to complete it — I gave him two weeks for it. StudyDriver allows choosing your own expert, but since I wanted maximally objective experience, I settled on the first random candidate. If an agency is professional, all its employees must be trained equally well. But my hopes crashed soon enough. My essay wasn't in my inbox when it had to be. My writer contacted me with apologies and asked for an extension. I said I couldn't provide it since I needed my essay urgently, and the writer disappeared without saying anything. Almost a day later, they delivered my paper. It was disrespectful.
Since I've seen positive Study Driver reviews, I hoped I wouldn't see serious problems with quality. Boy, was I wrong! The content was terrible from start to finish. It was riddled with language mistakes: my writer knew English badly, and punctuation clearly confused them because I found error after error. The academic format wasn't followed as well. Flawed paragraphs with insanely long sentences, a glaring absence of strong thesis, weak references and no real insights. The task was to investigate the evolution of major concepts in Sociology, and instead of reviewing at least ten of them, my expert focused on three. There was no balance or logic in their writing choices. Submitting an essay like this would be an impossibility.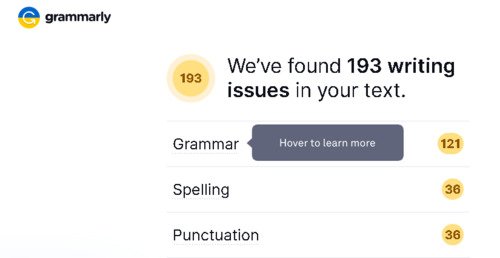 Steps Involved in Placing an Order
Since StudyDriver reviews never mentioned the specifics of order placement, I'll do it myself. I liked the ease of placing your essay request, but some other issues occurred at later stages. This is what you should do and look out for
Click "Hire Writer". A dialogue window with Amy, a chatbot, will open. She asks relevant questions and forms your order — everything happens automatically. You only need to tell her your topic, size of the paper, and deadline, and insert text with instructions.
Chat with writers. Amy will produce a list of the best cheap coursework writers. You can speak with them or look for an expert on your own. This is the most uncomfortable stage: writers start placing bids. Most of them sound desperate and make numerous grammar errors in their messages. It's a pain to sort through their PMs and understand which of them is best suited for your task.
Add funds. Transfer the right sum to your account.
Release money. After you get an essay, if you're satisfied, release payment to your writer. Note that even if you aren't satisfied, you won't receive your money back.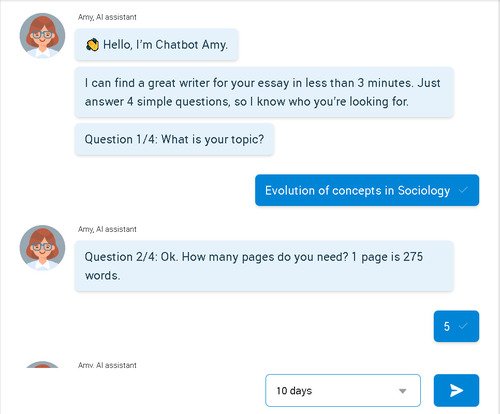 How Much Does Writing Cost?
Unfortunately, I cannot disclose specific prices in my detailed StudyDriver review since bidding prevents it. Writers charge whatever they want, with no system or justifications. The lowest price I've seen was $14 per page. This is acceptable, but better control over prices is a must. If you're inexperienced, some experts could easily rip you off.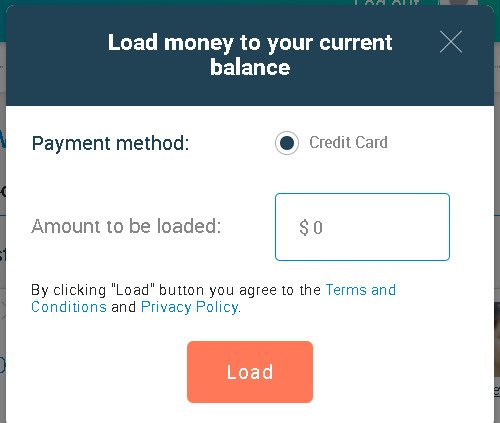 Truth About The Writers
Like I mentioned, writers often sound pleading. Look at the message I received: it has multiple errors. This person is not a native speaker, and while they mean well, they still need training. All other experts showed the same pattern — only one of them sounded fine. StudyDriver's HR is obviously a disaster.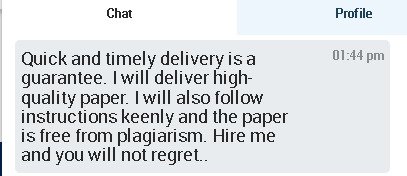 Revising Papers With Mistakes
StudyDriver.com reviews were critical of revisions, and I can see why. When I asked my writer to improve the paper, they agreed, but it looked just as hopeless. The simple truth is that you can't expect a good revision from someone who has already produced a terrible essay. Revisions without total reassignments are useless.
Academic Tools for Students
It's wonderful when companies have the best conclusion maker for essays along with plagiarism checkers and other tools. StudyDriver provides these options, too, in addition to samples, citation builder, and title generator. The only issue is that, like samples, these tools don't always work well. Some of them require constant reloading, and it's better to double-check your results since they might not be accurate.
Revelations from StudyDriver Reviews
Reading reviews is always beneficial. In the case of StudyDriver, I thought I'd see a ton of comments — after all, the company is old. But reviews are scarce, and many of those I found sound fake.
Not surprisingly, most comments are posted on the company's website - StudyDriver.com. They also mention samples and even have photos of students! Do you think real customers would leave their pics behind? Yeah, me neither.
SiteJabber
The most notable thing about these two reviews is that they don't focus on essay services. They discuss samples instead. Other comments on this platform do the same. Coincidentally, StudyDriver also emphasizes its samples in its marketing, so it's obvious who really wrote these reviews of StudyDriver.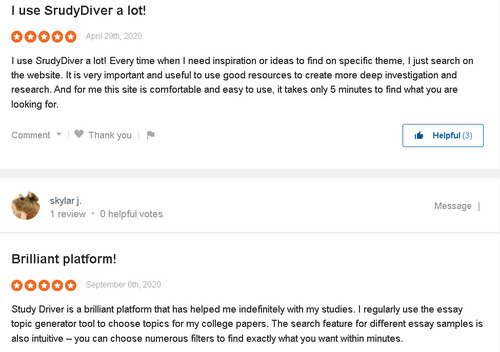 TrustPilot
Just one comment here, and it sounds like a child wrote it.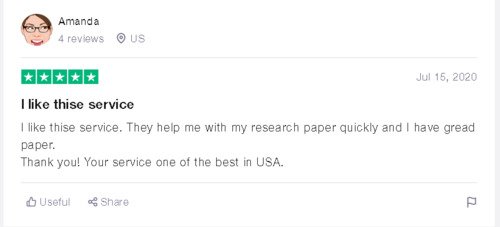 Social Media
The company has an abandoned Facebook page, and that's it.
Show Me Your Top Services
Faq
Is StudyDriver legit?
Yes. This writing agency has been working for two decades, and it provides actual services in real time. Its assistance is completely legit.
Is StudyDriver safe?
For the most part, yes, it is safe. But it might still share your data with third parties, and unless you ask for a refund within three days, you won't receive it.
Is StudyDriver reliable?
It is not. It could easily fail your expectations by submitting essays late and/or by producing terrible quality. There is no guarantee you'd be satisfied.
Is StudyDriver a scam?
No, this service is real and more than willing to help you. Clients might complain about quality or punctuality, but they'll receive their papers for sure.