Our verdict: Not Recommended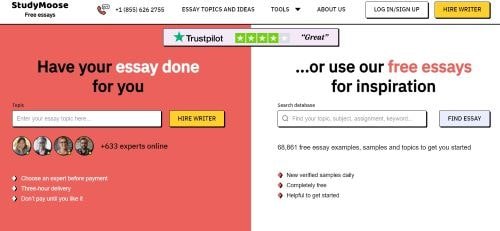 Short overview
Minimal deadline:
3 hours
Guarantees:
Professional Writers, Only High Quality, No Plagiarism, 24/7 Support, Money-Back Guarantee
Payment Methods:
Available Services:
Writing, Marking and Proofreading, Rewriting
Extra perks and features:
Samples, Plagiarism Checker, Thesis Generator, Alphabetizer, Conclusion Generator, Essay Rewriter, Paraphrasing Tool
Summary
Recently, the requests for StudyMoose review have reached amazing numbers, so I decided that there's no point in waiting any longer. I've already evaluated this 6-year old company in the past and I was curious to see what changed. A lot of those who are looking for the best paper writer service got interested in StudyMoose because of its name: apparently, many of you are Supernatural fans who become nostalgic upon seeing the word "moose," considering the role it played in this show. Whatever triggered your interest, I was happy to oblige! I read other StudyMoose reviews, explored its background for refreshing my memory, examined its website, offers, and purchased a client experience. This company still has a great array of tools for academic goals; its prices are technically affordable and communication with writers is open. But there are many problems, too, and some of them are too big: they overshadow the positives. See for yourself!
Pros
Platform has many academic tools
Prices are low enough
Direct communication with writers
Cons
Outdated design
Questionable reviews
Bad quality
Terrible revisions
Top 3 services
VIP Support
From $14.99 per page
PhD Writers on staff: 80%
From $12.99 per page
What Meets the Eye on This Website
I don't like criticizing someone's creative choices, but to be honest, when I opened StudyMoose.com, I got the shock of my life — and not in a good way! The color scheme is disastrous. Red, white, green, yellow, black: everything clashes and becomes overwhelming in several seconds. Text is small and might be difficult to read for some people. Details with different levels of relevancy are offered left and right, and I had no idea where I should look first. The company appeared in 2016, so I don't know why its design is this garish and outdated. The sections are chaotic, too. If you want to see prices, types of services, and safety info, you won't find them as everything is overcrowded with samples, tools, writers' profiles, and other ads.
Any professional coursework help website should proofread its content, but I didn't see it in my StudyMoose.com review. Grammar, punctuation, and stylistic errors are everywhere. Just look at this example: "If you find yourself stuck figuring out some good your paper…" What does it even mean? Content is also generic and uninspiring. The only positive thing is that students see how many writers are online when they access the website. This could give them an idea of how long they might have to wait for an expert to notice their order.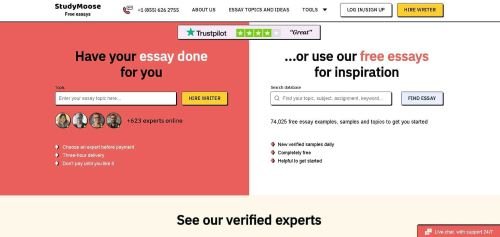 Services and Free Essay Samples
Is StudyMoose good in terms of service diversity? Not really. It has three major types of help, and it is reluctant to accept other orders. Students could ask for essay writing, grading, proofreading, as well as rewriting. Editing, online tasks, dashboard assignments, exams are a no-go. From better news, plentiful subjects are available and you could pick any of them, from Nursing to Business and Engineering. Another great thing that's impossible to miss is samples. These are the best essay examples from writers that the companies share in the hopes of attracting a bigger audience. StudyMoose is proud of its collection. 74,025 samples are no joke, and to see if they are worth it, I picked one and analyzed it.
Title: Emile Durkheim's Theory of Crime and Crime Causation
Length: 8 Pages
Analysis: This is a lazy example of paper that few students could benefit from. Its formatting is terrible: Caps Lock is used when it shouldn't, weird numbers precede letters, informal elements like "etc." are used. Some paragraphs have just 1 sentence, which is unacceptable; repetitions, grammar problems, and non-academic sources make the picture even worse. Some ideas are good and if you are interested in Durkheim, you might find some useful info here, but overall, the quality of this sample is less than satisfying.
Quality: Low-to-Medium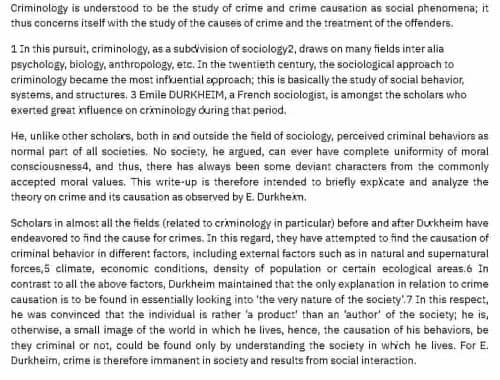 Privacy and Quality Guarantees from Study Moose
Reviews of StudyMoose say nothing about policies, and this shows a sad trend of obliviousness. Most students worry about prices and quality: they disregard their safety and blindly hope for the best. Since I try to find only top essays or online resume editing services for my readers, you can get this info straight from my review. StudyMoose is not a secure provider. In its privacy policies, it openly states that it'll take steps to verify your identity, keep storing your data even after you terminate your account, and that security of your data is "entirely at your own risk."
Things with quality aren't any better. Yes, as Study Moose reviews show, this agency has refunds and revisions, but getting them is nearly impossible. Did you download your paper? That's it, you won't get your money back even if your writer is super late. You got a terrible paper but failed to mark everything wrong with it? Same, you can say goodbye to your money. You need to write an entire essay outlining the mistakes and do it within 14 days for the team to even consider granting your request.
Real and AI Operators
Several StudyMoose.com reviews mentioned Amy, an AI helper who can explain what to do with your order. She's well-made and she communicates flawlessly, but I don't understand her purpose. Clients of the best paper writer service could just use an order form by themselves with the same results. Human operators are quick, but they remain understanding only before you place your order. Afterward, their attitude could take a sudden shift. I got two rude folks who ignored my questions, told me I'm making things up, and made me wait for hours.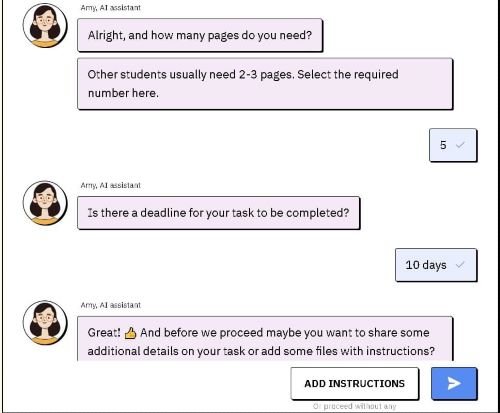 Was My Paper Everything I Wanted?
For detailed StudyMoose review, I asked for a paper on Criminology with the usual parameters: 5 pages with a 10-day deadline. The topic was simple — a typical high school-level project. It cost me $100, which is expensive. I asked my writer if essay was going well and they reassured me that yes, it was. But when the time came, my paper wasn't ready. I contacted everyone I could and got nothing but excuses until almost a day later when the paper finally arrived. Since I ordered it for review, I downloaded it, forsaking the chance to return my money.
It had over 170 mistakes. Reviews of StudyMoose didn't prepare me for something like this. And these mistakes were actual problems — Grammarly didn't confuse words or rules, my writer did. It's like they tried to write everything incorrectly. What shocked me more was content. My topic was very simple and yet the writer failed to do any research! They rewrote some stuff from Wikipedia. That was it. The books I asked them to use were clearly never opened. It was objectively terrible work.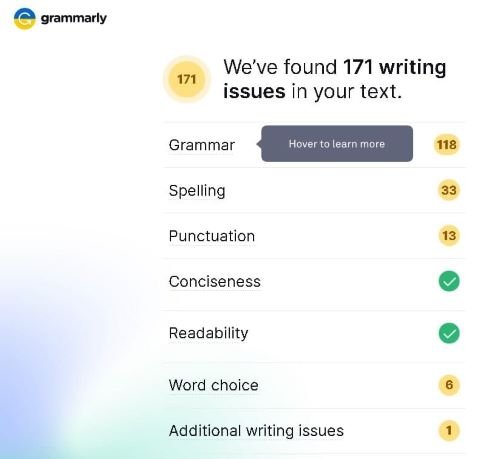 Steps Involved in Order Placement
Placing academic requests should be easy. StudyMoose offers too many unnecessary details. They are intuitive but I found a lot of them redundant.
Speak with Amy. After clicking "Hire writer," you'll have to tell AI assistant Amy what paper you have, how long it is, and when you need it.
Select writers. Amy is going to choose some experts for you, but you don't have to use them. Browse profiles of writers you like, respond to those who made offers to you, and settle on the one who you like most and whose services you can afford.
Review order. Add files, instructions if you forgot, make certain everything looks well, and proceed to the next stage.
Add funds. Boost your account with money.
Read your work. As you heard in this review of StudyMoose already, open your paper only if it came on time. If it is late and you don't need it, don't touch it or you won't receive a refund. If the time suits you, read it ASAP: ask a writer to revise it in case of any troubles.

Prices: A Bidding System
Minimal price at EssayMoose is $13.90 per page, but this isn't a guarantee. The company uses a bidding system where each writer decides on how much they want to earn. You could also voice your own preferences and set your budget, but if it is too low, you won't find an expert. That is why I rate this section with 5 stars: bidding means no set charge. It's worth nothing that most StudyMoose reviews seemed satisfied with prices they got, though.
How Talented Are These Experts?
I don't doubt that some StudyMoose writers are professional, but it's those who lack credentials who pose a problem. Communicating with them could be good, but amazingly successful profiles with fake photos and cringe-worthy names make things dubious from the start. Some writers sound desperate and lie that they read all instructions: in my case, I didn't even share them yet but some guys were already in my inbox, claiming they understood everything perfectly. The writer I selected turned out to be completely clueless and illiterate.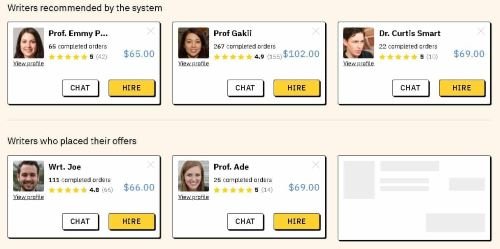 Is There a Chance to Ask for Quick Revision?
According to the company, clients have to wait about 7 days before their revised essay is ready. But even then, you'd have to go through hell before the Aftercare team agrees to approve your request. You need to submit it in writing, explain your complaint thoroughly, and be prepared to defend it in case no one wants to help you at first. I did all that. My revised essay arrived ages later and it looked about the same. No efficiency or work on mistakes in sight.
More Tools for Students
Several StudyMoose reviews are positive because of free tools, and I understand their joy. The company worked hard on including multiple academic elements that can make students' life easier. Free samples, plagiarism checker, thesis statement generator, and alphabetizer — you could use them all in minutes. If you are too lazy to write the final paragraph, use conclusion generator; in case of plagiarism, apply an essay rewriter or paraphrasing tool. Why 5 stars? Because the quality of these tools is not the highest. It's the same as with samples: not every tool is efficient and some of them lag, like rewriter.
Figuring Out Study Moose Reviews
There aren't many reviews about StudyMoose. Those I found vary, but negativity is striking. The company social media is also not encouraging.
SiteJabber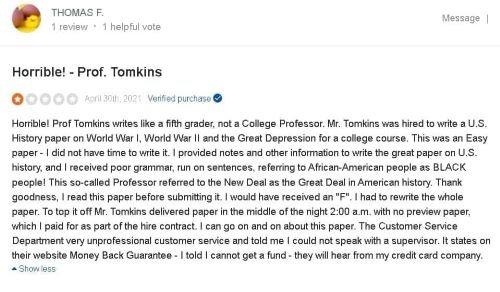 This is clearly a real customer since they name their writer; the answer from support confirms their identity. Like I mentioned, fake names and credentials speak for themselves: most of these guys aren't professors or experts.
TrustPilot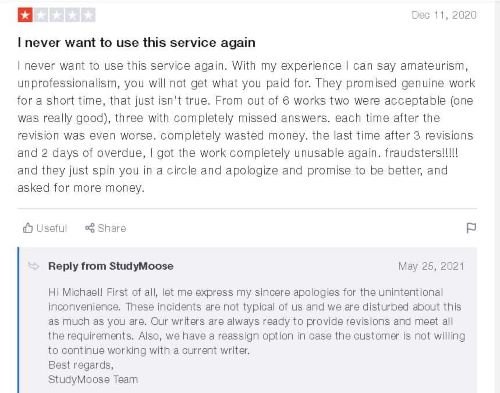 50 reviews present, all with a mixed nature. Check this one out: it mentions inefficient reviews and low quality, the same problems I faced. Management's reply confirms the review is real.
Social Media
StudyMoose is on Facebook, but the page last updated in 2019. Nothing to see there. It has an active Twitter that makes frequent posts, and while I liked them, there is no client engagement there.
Show Me Your Top Services
Faq
Is StudyMoose legit?
This company has been working for over 5 years, so yes, it is legit. Multiple students have already used its services and left their feedback.
Is StudyMoose safe?
No! This should be emphasized strongly: your data isn't safe. The company claims it holds no responsibility for information its clients transfer electronically, and it can use it for various purposes.
Is StudyMoose reliable?
If you luck out, then you might get what you paid for, but for many customers, the reality is different. StudyMoose doesn't always provide great results.
Is StudyMoose scam?
Fortunately, it's not: if you want a paper, you're going to get it. Whether it'll happen timely and what quality it's going to have is another matter.