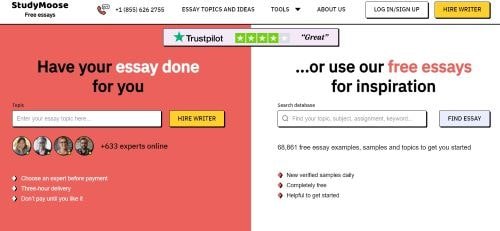 Professional StudyMoose Review: Separating Quality from Scam
It is difficult to find a professional StudyMoose review online, so we decided to change this situation and share our own findings. Lately, more and more students have been sending us requests to research this company: some want to hire it, others are simply curious about the principles of its work. Who are we to deny our visitors? The first thing we did was collect some background info. StudyMoose appeared in 2010, and its funny name instantly attracted our attention. We like unique names that stand out and leave an impression. Unfortunately, this positivity diminished a bit when we saw the website itself. Its red and white design is cool, but there is little info provided for potential clients, and content itself has language mistakes. For example, this line: "What is the best way for me to write an essay if my skills are not enough good" is clearly written by a non-native speaker. No one says "not enough good." Still, we were interested in seeing what our personal experience would reveal.
Study Moose Review Criteria: How We Make Decisions
To find the best paper writer service and offer all crucial info about it to our customers, we assess companies by following specific criteria. This helps us preserve objectivity and keep our analysis even. For one thing, we analyze website, online reviews, and years of experience. Then we study prices and policies to check how friendly they are to students. Diverse services and round-the-clock support get extra points, but our work doesn't stop here. We place our personal order for essay writing and wait for results. If we find some issues with it, we ask for revision. Our conclusions are made on the basis of all these factors, which makes them as objective as they could possibly be.
Analysis of Samples as the First Step to Quality Assessment
No Study Moose reviews talk about samples, but this is an essential part of every professional coursework help provider. In this context, samples are free examples of essays that writing agencies place on their websites to help students out. Their presence proves the company's intention to be helpful even when it doesn't generate any income. From our observations, more and more agencies started to realize this fact, so many add paper examples to their platforms. The problem is, plenty of them have terrible quality. How about StudyMoose? We tested four random examples, and here are our findings.
Navigation: Medium. You won't see a word "sample" — instead, there will be "essay topics and ideas" category, which is a little misleading.
Access: Free. No registration required.
Number of Categories: 25 categories.
Originality: The website itself warns that its example papers might be plagiarized.
Sample 1
Title: Specific of Characters from "The Lottery"
Category: Literature
Length: 575 words (incorrectly labelled as 3 pages)
Analysis: As it is evident from title alone, this sample has numerous mistakes. It should be "specifics," not "specific." The text itself has bad quality, too. Awkward phrases, endless grammar mistakes, contractions, no thesis, incorrect usage of quotes and flawed formatting; ideas aren't expressed well either. Apparently, this sample was written by a "verified writer," but this is a terrible example of quality.
Sample 2
Title: Impact of Culture on Person in Writings
Category: Psychology
Length: 1378 words (incorrectly labelled as 6 pages)
Analysis: This paper also doesn't have good quality. There are multiple mistakes in the first sentence alone: "surrounded in a culture" makes no sense here, and this is just the beginning. Some ideas are good, but they barely meet demands for a high school level. No credible sources are consulted and there are many unsupported claims.
Sample 3
Title:The Negative Side of Mobile Technology
Category: Technology
Length: 654 words (incorrectly labelled as 3 pages)
Analysis: Once again, this essay is disappointing, though it is better than the other two. The first sentence starts with this phrase: "With the technological development not likely to slow down any soon…" It is grammatically incorrect and has a missing word. Similar lack of care is shown in other paragraphs. But thesis is present and overall, ideas are strong. At the same time, no sources are used in support & conclusion isn't finished. StudyMoose.com claims this sample was written by Doctor Jennifer. It is clearly a lie.
Sample 4
Title: Influences of Culture on Business
Category: Society
Length: 1949 words (incorrectly labelled as 8 pages)
Analysis: Grammar mistakes, incorrect usage of verbs, plain ideas and no credible sources — at this point, it seems like a trademark of StudyMoose's samples. "Risks to consider when going internationally" already says a lot, and the first sentence with awkward use of passive reveals that English isn't this writer's primary language.
Unfortunately, StudyMoose has bad samples that don't look promising at all, considering that they are written by the company's writers. We were disappointed.
Types of Writing Help For Students
The next thing our review of StudyMoose explores is range of services. There is no mention of them on a website, but from what we found out, the company offers standard academic options. Clients could order essays, dissertations, coursework, and other similar projects on different topics. Several academic styles are covered. We liked the diversity but weren't happy with the fact that no info about it is on a platform.
What StudyMoose Reviews Say
Online reviews about this company are mixed. On Trustpilot, it has 3.8 stars. Some comments are positive, but some of them sound fake. They are just too enthusiastic for someone who ordered an essay. Others sound more believable. The problem is, many negative reviews are present, too, and they discuss the same thing we've already noticed: non-native speakers, grammar issues, weak papers. The company also appears to steal content — some people claimed they contacted the FBI over it, so it doesn't seem reliable or safe.
Quality of Our Order
After reading StudyMoose.com reviews & seeing samples, we were concerned about our order – rightfully so. The paper arrived on time, which was good, but its quality was abysmal. It used 2 sources instead of 5 we asked for; English was garbled and ideas didn't meet college level. We asked for revision, and this was a positive aspect of our experience. Revisions are free and limitless here. Our work was improved, but it was still not adequate enough.
Prices as Compared to Market Numbers
This is another positive element of our StudyMoose.com review. One page with 10-day-long deadline costs $13.90, which is affordable. This is an average price that most students would be comfortable with. Several payment methods are offered, which is good.
Extra Things We Haven't Mentioned Yet
Now let's talk about other elements of StudyMoose's work. They include positive and negative sides both. Decide for yourself which of them are more persuasive.
Support. You could get in contact with customer support representatives any time. We found them patient and pleasant to communicate with.
Website. As we've already mentioned in our review of Study Moose, website isn't informative. It is also misleading when it comes to writers' profiles. For instance, it's funny to see an allegedly verified writer with the name "Professor Harvey" who looks 18. There is no way this guy is a professor. Also, some profiles of writers have the same copy-pasted info. Both Prof. Johnson and Writer-Frank3457 claim that they are "diligent professional who follows the requirements to the tee." Something is fishy here.
Guarantees. Refunds & unlimited free revisions are provided, which is good.
Amy. Smart assistance Amy is present to help clients out and take them through order process. We found her helpful and useful.
Last Words and Our Rating
Concluding our review, we give StudyMoose 3 stars out of 10. It is an experienced service with affordable prices, but it has a misleading and uninformative website, samples with low quality, and writers who aren't native speakers. Many reviews of StudyMoose complained about its work, and after placing our order, we understand why they did it. We cannot recommend StudyMoose , so if you need writing or online resume editing services, we suggest looking elsewhere. Right now, risks outweigh possible advantages.