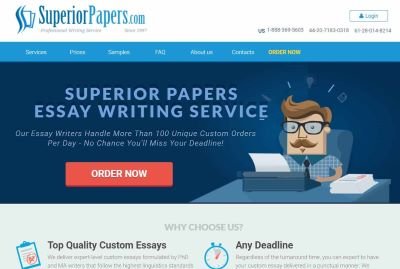 SuperiorPapers Review
This review of SuperiorPapers.com has been compiled from a number of sources:
A complete review of the content and information provided on the site itself
A review of Superior Papers testimonials from the site
An investigation of what customers have to say on review sites and on social media about their experiences with the company
Our own experience with product and service through the ordering of a research paper from Super Papers.
The categories that follow are those that we use to compose all write my essay reviews.
Products and Services
All of the products that the company offers are listed as links at the top of the home page. They include every type of academic research and writing service that a student might be assigned, as a high school, undergraduate, or graduate customer. These products include these and dissertations, as well as admissions essays, cover letters, resumes and CV's.
A customer service department is open 24/7 and we were able to make phone calls at all hours of the day and night and get an answer. There are phone numbers for both the U.S. and the U.K. and we are really not certain where the company is located. When we asked questions about a case study, the representative did not seem to know much about what that actually was. Finally, the last one with whom we spoke directed us to the order form, stating that the writer would understand all of the details.
Trustworthiness
Here is the rundown in what we consider in the area of trustworthiness:
Does the company fulfill the orders as the customer has directed and meet customer deadlines? According to Superior Paper customer reviews, deadlines are met and instructions are generally followed.
Does the company provide for customer confidentiality and for secure payment? The answer to both of these is "yes."
Can students expect to receive high quality products that are a "fit" for their levels of study? This will be covered in the next section of review.
Based upon the information we have, we feel comfortable telling consumers that SuperiorPapers is not a scam.
Writing Quality and Writer Expertise
Here is where some issues surface. While customer testimonials on the site are positive, those found elsewhere are not. Customers have taken issue with the quality of writing – organization of content, grammar, and resources used when research is required. As well, when we studied samples that are available on the site, we did discover that grammar and usage were not really at appropriate levels.
In one instance, a "dissertation" sample was 4 pages long with 2 resources.
The paper we ordered reflected the same concerns that other customers had. The writing was not academically sound, and the resources, while the correct number, were pretty inappropriate for college level research and writing.
The company states, as most due, that its writers all have Master's and Ph.D. degrees. If this is true, they must be from foreign institutions, because English is obviously the second language of some of these folks.
Our Superior Papers rating in terms of quality if "Fair."
Pricing and Discounts
New customers receive $20 off their first orders, and there is a SuperiorPapers promo code to enter into a field in the order form. Other Superior Papers discounts include discounts for returning customers that range from 5 -15% and are awarded by putting that savings into the customers' accounts for future use.
If a customer registers with an email address, s/he will also have access to periodic sales prices via SuperiorPapers.com coupon codes included in promotional emails.
SuperiorPapers.com pricing begins at $19.95/page for a high school essay and runs all the way up to a much as $57.99/page for graduate level work with urgent deadlines. Our paper was $168.00, about average amongst other writing services. Those looking for a company to buy a cheap research paper should choose other services.
Conclusion
Pros:
Service operates for more than two decades already

Many study areas are covered, from simple English essays to programming tasks

Variety of secure payment options are offered

Decent prices with included freebies as well as some discounts
Cons:
Issues are possible in terms of writing quality

Outdated website design

It is not easy to contact support members via phone
Regarding SuperiorPapers.com pros & cons, we can say that orders are taken, process and delivered back to the customer. On the con side, quality of writing needs to improve, as do writers' command of the English language.