Our verdict: Not Recommended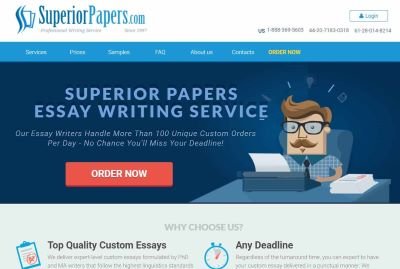 Short overview
Minimal deadline:
3 hours
Guarantees:
Confidentiality, No Hidden Charges, On-Time Delivery, 24/7 Support, Revisions, Refunds, No Plagiarism
Payment Methods:
Available Services:
Writing, Assignments, Dissertations, Editing
Extra perks and features:
Samples
Summary
Inspiration for SuperiorPapers review came both from my readers' comments and my own interest. This writing company has been there since 1997, which brings its experience to an impressive 25 years. It offers writing and editing services for students, and its website has a collection of free samples. To my surprise, I didn't find many reviews online, but those that are posted seem positive. Prices took us aback and quality of the essay caused a lot of debates among the members of my team. Each of us thinks, "I write my essay reviews because I was a student once, and I want to help others who are having the same problems." That is why I treat each firm seriously and spend a lot of time on reaching an objective decision. Let us tell you a story of SuperiorPapers and its writers!
Pros
Impressive writing experience
Excellent team of operators
Solid guarantees for customers
Cons
High prices
Unstable quality
Suspicious online reviews
Top 3 services
VIP Support
From $14.99 per page
PhD Writers on staff: 80%
From $12.99 per page
Website Interface
Like always, I began my SuperiorPapers.com review with analysis of the company's website. Its layout looks modern, and it is comprehensive and convenient. Any visitor can instantly see relevant sections — description, main features, and reviews of other customers go one after another. In fact, we'd say that there is too much info present on the front page, and some of it is repetitive. Blue and white colors make for a nice design, and the Minecraft-style image of writer on the logo is eye-catching. Services, Prices, FAQ, About Us, and Contact categories are situated above and offer a satisfying amount of details.
What I didn't like about SuperiorPapers.com is that parts of its content have mistakes. The front page looks good, but it appears that other sections were written by non-native speakers. "You can be assured that when you buy a paper that your details will never be shared" is one such example. It sounds awkward and has an extra "that." Another odd thing is that the firm keeps claiming that it has more than 10 years of experience, but in reality, it's been working for more than 20. Usually, companies underline the length of their work, so it looks like SuperiorPapers just took info from some other places and didn't bother to customize it. I were confused by such a careless attitude. The categories that follow are those that we use to compos all write my essay reviews.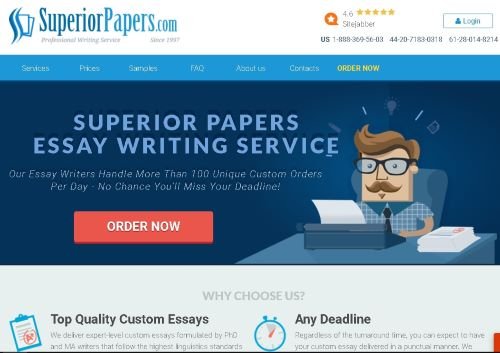 Superior Papers Review of Academic Services
The company specializes in three largest types of academic services. Students could order essay writing, which includes reports, research, analysis, movie reviews, applications, bibliography, critique, and many other works. Assignment category centers on lab work, presentations with slides, and complex projects. You could ask for the entire dissertation, a specific chapter from it, Capstone project, business plan, and so on. Editing is the third service. SuperiorPapers experts would gladly clean up your essay, remove mistakes from it, and make it look excellent.
Another thing that I liked was samples. These are free papers on academic topics students could use for inspiration or knowledge. Superior Papers has only 14 of them, but this is better than nothing, and they made sure to include samples in different categories. I chose a random one for analysis.
Title: Pollution Prevention
Length: 2 Pages
Analysis: The sample comes under the title Pollution Prevention, like every other paper in this collection. It is misleading as the paper itself is about management. It's original, but it presents very basic information in an awkward manner. Sentences are short, have passive voice and grammar issues. Repetition is common, and once again, it is clear that English isn't the writer's first language. Sources are very outdated: they shouldn't be older than 5-7 years, and in this paper, almost all are more than 20 years old.
Quality: Medium-to-low.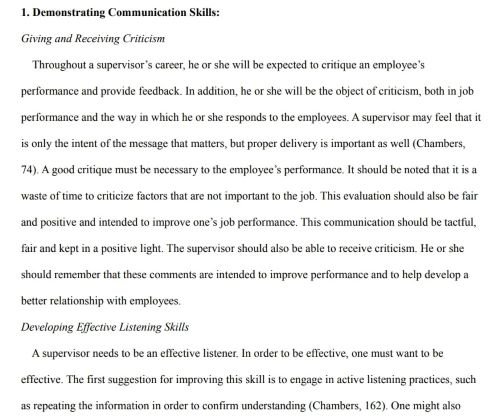 Guarantees and Promises
No SuperiorPapers.com reviews complained about guarantees, so I are going to be the first. At the first glance, this agency has generous policies, but they all come with strict stipulations. If a client isn't happy with the quality of their order, they can place free revision request, yet they should do this within 14 days of delivery. Any later requests will require payment. Refunds exist, but you'd need to request one within 72 hours. No professor is going to return your results so soon, which means that chances of you getting your money back even if the quality is awful are small. SuperiorPapers warns that some of its works may have plagiarism because they can't watch every writer, and this is unacceptable. At least privacy is guaranteed: the firm won't share personal details you gave them with any third parties.
Customer Support Department
To test the best admission essay writing service or research company, I chat with operators and managers. They represent the firm and they need to be there for customers, giving transparent and helpful answers. Is support team at SuperiorPapers reliable? Yes! I loved working with these guys. Whenever I got in touch, they were friendly, communicative, and eager to help. Their replies were comprehensive and they never left a single question without an answer. Managers were polite as well. There were some tense moments after I got my order, but they were resolved peacefully. You could contact them via phone number or a chat.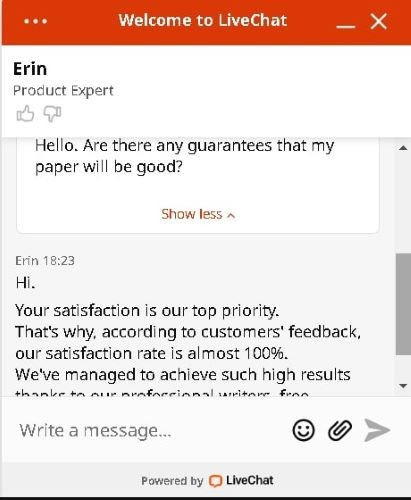 What You Want to Know Most: Essay Writing Quality
Quality is the most powerful weapon. It can boost the firm's reputation to the skies or plummet it down, and this is why writing companies try to make certain that their customers are happy with their work. Reviews of SuperiorPapers mostly praise writers, but I wanted to see everything with my own eyes. I placed an order for an essay in Nursing: 5 pages, 14-day deadline, high school level, the usual drill. Soon enough, I were informed that managers found a perfect writer who began their work.
I paid $111.25 for my order, which is a lot, but we'll cover the prices later. After two weeks, the order arrived on time. I appreciated the lack of delays and jumped to analyzing the text. This is where I faced one of my biggest disappointments: writer made numerous language mistakes. We've seen worse works, but 24 issues per 5 pages for such a high price is a lot. There was also some plagiarism, though it's not because the writer stole the lines directly. They just forgot to cite their quotes properly. Content was passable for high school level, but several ideas were too general and two out of five sources were not academic. I asked for revision.

Order Placement
Placing an order at SuperiorPapers.com is a piece of cake. Four steps is all you need, and operators are ready to accompany you at any stage. This is the sequence:
Basic details. After clicking "order now," students should point out details about their order. Basic steps involve selecting essay type, subject area, academic level, word count, urgency, extra services.
More details. This section entails paper topic and requirements. Paste them in an empty box or upload college files. Pick formatting style, UK or US English, and select extra features like plagiarism report if you need them.
Contact info. Share your name, phone number, and email. Create SuperiorPapers login and password for finalizing the creation of your account.
Paying for essay. Pay for your paper and the search for your writer will commence.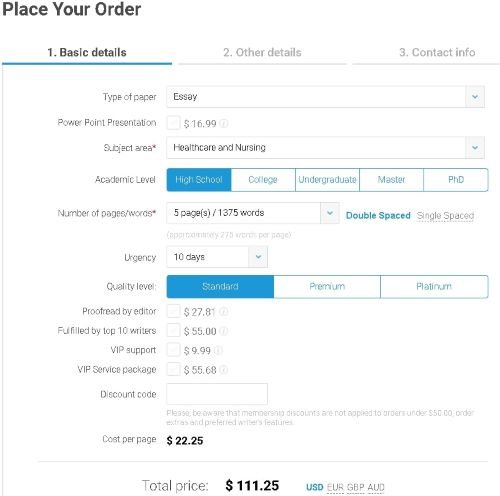 Are These Academic Services Cheap?
Students always care about their expenses. No one wants to overpay for academic assistance, especially without knowing if their experience is going to be successful. Since I make it my goal to find the best cheap coursework writing service online with solid quality, I know what costs are affordable and which ones are questionable. Agencies that ask for too little or too much are automatically suspicious. But what about SuperiorPapers prices?
They fell into the latter group. Average price for one essay page shouldn't exceed $15. This company asks for $21. This is a lot and no service is worth it. Discounts are present but they are mostly given to clients who become a part of loyalty program. More than that, SuperiorPapers tries to trick its clients by claiming that it offers multiple free features. Apparently, revisions cost an extra $30, formatting is worth $10, etc. These options are always free — such marketing is cheap.
| | |
| --- | --- |
| Services | Minimal Price per Page |
| Simple essay | $20.99 |
| Term paper | $21.99 |
| Coursework and Case study | $22.99 |
| Dissertation | $29.99 |
| Editing | $17.99 |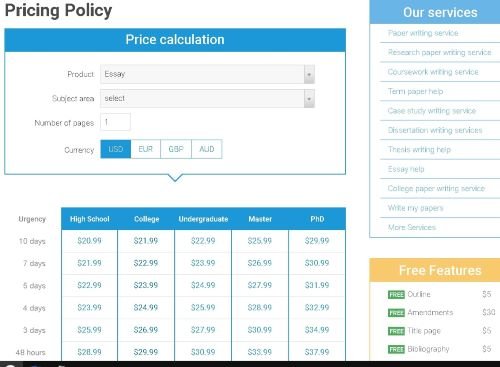 What Types of Writers Are Available
The company boasts of having strictly professional writers. What concerned us was that it separates them into several categories. Before creating SuperiorPapers account, students have a chance to demand one of top 10 experts. If they purchase a custom package, they can access "premium" writers, whatever that means, or top 25 writers. I don't appreciate such separations. A professional is a professional, plain and simple. They all need to meet the same quality requirements.
I weren't very happy about my writer. They were polite, but they didn't produce a good paper. Apart from making mistakes with English, they failed to format sources properly and they picked inappropriate articles. Generic ideas and frequent use of informal expressions also didn't impress us.
Are Revisions Efficient?
For the goals of review of SuperiorPapers, I didn't give up after getting a bad paper. I demanded revision, and since I did it within 14 days, my request was fulfilled. Unfortunately, I had to wait three more days after my deadline. I understand that writers are busy with other orders, but if a paper is inadequate, revision must be urgent. Otherwise, clients risk missing their deadline, and then even a perfect essay won't benefit them.
Even worse is that I cannot say the revision was efficient. The writer changed sources for their better versions, but they did nothing with grammar mistakes. Academic language also barely improved. This wasn't the worst example of writing I got, but it wasn't good enough, especially for the high price I paid.
Benefits for Repeat Clients and Other Perks
Superior Papers reviews never discuss membership, but it is an important element to mention. The company makes a lucrative offer to its repeat customers. Instead of paying for regular orders every time, they can purchase Ruby or Diamond membership. It allows getting discounts, choosing 'top' top writers, and getting better support and editing opportunities. I think such options contribute to unequal distribution of quality assurance team's attention and can't give my approval. From perks, there are samples that we've already discussed. But their quality isn't the best and there are too few of them.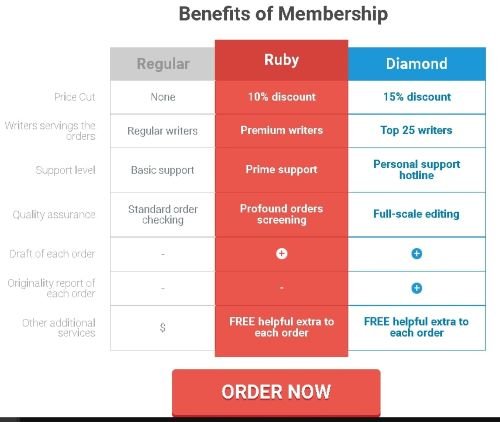 SuperiorPapers Reviews and Social Media Accounts
Despite having worked for 25 years, SuperiorPapers has a surprisingly small number of reviews. I found just a couple. They look positive, but I don't believe most of them are real. The tell-tale signs are all there.
SiteJabber

This is the biggest platform with reviews. There are more than 100, but most sound too similar. Some are downright identical. Check two comments in the screenshot: they come from two different profiles but they are saying the same thing.
TrustPilot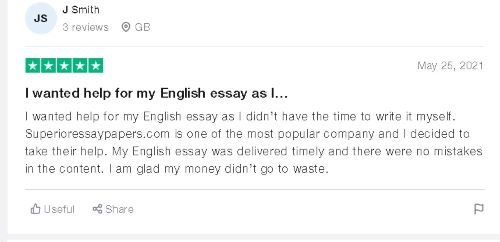 There are only 8 reviews on TrustPilot. What concerns us is their content: one comment mentions how SuperiorPapers is so much cheaper than other firms. This is blatantly false. Some comments use the company's domain name, and that's a marketing technique only managers apply.
Social Media
There is an Australian manufacturing company with a similar name. Don't be confused, SuperiorPapers has no established social media presence.
Faq
Is SuperiorPapers legit?
Reviews about this academic firm are dubious, but it obeys the laws about writing services provision and it has some experts working for it.
Is SuperiorPapers safe?
Some of its policies work better in theory than in practice. Your work won't have plagiarism and your data will be protected, but paper quality might be low.
Is SuperiorPapers reliable?
I cannot give a definite answer here. Some people got positive experiences, others face negativity. I weren't fully satisfied with my paper.
Is SuperiorPapers a scam?
This company is real and it provides real academic writing services. It won't steal your money and give nothing in return.