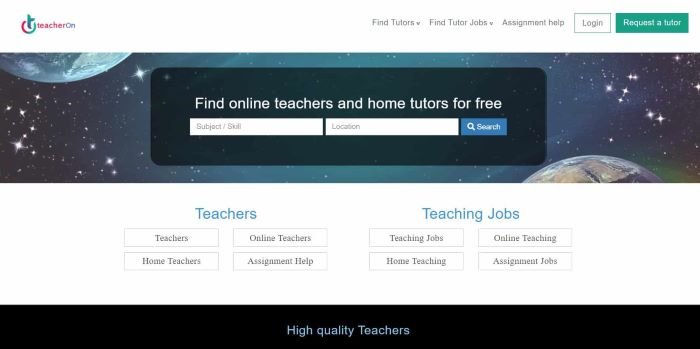 Teacheron Review
We must admit that we were quite confused by teacheron.com. The website is confusing and disjointed. The explanation of services is as well. Ultimately we were able to determine that Teacher On is a tutoring site. We noted that according to their own map, there are no tutors located in the United States, or in any portion of Western Europe. Clearly, most of the tutoring here happens online. Which is fine, but we don't understand them emphasizing in-person tutoring.
Review Criteria
We adjusted our review of TeacherOn because this is a writing service, not a tutoring service. However, we were able to place an order for services. We also read customer reviews of TeacherOn.com. We checked pricing, and submitted a search of Teacher On to the BBB. We looked for coupon codes and other special deals as well. Ultimately our criteria were:
This is not a fraud or scam.

Prices are competitive.

It's easy to place an order.

Services rendered are reliable and of high quality.

There were no security concerns uncovered.
Services Offered
This is not one of the best essay writing websites. They are a tutoring, matching service. Basically tutors pay money to be create profiles. Students who need their help find them, and contract with them to get the help that they need. Math and science are the most popular topics.
Prices
Pricing here is a bit confusing. There are no set prices at Tearcheron. There are also no discounts. We searched for a promo code to no avail. When it comes to pricing, it appears as if students and tutors make arrangements for cost and payment between themselves. There is some confusing system of coins that students and tutors both by on the site. However, these are only useful on the site. They are not exchangeable for fiat currency.
Discounts and Additional Features
We review websites to see if they may have any extras that could be valuable for students. Unfortunately, there really isn't anything here of note. TeacherOn seems to be very limited in what it offers.
Writers
Quality really seems to vary. Most tutoring services are focused on STEM. Some students are quite happy. Others appeared to feel as if they really wasted their money. Our tutor was helpful, but not spectacular. We sincerely doubt they held a PHD as claimed.
Trust and Reliability
We did not experience any type of fraud or security issues. However, we were not convinced of the security of the site. Proceed with caution.
Conclusion
Pros:
Focus on rare and complex STEM subjects

Tutoring may be more beneficial in terms of providing knowledge for students

Cooperation and data protection are both secure and risk-free

Many qualified tutors are available to help students
Cons:
Website is confusing and not informative

No set prices are present as service works using the bidding model
Our final rating is poor. We think that the confusing website and unclear descriptions are enough to scare most students away. However, Teacher On also has some definite quality issues. We are also not convinced of the security of their payment system. While we found some positive testimonials, overall customer response seems to be lukewarm at best. This is why, after weighing the pros and cons, we recommend looking elsewhere for tutoring help.