Our verdict: Not Recommended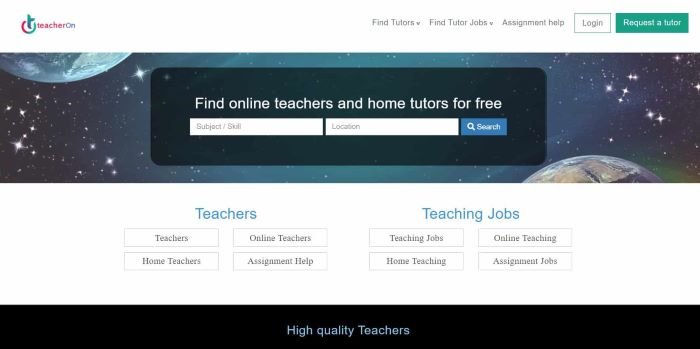 Short Overview
Minimal deadline:
24 hours
Guarantees:
Refund Policy, Privacy Policy
Payment Methods:
Available Services:
Connecting Students and Teachers
Extra perks and features:
Payments Accepted in 91 Currencies. TeacherOn Coins. 50 Coins Cost $1
Summary
According to my TeacherOn review, this is an online platform for linking students and tutors. Website claims it is free for users. At the same time, it includes instructions for paying tutors. This is misleading. TeacherOn hopes that some teachers are willing to provide services for free, but that's an unrealistic expectation. TeacherOn states it awards students with 150 TeacherOn coins for contacting 3 teachers. They would need more coins to continue their search for tutors. TeacherOn was established in India, and I assume most of its teachers are based in India. There are no samples on website, which seems full of fake reviews. If you decide to pay a teacher, you risk getting a pig in a poke.
Pros
Large database of teachers
Cons
No customer support
Fake reviews
No refunds
Dubious quality
Top 3 services
VIP Support
From $14.99 per page
PhD Writers on staff: 80%
From $12.99 per page
Service Overview Based on My Teacher On Review
Overall website design is acceptable. It is not overloaded with lots of data. You get a simple table, which you can quickly fill out and see who's available. You can specify subject and location making your search more effective. Boxes that are placed right beneath the table are confusing. Their website does not explain differences between two sets of boxes, and I had to open them to get a handle on the kind of information they contain. However, the rationale for having 4 boxes under 'Teachers' heading is unclear. When you check individual boxes, you see the same adverts.

TeacherOn was founded in India in 2009, and it was originally called TutorIndia. In 2013, the website was renamed to TeacherOn in a bid to internationalize its business. TeacherOn claims its database includes teachers from 125 countries. My TeacherOn.com review found that most teachers come from India and Asian countries. Company's claim it works in 250 languages is also unrealistic.
Website includes complex refund procedures. No contact details are included to reach out this company. This is a shame because most essay writing websites have this information laid out clearly. All you get is an automated-reply box, which includes pre-loaded answers. Not much you can do if you can't find the needed information there.
Types of Services Offered
TeacherOn is not a writing service, so it does not provide samples of completed assignments. Interactions take place between students and teachers directly, hence there is no access to accomplished tasks. In my assessments, I could only rely on reviews and feedback posted on website. I was surprised to see how shallow most reviews are, which makes me think that they are not genuine.
TeacherOn claims its teachers cover more than 4,500 subjects and offer over 500 skill sets. Tutors can help students with coaching, assignments, academic projects, term papers, and theses. Interested teachers can also apply to TeachersOn and register as service providers. I had no means to validate these claims. Some TeacherOn reviews cast doubt on validity of these assertions.
TeacherOn Guarantees
TeacherOn claims all applicants undergo a rigorous process before they can start providing services online. 46% of applicants do not pass muster because they are unable to complete their profiles. TeacherOn has no refund policy. Students are asked to withhold payment before they are completely satisfied with the work or before they reach a dispute settlement with their teacher. Once payment is released, there is nothing teacheron.com can do about it. The best online research paper editing websites offer money-back guarantees.
I looked through procedures for refunds, and I could not make heads or tails. The explanation is clunky, murky, and complex. You should not expect refunds at all.
Customer Support
Is TeacherOn good in terms of customer support? Simply put, TeacherOn has no customer service. No live chat, no phone number. Not even an email address. This is utterly disappointing. I don't think this is acceptable for a company that positions itself as a global one.
All customers get is a box with pre-loaded questions and answers. You will be directed to discrete sections of website, depending on the type of your question. If you can't find what you are looking for, there is nothing you can do about it. It all boils down to the extent to which you trust or distrust reviews posted on their website. Other TeacherOn reviews also point to the lack of customer support as a major gap and a missed opportunity.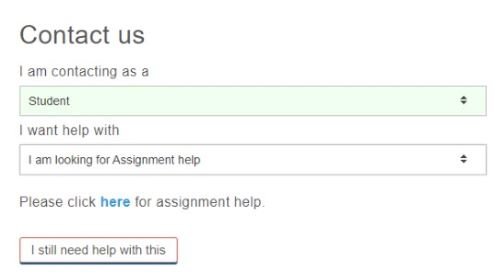 My Experience and Paper Quality
Is TeacherOn reliable when it comes to quality? I decided to test its system to find out. First, I signed up to be able to have access to coins and payment system. I went on to look for a tutor in linguistics. I received a long list of teachers charging roughly about $30 an hour. I reached out to one of tutors whose qualifications and rate seemed to offer an optimal combination of experience and cost. Unfortunately, my message was not answered. I had to switch to another candidate, number two on my list. No reply either. I had to keep going until a fourth one got back to me to discuss details of my request.
I deposited requested amount on my account and agreed the details with tutor. Communication was erratic and faulty. Throughout my exchange of messages, I felt like I was dealing with a non-native speaker even though I clearly indicated the United States as my location, implying that I was looking for a native English speaker. Quality of work was equally disappointing. My tutor must have used the best paraphrasing tools when working on my assignment. I was embroiled in a lengthy dispute about my order, and TeacherOn never bothered to intervene to facilitate a solution. I lost my money, but I am not sure this teacher got paid either.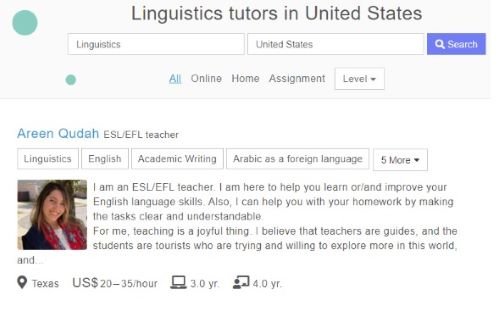 Ordering Process as per TeacherOn Reviews
Ordering process is easy and hassle-free. For a tutor request, you need to click on 'Request a Tutor' box in the top right corner. You will be prompted to provide your contact information and describe your needs.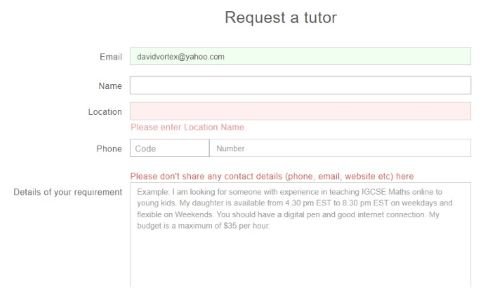 Students can also search for relevant tutors by entering the subject and location in the search box on the homepage. The system selects best matches from its database. According to teacheron.com reviews, students are required to deposit money to their account by using the 'Pay' button. TeacherOn holds on to funds before students accept the work and agree to release funds.
Pricing and Discounts
There are no fixed prices on TeacherOn. As students search for tutors, they see individual rates indicated by participating teachers.
| | |
| --- | --- |
| Services | Prices per page |
| Premium membership gives tutors access to: Early access to jobs. Premium members have priority access to jobs; Top Placement in search results. This gives tutors more exposure. Premium members get approximately 50% of advertised jobs. | 1 coin per month |
TeacherOn offers no special discounts except a 50% discount on a certain number of coins you buy. The website does not specify how many you should buy to qualify for the discount.
TeacherOn has a referral system allowing users to refer teachers or friends. For each referral, customers get bonus coins they can spend on payments made through the website. I did not find any additional promotions or offers on social media platforms where TeacherOn posts its updates.
Writer`s Proficiency
TeacherOn claims it has one of the largest databases of teachers in the world. Customers can browse through the list of interested teachers selected on the basis of their parameters. Reviews of TeacherOn show that the terms and details of each task can be negotiated directly and individually with the selected tutor.
The website argues it has one of the most stringent selection processes for working with only top professionals. My experience of dealing with tutors is not positive. They were either irresponsive or irresponsible. It took me a long time before I could start a conversation. I felt that most teachers are not native speakers. This does not necessarily mean they are not qualified in their fields of expertise, but it makes effective communication untenable.
Revisions
Reviews of TeacherOn confirm that TeacherOn has no revision policy. Since tasks are discussed and agreed upon directly between students and tutors, all concerns are to be raised between the participating parties. The problem is if the tutor fails or refuses making the requested revisions, there is not much, if anything, you can do. TeacherOn takes responsibility for withholding payment until the issue is resolved, but it does not seem to be willing to facilitate a resolution.
This is not practical because most of the best free essay websites have clearly articulated revision policies. They make sure that writers follow these rules rigorously. Customers have recourse to customer services or refunds if they are not satisfied with the final products.
Loyalty Program, Offers, and Extra Services
TeacherOn does not have a loyalty program. Teacher On reviews evince that customers are receiving a 50% discount on coins in case they purchase a certain number of them. Although the website does not specify the exact figure. Additional coins can be earned through referrals. Customers can refer other teachers or friends and earn the corresponding number of coins.
Online Reputation
Review services
Is TeacherOn legit according to online reviews? There is only one review on Sitejabber. It is embarrassingly negative. The customer complains about low-quality service, unresponsiveness of the teacher, and ineffective customer service.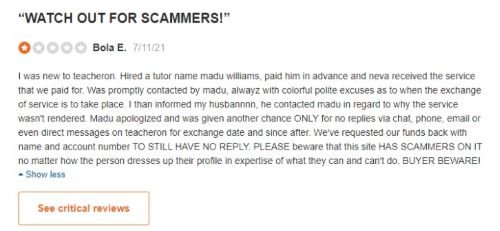 By contrast, TrustPilot includes almost 300 reviews of TeacherOn. The overall rating is 3.9 out of 5. 70% of the reviews are positive. Customers particularly appreciate high quality, usability of the website, and great additional services.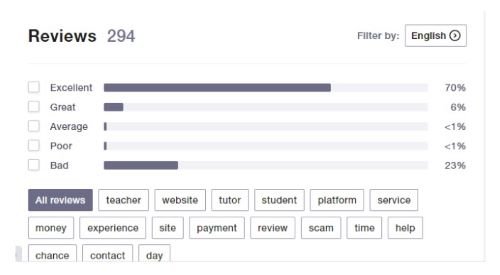 Glassdoor has 14 reviews, and it gives TeacherOn a rating of 4.1. Most reviewers would recommend its services to a friend.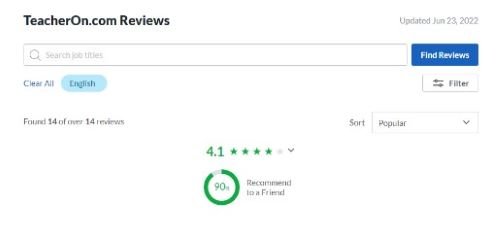 Social media
Review of TeacherOn finds TeacherOn to be relatively active on Facebook. The latest post is dated June 2, 2022. However, the number of followers barely reaches 7,000.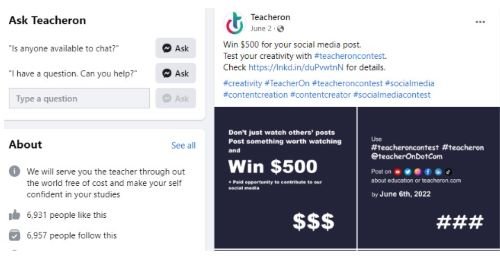 There are a few videos posted on YouTube, but all are posted by individual users. Most of the videos are uploaded from India, with smoke being in Hindi.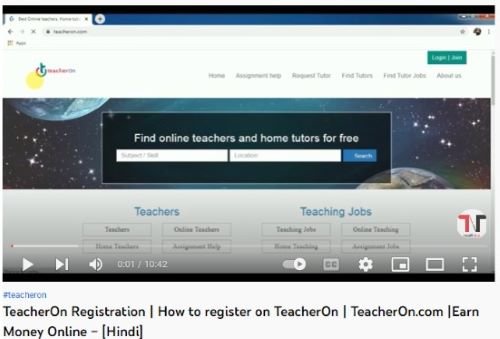 Show Me Your Top Services
Faq
Is TeacherOn legit?
I believe it is a legit entity. A detailed TeacherOn review shows it was established in India.
Is TeacherOn safe?
TeacherOn uses PayPal, which is a safe payment method. It also offers TeacherOn coins which can only be used on its website.
Is TeacherOn reliable?
I do not consider TeacherOn a reliable service. TeacherOn reviews show quality varies substantially. I do not recommend free services at all.
Is TeacherOn a scam?
I don't believe it's a scam. But the company's claim about providing free services is not entirely accurate.