Our verdict: Not Recommended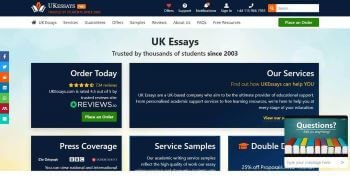 Short overview
Minimal deadline:
6 hours
Guarantees:
No Plagiarism, Always on Time, Verified Quality, Confidentiality
Payment Methods:
Available Services:
Writing, Rewriting, Editing, Marking, Dissertations, CV
Extra perks and features:
Samples, Guides
Summary
I was reluctant to write UKEssays review despite many requests my team got about it. The company started its work in 2003, so obviously, it had to have vast experience and many comments. But requests gradually turned into complaints from disappointed students, so I decided it was time to give it a try. Odd website, many samples on academic topics, guides, problematic order form, and prices that nearly made my eyes pop out. That's right! Even though I have been maintaining a platform with the reviews together with my team for years, I have never seen costs that would be so insanely high. Do they transfer to quality? This was the most important question. If you consider hiring UKEssays, hop in and sit tight because the full-scale research is about to start!
Pros
Old company with solid reputation
Different writing options
Free essay samples
Cons
Prices are impossibly high
Quality is subpar
Low communication levels
Concerning privacy policy
Top 3 services
VIP Support
From $14.99 per page
PhD Writers on staff: 80%
From $12.99 per page
Outward Appearances: Are They Impressive?
As soon as I followed a link to visit the website and start my UKEssays.com review, I saw a very uninspiring interface. If you're looking for individuality, a defining logo, or some outstanding catchy slogans, you won't find them here. Instead of keeping categories with useful info above, like most agencies, this one decided to also present their contents right on the homepage. Any visitor is instantly bombarded with service description, reviews, and other details. The layout has a modern scrolling-down structure, but that's the only positive aspect. What surprised me most was the appalling language mistakes in content.
Whether a company is providing medical school personal statement editing services or simple college assignments, it must look its best. Managers and writers need to proofread every piece of text they prepare for their potential clients. UKEssays chose against it. This is one of the first lines that greets visitors: "UK Essays are a UK-based company who aim…" There are several grammar issues here at the same time, considering that the company and its name have singular forms. "Every writer is hand selected by our team" also sounds strange — my impression was that the person who wrote this wasn't a native speaker or their English was flawed. The website lacks a clear price category, which is also a problem. I found it surprising that after two decades, the agency could make itself a perfect website.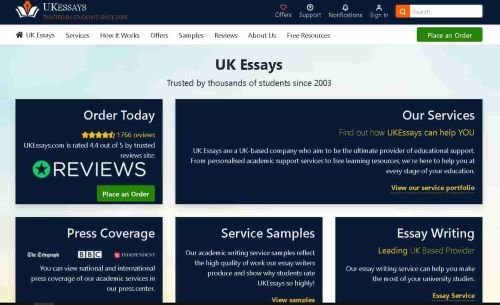 Writing Services for Clients: What's Really on Offer
Is UKEssays reliable in the services it provides? To find out, I checked the options it lists on its website vs. what it actually serves. Major services revolve around academic writing. You could ask for reflections, assignments, essay plans, dissertations, reports, and case studies. This isn't much. Students could also order grading of their papers, editing, and exam revision. These options are rare and I liked their inclusion. PowerPoint presentations and CV writing are present, too, so students looking for work could get these guys to write impressive resumes for them. UKEssays agrees to accept every order with no problems.
For proving its trustworthiness, www.UKEssays.com collected a huge number of samples, and it offers them for free. Students could filter them by subject & academic level. Their existence is a great advantage.
Title: The Impact of GDPR on the Marketing Practices of Small Businesses
Length: 1652 words
Analysis: At first it looked like I'm going to enjoy this sample, but very soon, I realized how wrong I was. The writer picked strong sources for their research, but their English is disastrous. They can manage to create some occasional coherent pieces, yet almost every sentence has horrifying mistakes. Look at the second sentence: it's too long, it has awkward tautology ("businesses"), and it's grammatically overloaded. The use of passive voice and informal expressions like "quick buck" throughout the essay is unprofessional. Content is interesting enough, but poor language grasp makes it barely readable.
Quality: Low-to-medium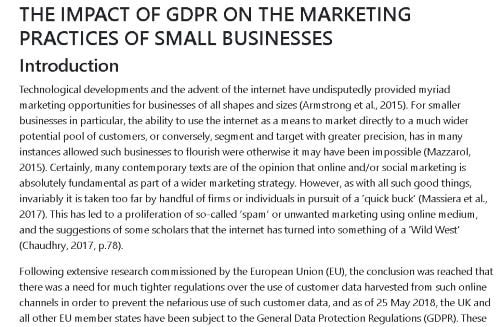 Guarantees Over Services
How about policies? Respectable agencies protect the interests of their customers, and I expected the same from such an experienced provider. Alas, this wasn't the case, and any person who creates UKEssays account is going to risk their safety. If you read privacy policy, you'll see that this service could share your data with third parties like Zendesk, WeTransfer, Mailchimp, Esendex, Twilio, OneSignal, etc. This is a startling number of agencies! The company might also call you for marketing purposes, which is entirely unacceptable.
Refunds exist, but the company decides whether to provide them by itself. On its front webpage, it promises that all orders will arrive on time, but its policies show a different thing. It has a disclaimer that infuriates me: in case the company can prove that the writer failed to provide a paper on time for a good reason, you won't get any money back. It's easy to fabricate such evidence, but even if it's real, clients shouldn't suffer just because something happened to their experts. They paid money for a service. Revision requests are accepted within 7 days but can result in endless arguments with writers. In short, there are no guarantees of your satisfaction.
Operators and Online Chat
If you're interested in UKEssays.com paper writing and want to ask some questions about it, you might have to wait a lot. During the years of creating general and admission essay writing service reviews for students, I have never seen an experienced agency that doesn't work 24/7. UKEssays became the first unfortunate example. As you can see from the screenshot, it has certain working hours and its chat is often offline. Sending email or calling won't help either, and students who are in a hurry won't find assistance they need. Operators, once they got in touch, didn't leave a good impression. They were abrupt and rude, and they obviously wanted to finish our conversation as soon as possible. It was another disappointing aspect.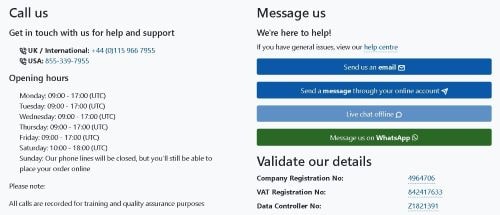 UK Essays review of Writing
To see if UKEssay deserves to be called the best, I placed an order with its writers. My team usually has a template for what I order, so I asked for an English Literature paper with 5 pages, delivered in 2 weeks. I paid $263.00. I couldn't believe my eyes when I saw this price since other services would have asked for about $80 for the same work! But there was hope that my writer will be an expert who'll impress me with their amazing work, and I looked forward to results.
UK Essays reviews didn't prepare me for these results. While the paper got to me on time, it had 288 language issues. According to Grammarly, there was symmetry: the writer made 144 grammar and 144 punctuation errors. I have no idea how anyone could have managed this, but my shock just grew as I kept reading. The content sounded like a child wrote it. No academic rules were followed — it's like my writer went out of their way to write the worst essay ever. The only positivity was the usage of sources: they were fresh and relevant. This quality didn't deserve a cent, never mind almost $300.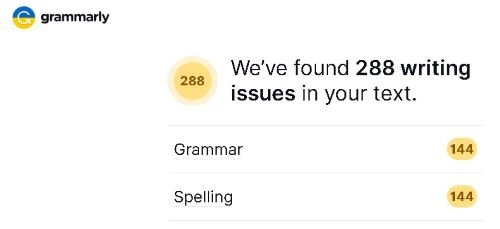 Instructions for Order Placing
Normally, placing academic orders is easy. I thought I'd have the same experience here: create UKEssays login, add details, pay and that's it. But I never expected the process to be this slow.
About order. Clients should choose their country of residence, select type of service, subject, level, length, and deadline. In the same column, you need to point out your name, email, phone number. The problem is, that every time you change parameters or pick them, the site lags. See the evidence on the screenshot: it loads and loads until the blue line is completely filled. It was exasperating.
Upgrades. No UKEssays.com reviews I read talked about extras, but they are important to mention. You could pick the "elite" service by paying 25% more. One of top 5 writers would work for you. I don't like such division, it never leads to anything good. By paying 15% more, you could order notes explaining why your writer made this or that choice. Clients who want to receive their essays 4 hours before their deadline need to add $37.00. This is especially ridiculous!
Specifics. Expand details, upload files, choose formatting style and add diagrams selection.
Pay for your paper. Make a payment for your essay and wait for delivery. You pay half up front, half afterward.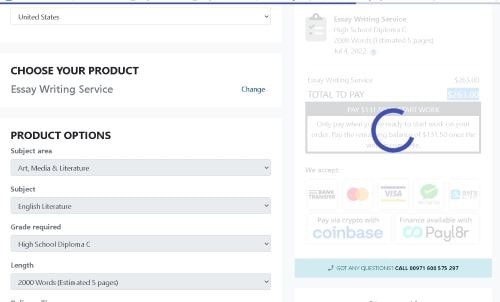 Prices for Essays and Comparison with Market Norms
Words fail me to describe what I think of UKEssays prices. Paying $86 for 250 words is madness, pure and simple. In comparison, companies usually ask between $12 and $15 per 275 words (all counted with the condition of a 14-day deadline). What this company demand is outrageous. Just look at this table!
| Service | Minimal Price per Page |
| --- | --- |
| Simple essay | $86 |
| CV | $100 |
| Rewriting | $62 |
| Dissertation | $82 |
| Editing | $15 |
There are discounts available, but only for some clients. Ask operators for help. Personal advice: don't bother, this discount won't exceed 10%.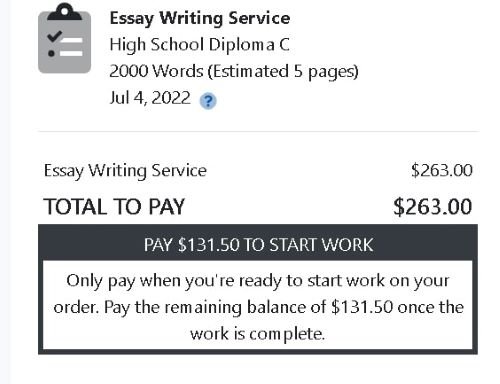 Qualification of Writers
As I saw from reviews of UKEssays, writers are a big topic. Some enjoy theirs, others hate them. My writer was abysmal and their work failed my expectations, so I cannot say anything good. The company claims that it has 500+ specialists with top qualifications, no exceptions, but my experience proves this claim wrong. At best, it's a lottery game and you might succeed with whoever accepts your order — then again, you might not.
Do Revisions Really Improve Essays?
UKEssay calls revisions amendments and offers them for free. I tried to request it, but my writer refused. I entered into lengthy arguments; managers eventually joined in and promised to inform me about their decision. Two days later, I told them to forget it. Even perfect revisions wouldn't suffice now after so much time passed. Students would fail their assignments, and this means the company didn't pass this test.
Lucrative Options for Students — Or Are They?
As I've mentioned in my review of UKEssays, the company has samples. Unfortunately, their quality is pretty low. There are guides for visitors on various topics, but they are generic and aren't really useful. They are also badly written. Options for extra money I described in the order section are offensive because UKEssays asks you to overpay for something no one needs or should get anyway, like top quality.
UKEssays Reviews: What Do They Say?
The worset and the best essay services reviews tell a story of how successful a company is. I didn't find a lot about UKEssays, which is surprising since it's old. No TrustPilot reviews either. What angered me was all the glowing reviews on UKEssays' website. As a client, I had no way to leave a comment, which tells me that these reviews are fake. But what about independent platforms?
SiteJabber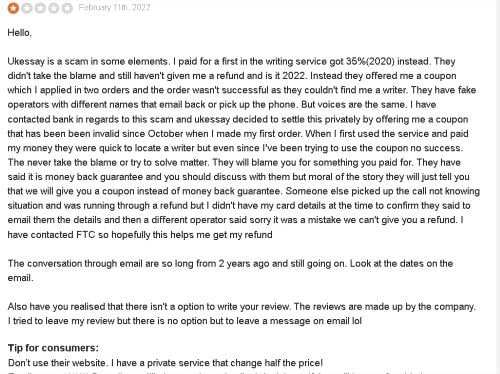 This is the platform with the most reviews. Some are positive, but some are concerning, and they have proof in the form of screenshots. Check this one out. The person attached evidence of their dealings with UKEssays. Several other comments say what I do: superficial papers with inexperienced writers.
Reddit

Few Reddit comments exist about the company. Most I found are negative.
Social Media
UKEssay has Facebook, but it's abandoned and managers never answered students' questions.Twitter has many followers but it also has mainly old posts no one interacts with.
Show Me Your Top Services
Faq
Is UKEssays legit?
UKEssays has been working for almost twenty years, so yes, this is a legit service acknowledged publicly and on an official level.
Is UKEssays safe?
This company has a dangerous privacy policy: it shares your info with numerous third parties, all of whom have their own rules and regulations.
Is UKEssays reliable?
Some clients have had positive experiences with it, but mine was a disaster. Weak quality for an insane price is a nightmare for any customer.
Is UKEssays a scam?
No, customers will get their papers, but their quality might be far from the pretty picture they are expecting. You might also not get refunds.