Our verdict: Not Recommended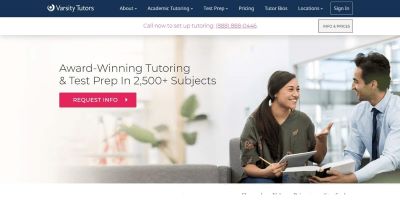 Top 3 services
VIP Support
From $14.99 per page
PhD Writers on staff: 80%
From $12.99 per page
VarsityTutors Review
Varsitytutors.com is a tutoring service based in St. Louis, MO in the United States and serves students who reside in America. Founded in 2007, it has obviously been around for a long time. Varsity Tutors has remote locations in all major cities across the U.S. and employs tutors in those cities to deliver some of its services.
While we have traditionally reviewed only writing services, we have expanded our reach to tutoring services, because many parents and students seek those services and are looking for reputable companies that are both reliable and that can be trusted to do a good job for them.
Review Criteria
The criteria we use to evaluate a tutoring service is a bit different from those of writing services, but many of the same factors are used:
We want to see a company that delivers what it promises
We want to see a company that employs qualified professionals for the tasks that customers request
We want to see a website that is well-organized and gives customers clear information
We want to see an easy-to-access listing of products and services
We want to see pricing that is reasonable when compared to other similar services
We want to see a customer support department that is professional, responsive and that resolves customer issues and problems quickly
We want to see off-site customer reviews and feedback that are positive, not just the testimonials that are posted on the company website.
Factor 1: Types of Writing Services Offered
There are several types of tutoring services.
At first, the company provided only person-to-person services, either at home or at a mutually agreed-upon neutral location
Over time, it realized that online tutoring was more convenient for many parents and students and that it could widen its customer base to places all over the country. So, it began to offer online services on all devices. These online services are still personalized because video conferencing tools are used
There is also test prep for college applicants (ACT, SAT) and for graduate and professional programs (GRE, LSAT, MMAT, Miller's Analogy, etc.)
For students in need of emergency and immediate help, there is a 24-hour "hotline" for quick help with any type of assignment
All grade levels, Pre-K through graduate students are served in all topic fields. Obviously, this requires a huge supply of tutors.
To request tutoring, students can call the toll-free number or the number of a local office nearby.
Tutors are assigned by the company, based upon student academic level and specific needs. There is usually an agreed-upon number of hours, and, if more are needed, payments are made in advance to the company, which takes its cut and then pays the individual tutors.
Factor 2: Trust and Reliability
Varsity Tutors holds a BBB membership, which we always like to see. And according to customer comments and feedback, payment methods are safe and secured, through a third-party processor. As well, tutors are assigned promptly. None of the reviews we read expressed concerns that the company may not be legal. We can certainly say that Varsitytutors is not a fraud or scam.
Factor 3: Level of Quality
Here's the thing about tutoring services. Quality is often difficult to determine because each customer's experience is different. In the case of Varsity Tutors, many were satisfied. However, many were also critical and did not have a great experience.
The other issue we had with the service is this: Many tutor profiles are published on the site. And the company claims that they have tutors from such schools as Yale, Harvard, and Stanford. None of the profiles we viewed had these academic credentials. We do not like exaggerations like this when there is no need for them.
The company is honest about the qualifications of its tutors. It does use college students to tutor elementary and high school students if they show solid expertise in specific topic fields. Tutors working with college and graduate students, though, must have higher-level degrees, of course.
Factor 4: Prices and Payment
Varsity Tutors prices are not published. This is obviously because they vary so greatly. They may be very different based upon geographic areas and also upon academic levels of student customers. We get this.
To get a price, the student must first contact the company with tutoring need details. The company will then provide a price per hour.
It is not in keeping with this company's policies to offer special promotions or pricing, so we did not find any promo code for new customers or coupon codes for long-term clients.
Factor 5: Additional Important Considerations
There are no additional benefits or features. The important consideration we would provide to potential customers is this: Communicate with the assigned tutor very early on. If the experience is not good during the first session, notify the company and request a new tutor or a refund right away. The company will honor requests for a different tutor when there is not a match, but refunds are not provided for tutoring services that have already been used.
Concluding Comments
Looking at the pros & cons of Varsity Tutors, we can say that they do provide tutors to clients and that many are satisfied with the services. Others are not, however. Satisfaction seems to be a factor of the right "match" between students and their assigned tutors. Our other concern is the exaggeration of tutor credentials. Our feelings are both good and bad. In general, we recommend you choosing the best custom essay writing service and on our scale we have assigned a rating of 3.5 for university tutors.