Our verdict: Not Recommended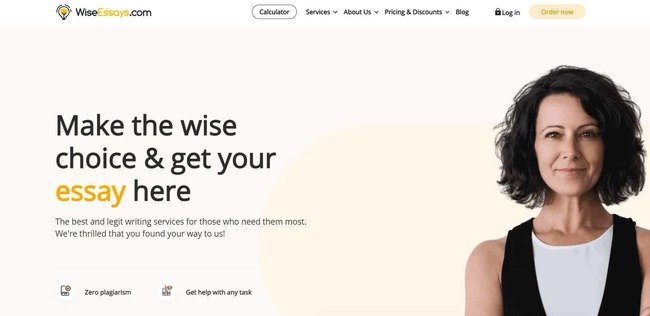 Short overview
Minimal deadline:
6 hours
Guarantees:
Revisions, Refunds, Plagiarism-free, Confidentiality, Round-the-clock customer service
Payment Methods:
Available Services:
Essay, Term paper, Research paper, Coursework, Article, Annotated bibliography, Thesis, Dissertation, Admission/application, Editing and Proofreading
Extra perks and features:
Free title page, Free formatting, Free reference page, Essay samples
Summary
Based on my WiseEssays review, I don't recommend this Bulgarian writing service for academic assignments requiring highly-skilled writer services and top-notch writing quality. It is a legit entity, but real-life experience of dealing with them is a sharp contrast to what they advertise online. Paper quality is substandard. Writers are not native speakers. Our review team suspects most of them do not have degrees either. WiseEssays tries to make up for these deficiencies with good customer support services and a well-designed website. But these don't count when you turn in your paper to your tutor. Once you pay, you can forget about refunds, so think twice before making a move.
Pros
Good discounts
Affordable prices
Cons
Ineffective customer service
Low quality
Unprofessional writers
Top 3 services
VIP Support
From $14.99 per page
PhD Writers on staff: 80%
From $12.99 per page
Webiste Interface and Overview
Is WiseEssays legit? Yes, its operations are perfectly legit. But it has a long way to go to be considered one of the best research paper writing services in the USA. WiseEssays' website is nicely designed, but it's overloaded with too much information on its homepage. Much could be replaced by summaries or bullet points. The first thing that catches your attention is a series of alternating pictures of top writers. Names and awards seem fake because there is no supporting information included. Anyone could be hiding behind these profiles. A nice try, but this company doesn't get any brownie points here. What follows is a list of more top writers. I think this is too much of an effort. A table with prices is really handy. I wish Wise Essay had placed it close to the top. Price is key in decision-making for students.
Then you get more about how great Wise Essay and its services are. My review team and I take customer reviews and statistics on this website with a grain of salt. I advise you to do the same. It looks too good to be true. I like the blog section. It is kept up-to-date, and topics look engaging

Types of Services Offered
Services cover essays, term papers, research papers, coursework, articles, annotated bibliography, theses, dissertations, admission/application essays, and editing and proofreading. According to Reviews of WiseEssays, this is a good variety that helps them keep up with competitors. There are only 4 samples provided. I reviewed one of them to assess quality, structure, style, and rigor.
Title: Weight and Heart Disease
Length: 2 pages
Analysis: The sample essay is well researched and referenced. It includes lots of useful data and stats. All data points are cited properly. I did not find any major spelling or grammatical errors. The main issue I take with it is about structure. It has no introduction or a conclusion. As I kept reading, I could not help thinking that the author forgot to define a goal, thesis, or key findings. It looks like a good collection of findings rather than a well-organized academic paper.
Quality: Medium to Low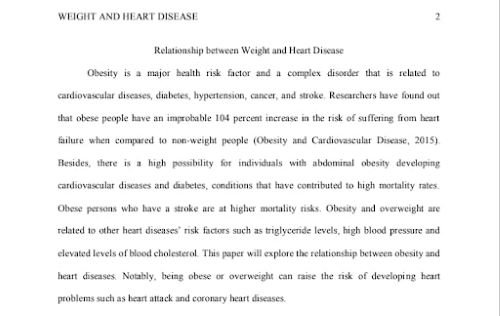 Guarantees According to Wise Essays Review
Wise Essay claims it has 100% refund policy. Customers can submit their complaints within three days after receiving the ordered paper. It must include detailed reasoning explaining your dissatisfaction and specifying instructions that were not followed. Wise Essay has 14 days to revise the paper. This is too much. Most companies are able to revise papers within 3 days. If you are still unhappy with revisions, you should contact the Resolution Department. It has 24 hours to get back to you with a compensation offer. As per my detailed WiseEssays review, it may take much longer than that.
My Experience with Customer Support
Wise Essay offers 4 modes of communication. Customers can contact them by phone, email, fax, or live chat. I am not sure anyone uses fax machines these days, but it is a nice optional extra to have. The company aspires to be the best online proofreading service. So, it's not surprising it takes customer support services seriously. Review of WiseEssays indicates that not all communication methods work smoothly though. I tried the phone number, and I managed to talk to a couple of agents. Email is more challenging because you don't get a response for a few days. Live chat is perhaps the most convenient and effective way of contacting their staff. I did send fax too, following it up with a phone call. It turned out no one at WiseEssay saw my fax at all.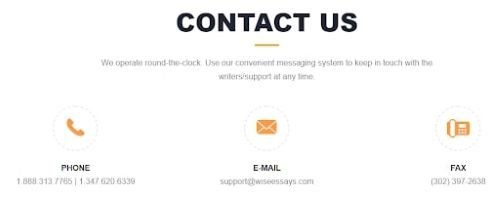 Quality of Paper I Bought
Is WiseEssays good as to its paper quality? The pudding is in the eating, as they say. So, I decided to place an order. It was for a 5-page research paper in management with a deadline of 10 days. They charged me $103.7. This is expensive, given that I did not order an advanced writer. Remember that you need to register before you can proceed with the next steps. WiseEssays assigned a writer based on my instructions. It does not use a bidding system, so customers have no say in picking writers.
My experience was full of surprises. First, my writer contacted me 2 days before the deadline, asking for a 2-day extension. Is this professional? Absolutely not. The company must have a quality assurance system ensuring that writers unable to work on confirmed orders can be replaced. I asked customer support to get involved, but no action was taken. When I finally received my research paper, I immediately knew that I had risked losing my money. Apart from language-related issues, the writer clearly lacked the requisite academic knowledge and research skills. Although content withstood a plagiarism test, I felt like it was a well-spun paper. He must have used the best paraphrase tool to do it.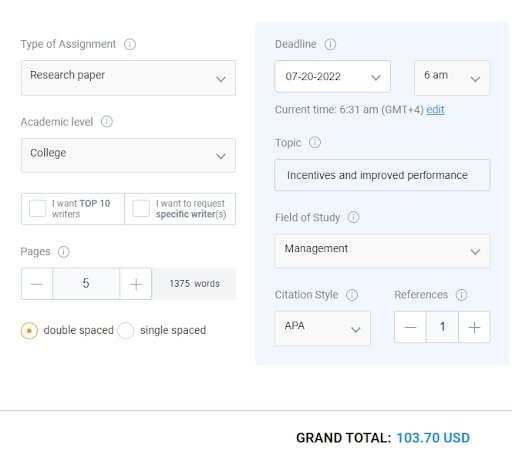 Ordering Process Based on WiseEssays Reviews
The ordering process is not complicated, but customers need to sign up first.
1. Enter your instructions. Specify academic level, type of paper, paper length, formatting requirements, and field of study.
2. You can include additional clarifications and requirements and upload related documents. WiseEssays makes a commitment to identify the best match in accordance with your needs. Wise Essays reviews find that not all writers are qualified to meet demand. My experience confirms that, too.
3. Next, you need to complete the payment and wait for your paper.
If issues arise, customers can contact customer service. Live chat is the quickest, but you might not get all answers.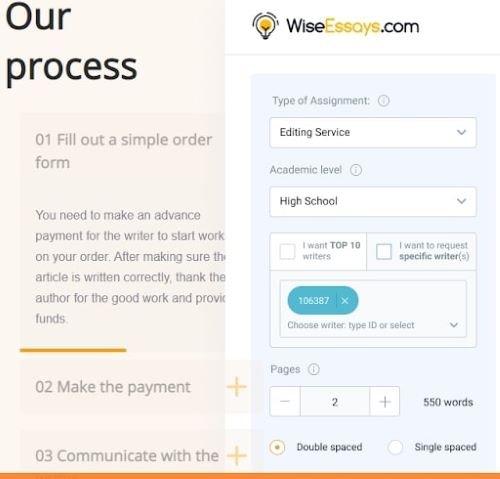 Pricing and Discounts
My WiseEssays.com review has looked at price range, which is laid out clearly on the website. Overall, they don't look expensive, especially when discounts are applied. I just wish paper quality matched expectations for quality.
| | |
| --- | --- |
| Services | Minimal price per page |
| Essay | $9.11 |
| PowerPoint | $7 |
| Dissertation/ research/ thesis | $16.95 |
| Group project/ lab report | $9.11 |
| Business plan | $11 |
| Capstone project | $15 |
| Blogpost | $33.95 |
| Accounting/ Statistics/ Economics problems | $16.95 |
| Editing | $9.11 |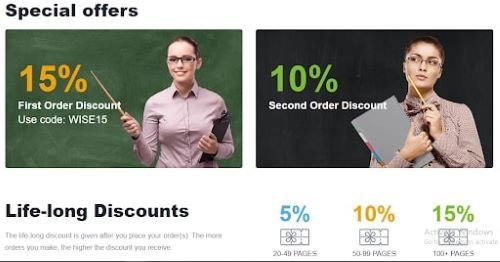 Occasionally, WiseEssays offers seasonal discounts. For instance, when I checked the website a few days before writing my review, it showed $7.74 per page (a 14% discount). A day later, it went back to $9.11 per page. First-time customers get a 15% discount. You also get 10% off of your second order. Life-long discounts are also offered on the basis of paper length. Judging by WiseEssays reviews, this is a great range that you don't always get from writing services.
Meet Writing Team
Is WiseEssays reliable when it comes to the qualifications and expertise of its writers? WiseEssays reviews claim it hires top-notch writers with degrees. They are said to be specialized in a broad range of academic fields. Customers have no control over writer selection. The company chooses and assigns them using customer instructions and its own discretion. You can contact selected writers only after order is complete and paid for. There is a huge disconnect between promises and real-life experiences. Given these gaps, it's hardly possible to claim the status of one of the best dissertation writing services. WiseEssays needs to get its act together and ensure that its writers fully meet customer expectations. It must also have an effective method for writer replacement when things go south.
Behind Revision Policy
Customers must request revisions within 14 days after the deadline. Company policy is a bit confusing about responding to revision requests. Terms and Conditions state that "Free revision is done only within the original instructions." Basically, this means you might be asked to argue your case, trying to substantiate why and how the writer failed to follow initial specifications. This means you spend more time and effort on your order. I had a look at other wiseessays.com reviews and found that WiseEssays writers do not always hold up their end of the bargain. Revision requests are sometimes refused due to lack of credible reasoning. There have been cases when revised papers did not look significantly better than original submissions. This is a missed opportunity for WiseEssays. Revisions are an important part of paper writing. No matter how qualified writers are, there is always room for improvement. In academic writing, this is very common. You can pay more for editing. Alternatively, you should do some work on the paper yourself.
Offers and Extra Services
WiseEssays offers a good and flexible system of discounts. Although not dubbed as such, it serves as a loyalty program. Life-time discounts are also included. This is not standard in online writing industry, so kudos to WiseEssays. Prices for different types of papers are reasonable. Customers can also request additional services, such as editing and proofreading.
Online Reputation of Wise Essay
Review services
I checked WiseEssays reviews to assess online reputation. Surprisingly, there are no reviews on Sitejabber. There is a page displaying the company name but no feedback.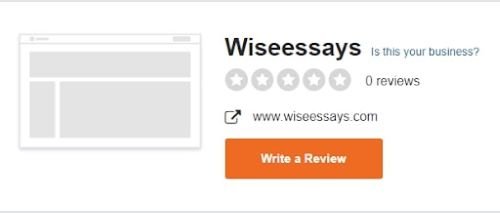 WiseEssays gets a bit more attention on TrustPilot. There are only 2 reviews. One rates it as average, and the other - as bad.

On RankMyService, WiseEssays gets an average rating of 6.3 out of 10. Paper quality is not assessed to be great. Writers are not thought to be native speakers.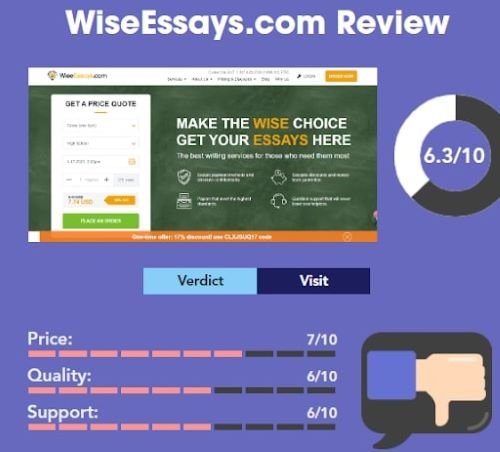 Social media
I also had a look at WiseEssays reviews to evaluate its popularity on social media. Company does not seem to prioritize social media marketing. With a little more than 2,300 followers on Facebook, WiseEssays is not very active there. The latest post is dated August 2013.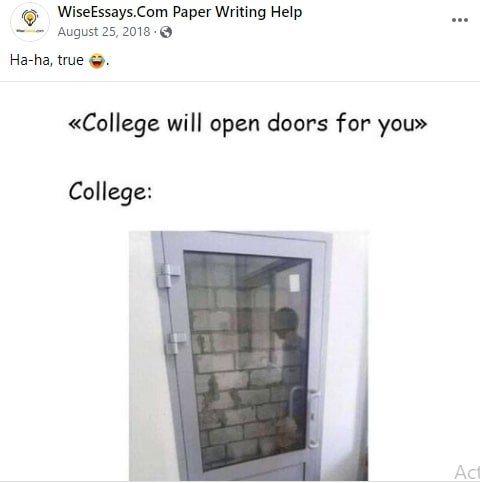 WiseEssays.com is not active on Twitter either. 244 followers is not a lot, and posts are 4 years old.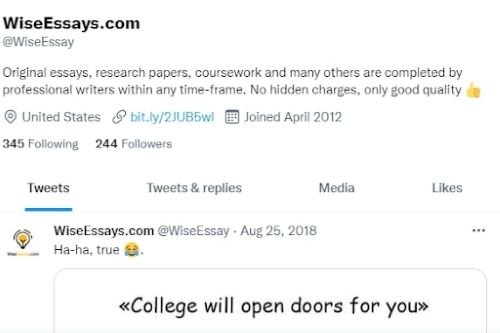 I could not find any content on YouTube. LinkedIn and Instagram do not offer much either.
Show Me Your Top Services
Faq
Is WiseEssays legit?
Yes, WiseEssays review is a legit entity. I have no basis for suggesting otherwise.
Is WiseEssays safe?
The company uses secure payment platforms. Customers have never raised concerns about the safety of their transactions.
Is WiseEssays reliable?
Reviews of WiseEssays give it low ratings. I don't think it ranks among the most reliable services in the industry either.
Is WiseEssays a scam?
Wise Essays is not a scam judging by our review. You don't risk losing your money. Getting refunds for papers that fail to meet your requirements is near impossible.