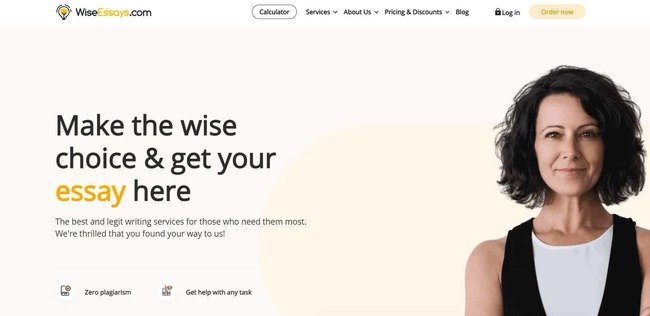 WiseEssays Review
WiseEssays.com does not appear to have been in business for a lengthy time. And the company website does not give us any information about its length of operation. But in the past few months, a few of our site users have engaged in discussions about this company, and some have asked us to take a look at the company.
We have used our basic criteria as we always do – the information we found on the Wise Essays website, company-published testimonials, comments, and feedback from customer reviews we have found on the web, and evaluation of sample writing, prices, benefits, guarantees, and published policies. We also contacted the customer support department with specific questions about policies, processes, writers, and products.
Here is a summary of what we have found.
Factor 1: Types of Writing Services Offered
WiseEssays is focused on academic products and services for students from secondary school through graduate-level programs. Most of their website content, though, seems to be focused on college and graduate-level needs. Products include every type of writing assignment a student might have – essays, papers, research projects, reviews and analyses, homework assignments, admissions essays, case studies, test-taking, even theses, and dissertations. Students can also order editing and proofreading services.
In sum, we can say that Wise Essays offers a comprehensive array of products and services to meet any needs a student may have.
Factor 2: Trust/Reliability
Customers who have used the services of WiseEssays.com report that they placed their order easily, paid for it, and were set up with a personal account to speak with their writer. They also stated that they received their orders on time and there was not an issue with their payments. This is all good news. In this respect, the company is obviously reliable and can be trusted to take orders, assign writers, and deliver those orders on time.
Other issues related to reliability and trust relate to the quality of products and services, and that is where we need to go next.
Factor 3: Level of Quality
As we reviewed the website content, we found a design that was easy to navigate in order to find all of the information that Wise Essays wanted to give us. It was well-organized by links at the top of the home page and some footer pages that related to policies, access to sample writings, and such.
But quality is really found in the products that customers actually receive and in the customer support services when they have questions or issues.
Here is how we determined quality:
We looked at information about the writers. Wiseessay.com states that all writers are native English-speaking experts with Masters or Ph.D. degrees. Beyond that, there is no information.
We read through a couple of the samples that the company provides. One, a graduate-level piece on healthcare for the elderly was probably the equivalent of a high school piece. Its content was very thin, repetitive, and did not have any logical flow. Another, on American heroes, had a good organizational structure, but grammar and word usage errors detracted from the content.
The site blog contains some good information and tips about various types of writing, but, again, grammatical errors are numerous.
Customer feedback is very mixed. While high school students seem to be satisfied, those in college or graduate programs are not. They state that the products are far too "elementary" for the academic levels, resources are secondary, and final products were not acceptable. They did request revisions but often stated that the revisions were a little better. Writers with graduate degrees would produce much better.
We did speak to customer support on two occasions. Amazingly, we were told that a complete Ph.D. dissertation could be produced and delivered within seven days. Any graduate student knows this is impossible.
In sum, it appears that WiseEssays can produce academic products suitable for the high school level. Beyond that, there are serious issues.
Factor 4: Pricing/Payment
Wise Essays prices are within the average range. The company has several pricing graphs based upon the type of writing that a customer may order.
Academic writing begins at $12.71 per page, no matter what is ordered and no matter what the academic level of the customer. This is strange. There are other graphs showing pricing for assignments, test-taking, admissions and scholarship essays, and dissertations. Dissertation products, no matter which ones, begin at $14.91 per page – a real bargain.
Discounts include 15% for the first order, with a promo code and 10% for the second. Beyond that, there is a permanent discount plan based upon the number of cumulative pages ordered. This is pretty standard for the best research paper writing services in the USA.
Payment methods are via major bank cards and/or PayPal. Wise Essays does use a third-party SSL-certified payment processor, so customers can breathe a sigh of relief here. Financial information is safe and secured through this method – the company itself does not collect or hold it.
Factor 5: Additional Important Considerations
There are the standard free pages and guarantees of on-time delivery, no plagiarism, revisions, and customer satisfaction. Students using this service should read the policies to be certain they understand such things as when they will qualify for a refund if not happy with their products. There have been some customer complaints about the refund policy specifically.
Concluding Comments
We carefully reviewed the pros & cons of this company. They do have some good information in their blog posts, particularly related to how to organize and write types of academic assignments. And they do deliver products on time. These pros, however, cannot make up for the obvious low quality that their writers produce. If we look at the total picture, we can only assign a rating of 2 on our 5-point scale.