Our verdict: Not Recommended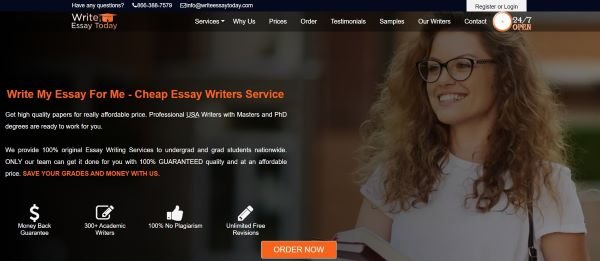 Top 3 services
VIP Support
From $14.99 per page
PhD Writers on staff: 80%
From $12.99 per page
WriteEssayToday Review: Learn What Clients Say
Our WriteEssayToday review is a direct result of your requests. Did you want to know more about this company? We are happy to oblige! It began its work around five years ago, generating some online reviews from customers. Its website looks overdone: the overall color scheme is good, but there are too many things and too many announcements. The company offers academic writing services in different sectors, something we appreciated, but this is where our first positive impression ended.
WriteEssayToday.com uses aggressive marketing that our review team deeply dislikes. For example, one of its main website pages states, "Our competitors are offshore essay writing huts that provide you with crap." Such language is unacceptable in any business that tries to appear professional. It feels like WriteEssayToday tries to look good by discussing how bad everyone else is, and it's not the best approach. But we didn't want to stop here — the most important aspects waited ahead, so we continued our research.
How We Write Essay Today Review: Main Criteria
Posting essay writing service reviews means a huge degree of responsibility. We want to stay unbiased and united in our opinions, which is why we follow specific criteria. We need to know what other people said about a company, so we look into its background, checking reviews and opinions. Then we analyze its website, range of services, and variety of subjects it covers. Our review team members place an order, choose a deadline, and wait for their essay to evaluate it from all sides. After we cover all points, we discuss our impressions and reach one conclusion.
1. Writing Services
Our WriteEssayToday.com review started with the analysis of services the company offers. They all focus on academic writing, and students can order different paper types. They aren't listed on a website properly — for seeing the list, you'd have to fill in an order form plus pick your country of residence & share your phone number. Don't worry, you won't have to do this because we're going to list all the major options you could ask for.
Standard essays. Reviews on books, movies, or plays, term papers, research, annotated bibliography, argumentative or descriptive works, reflective or analytical essays, reports, or personal speech — WriteEssayToday supports each of these services for every education level.
Evaluative essays. Some WriteEssayToday reviews mentioned hiring this company for stuff like admission essays, and that is true. Students could order this and some other services. Admissions, personal statements, cover letters, and proposals are all available.
Projects. This option includes complex projects like Capstone, dissertations or thesis, business plans, and similar writing orders.
Extra options. Presentations, quizzes, lab work, and dashboard assignments: if any of them fits your needs, order them with the knowledge that this company will find the right expert for you.
We liked such diversity, and we liked it even more when we saw the list of subjects that these writers specialize in. Biology, Math, Science, History, English, Sociology, Healthcare, Law — WriteEssayToday supports them + many others. Our review team was very happy with these options.
2. Content of Write Essay Today Reviews
To understand the reputation of a company, we read all reviews we can find about it. In this case, we were pleased to see that people voiced their thoughts both on different sites and on the WriteEssayToday platform. Unfortunately, good news ended here. Reviews that this agency published on its website are not just fake, they are absurd in their attempts to look genuine. They are all published under allegedly students' accounts, and what do you know, they have a photo of a student as well as their first & last names! This is completely unrealistic. It's obvious that no students would ever share their real data like this if they wanted to leave a review — it's a sure way to get caught.
We found other reviews of WriteEssayToday online on independent platforms. Most of them were positive, but unfortunately, we couldn't trust them either. They sounded too enthusiastic and used several blatant marketing tools. To us, it is clear that managers wrote them, not real clients. The worrying aspect is that one of the negative reviews mentioned how the company refused to offer a refund and threatened to expose a student to their college. If true, this is completely unacceptable, and since we did see photos and names of alleged student-customers on a company's website, we consider this troubling. Maybe WriteEssayToday abuses information of students who didn't like its services by posting it publicly as a mockery. We plan on investigating this matter further.
3. Writing Quality Level
To join other reviews of Write Essay Today, we placed an order in Sociology with a 2-weeks deadline. Before it arrived, we checked samples. There are only 9 of them — it's good that they are present, but this number is too small to be really useful for students. Their quality is dubious as we found mistakes in almost each of them. They use personal pronouns, incorrect citations, and they have grammar & punctuation errors.
Our paper was 30 minutes late. The delay isn't long, but the fact of its presence is concerning. We didn't appreciate it — for real students, this could be life or death. The text itself left a lot to be desired, too. Paragraphs had no logical breaks; sources were non-academic and ideas barely met the threshold of high school even though we ordered a college paper. Our review team found this disappointing and placed a revision request. Alas, even then, the writer didn't meet our requirements. The essay failed in almost every regard.
4. Customer Support Service
Operators were a positive aspect of our review of WriteEssayToday. They replied politely and timely; they apologized when we voiced our unhappiness. We did not like the writers' work, but we appreciated the work of the support team.
5. Everything About Prices
Prices at WriteEssayToday are very low. One-page costs around $6 if the deadline is lengthy. While students might love this fact, we remain skeptical. Such prices rarely speak of high quality because professional experts won't work for such amounts.
6. More Factors About the Company
Apart from samples, WriteEssayToday doesn't offer useful info for students. For instance, there are no best paraphrasing tools or introduction generators. Support is available 24/7, which is great, but guarantees don't work very well. As we mentioned, revision failed to get us good results.
Let's Wrap Our Review Up: List with Pros & Cons
So what should you think about WriteEssayToday? Only you can answer this question. We offer a list of strengths & weaknesses we observed during our review — make conclusions by yourself.
Pros
Many useful services are present. Students could find any academic services here. WriteEssayToday works with most types of essays you might need.

Patient operators. Support team is polite and friendly even in stressful situations.
Cons
Fake reviews. WriteEssayToday.com reviews are fake almost entirely. This is a bad sign that speaks of the company's inexperience.

Suspiciously low prices. $6 per page is too low of a price. No respected writer is going to accept it.

Bad quality. Papers have bad quality, meaning that writers lack proper qualification.

Possibly delivery delays. Your essay might be late, even if not by much.
Is WriteEssayToday Trustworthy?
After our review, we give WriteEssayToday 2.7 stars out of 10. This company has a weak reputation, prices that are way too low, unprofessional writers and unreliable revision policies. Its operators are nice, and it has many services, but it doesn't mean much when there is no one to deliver them properly. If you want to learn more about academic writing agencies, find the best conclusion paragraph generator or connect with professionals, browse our website. We keep working for your benefit, and we'll be happy to help you out!