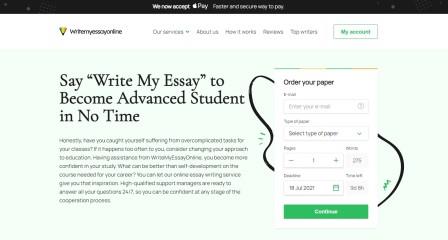 WriteMyEssayOnline Review
Welcome to our official review of WriteMyEssayOnline.com. We are writing this after receiving requests from several interested users of our site, especially those that have used this service in the past. Before we go into detail about our experiences with WriteMyEssayOnline, we will detail the steps that went into writing this review. As a matter of policy, we make every effort to follow a standardized method when investigating each writing service. As a result, we believe we have been able to draw fair and accurate conclusions on WriteMyEssayOnline. Here are the steps we took:
Reviewed all of the website content, focusing on important information about products or services it offers.
Read customer reviews and testimonials, both on the company website and that we found on other review sites, social media and that were submitted to us.
Compared prices and searched for available discounts
Contacted customer support with questions about policies and processes
Verified with the BBB that this writing service is not a fraud or scam
In all, we are looking for the best essay writing service that can be trusted to provide high-quality products and customer service.
Review Criteria
In evaluating writing services, we are looking for the following:
We want to see a comprehensive listing of products and services
We want to see information about the research and writing staff – their backgrounds, their degrees, and their experience. We want to know how they are hired.
We want to see a responsive customer service department
We want to see written policies and guarantees of originality, revisions, satisfaction, and privacy
We want to see feedback from customers that is positive regarding quality, customer support, on-time delivery, and ability to converse with their writers.
We want to see a clean, clear website that is easily navigated by visitors and users.
Factor 1: Types of Writing Services Offered
This is an academic-only writing service. They offer essays, research papers, term papers, lab report, case studies, homework help, and even major graduate projects such as theses and dissertations. While WriteMyEssayOnline seems to be focused on college and graduate-level services, high school students can also place orders. Products are listed via a link on the home page and also on the order page.
Factor 2: Trust and Reliability
According to our research, this company appears to be legal and trustworthy. They do provide papers ordered by customers.
The business model is a bit different from most writing services. When a student fills out an order form, he is not given a price. Instead, he is given three choices. The system can automatically give him a writer based upon the details of his order; he can request that the company assign a qualified writer; or he can look through the top writers on the site, "interview" them and make a selection. He will then be sent an email with a price for the task and can then decide is he wants to move forward.
Factor 3: Level of Quality
To gauge quality, we look at several things:
If there are samples of actual pieces of writing, we review those. In the case of Write My Essay Online, there are no samples.
There is a blog, and it does provide some interesting articles, mostly topic ideas for literary analysis essays. These are fine but do contain some grammatical and word usage errors.
Customer testimonials on the Writemyessayonline.com posted by the company are all glowing. We expect this as normal, but do not put a lot of stock in these
Customer testimonials that we find out on the web and that have been submitted to us. In these cases, the feedback was really mixed. While some customers were happy and received their orders on time, many more were unhappy. They spoke to writing that was too simplistic, grammar errors, word usage errors, and resources that were too elementary for their academic levels.
In terms of the quality of customer support, there were also many complaints. The only way to contact the company is via email, and that is certainly slower than phone or live chat. What we have come to see is that the owners and administrators of this site operate very passively, depending upon their "system" to assign writers and for writers and customers to handle their issues from then on. The company collects the money, holds it, and then releases it when the final drafts are approved. When they are not approved, customers state, getting refunds, even partial, become a big hassle and lots of emails back and forth.
Factor 4: Pricing and Payment
Pricing here is just on the high side of average, from what customers have told us. Payment can be made via Visa.
One good note here: There is a safe payment procedure. WriteMyEssayOnline uses a secured SSL-certified payment processor, so customers need not worry about the safety of their financial information.
Factor 5: Additional Important Considerations
One area that really impressed us was website usability. This is a professionally designed website, and it shows. It's easy to find the information that you need. Pages load quickly, and there is a lot of great content.
Concluding Comments
There are serious issues with this company. The onus for finding a good writer is pretty much placed on the customer, unless he uses the automated system. And there are just too many complaints about the quality of writing and customer support. The owners need to take a much more active role in the operations.
Overall, we are giving Write My Essay Online a rating of 2 on our 10-point scale.