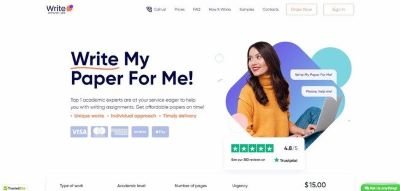 WriteMyPaper4Me.com Review
The following is our review of writemypaper4me.org. According to their website, they are a writing service located in Baltimore Maryland. This piece is being written as a result of several requests that we provide information about this writing service. Keep reading to learn more.
Review Criteria
To evaluate essay writing sites we look at different factors. These include pricing and discounts, reputation among consumers, website quality, customer service quality, and of course writing quality. We rank these factors by visiting the website, obtaining a paper, interacting with customer service, and researching the writing service online. We also read online consumer reviews and research the company's reputation. One thing we consider is any common 'themes' in the reviews or standout problems such as legal issues. Finally, we evaluate the document we secured for quality.
Factor 1: Types of Writing Services Offered
As we navigated the writing service website, we took a look at the services offered. This company appears to focus solely on academic writing. Their clients range from high school to graduate school. The paper we obtained was for an essay to be written for a college student. They offer essays, research papers, term papers, dissertation and thesis services, lab reports, creative writing, capstone projects, and more. Overall, it was clear that this is a full-service academic writing provider. Further, the site also offers editing, proofreading, and PowerPoint presentations.
Factor 2: Trust/Reliability
We believe this writing service is not a fraud or scam. They did not charge hidden fees. It also appears that we made a payment without any issue, using safe online payment methods. This service, at the very least, can be trusted to provide a paper for students who place an order. There are also no complaints with the BBB. While customer reviews were largely negative in terms of quality, none reported being ripped off or scammed. Please note that these remarks only reflect our experience. They are not an endorsement or guarantee.
Factor 3: Level of Quality
The essay we received was absolutely unacceptable. It was poorly written. Many required elements were missing. The writer failed to follow instructions and clearly was not competent to write a college-level essay in English. We were extremely disappointed and contacted Writemypaper4me. We can say that the two customer service agents we dealt with were polite and apologetic. Unfortunately, they lacked knowledge of their own company's policies and didn't seem empowered to do much. There is clearly a lack of training and communication here. While we understand that even a good writing service may contract with a writer who is not reliable, this appears to be a complete breakdown in quality control.
As with most sites, customers and writers may communicate with one another. Further, there are several ways to contact customer support. The site has a contact us page that contains an email, phone number, and live chat option.
Factor 4: Pricing/Payment
We paid 14 dollars per page for our essay. In order to get prices this low, we accepted a two-week deadline. The standard price per page is 20 dollars that well exceeds industry averages and is beyond the pale given the low quality and customer service we received. Like other writing services, prices are based on academic grade level, type of paper, and deadline. The type of paper requested is also a factor.
When we explored the website, there was a pop up offering a seasonal discount. Customer service can also be contacted and may be able to offer a discount code as well. We searched outside the company website but did not find any published discounts codes or coupons anywhere else. The discount we were offered was 15%.
Factor 5: Additional Important Considerations
Normally, this is the space we use to talk about bonus features that a writing service offers. For example, writing samples are a common feature. Here, we were able to find a blog. Sadly, there wasn't much useful information. The writing there was also disappointing. The service does publish some writing samples. These must be downloaded as pdf documents. We aren't sure of the source of these documents. However, they appear to be fully completed, academic works, likely completed by professional writers or students. We were disturbed that these are made available with no plagiarism warnings.
As part of our investigations, we take the time to explore writing service websites and try to verify any claims made. We also read policy documents. A couple of things were noteworthy in these areas. The first is that the company claims to be located in Baltimore Maryland on its contact page, but lists a London address as the place of business registration. Upon further investigation, the given Maryland address is at an apartment building. This could be a rented mailbox.
On a positive note, the service provides a very thorough privacy policy document. It details how customer information is collected and used. It also mentions that the site is GDPR compliant.
Concluding Comments
Pros:
Clients' anonymity and payment protection are guaranteed

Convenient price and currency matrix

Instant support via live chat

Prices are rather low and there are no hidden fees
Cons:
Problems with the quality of provided work

List of acceptable subjects and types of tasks is not present

Blog is not being updated with currently relevant information
After rating all of the pros & cons, our overall rating of writemypaper4me.org is very low. In spite of a few positive testimonials that we found less than believable, Writemypaper 4 me ranks as one of the worst websites that we have reviewed to date. As evidenced above, we had problems with virtually every aspect of our interaction with this service. This includes pricing, customer service, and most importantly writing quality. We strongly urge students and others to avoid this service at all costs.