Our verdict: Not Recommended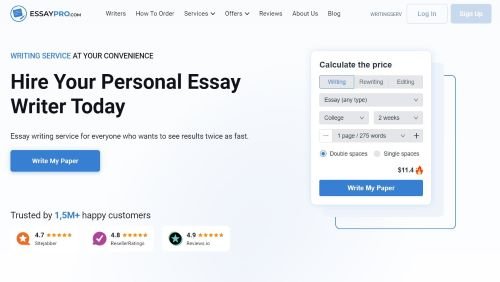 Short overview
Minimal deadline:
6 hours
Guarantees:
Free Revisions, Unlimited Edits, Anonymity, 24/7 Support, Money-Back Guarantee, Customer Satisfaction
Payment Methods:
Available Services:
Custom Writing, Dissertations, Research Papers, Term Papers, Admission Essays, Essay Help and Editing, Coursework, Physics
Extra perks and features:
Free Originality Report, 30 Days To Request Revisions, Free Formatting and Title Page
Summary
In this EssayPro review we assess one of the most experienced online writing services companies out there. It has been in business since 1997. That's why its business model is different from those of rival online writing services. Company website uses nice graphics, and it is easy to navigate. All information is sorted and presented in a user-friendly manner. EssayPro seems to have taken time and effort to ensure customers enjoy a hassle-free experience. We set out to review essaypro.com website against a number of criteria to gauge quality of its services, effectiveness, and customer satisfaction. You'll find lots of useful information in this review.
Pros
User-friendly website
Unlimited revisions
Simple and intuitive order form
Great video with a product tour
Cons
Writer qualifications unverifiable
Customer support not always responsive
Top 3 services
VIP Support
From $14.99 per page
PhD Writers on staff: 80%
From $12.99 per page
Service Overview Based on Essay Pro Review
EssayPro has a great website. It is visually appealing, easy to navigate, and intuitive. Information is structured logically. I had no issue finding information. Most of all, I like video with a product tour. In 2 minutes, customers can come to grips with ordering process and choose an appropriate writer. I haven't seen online services use videos to explain the process. Great decision!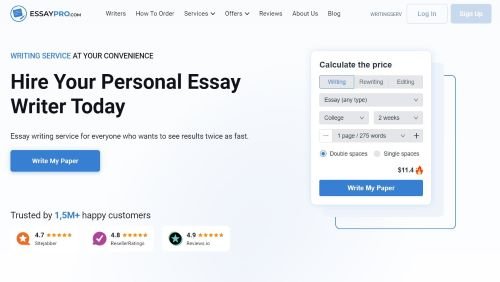 Their website also offers insightful blogs. FAQs are informative and well-formulated. Is EssayPro legit? EssayPro claims to have been in business since 1997. However, website does not provide any information about company. "About Us" section takes you to description services. It's impossible to verify whether the foundation year is correct.
Striving for status of a company providing the best paper writing services, EssayPro introduced a bidding system to link up clients with writers. When orders are submitted, customers start receiving bids. They can chat with individual writers to find out more. According to reviews, you're likely to be inundated with bids, which makes it difficult to make a decision. Its website lists several writers, but it leaves you guessing who these are. I could not read much behind smiley faces.
Types of Services Offered
All services are grouped under 3 categories on homepage:
Paperwork (academic papers, book reviews, creative writing)

Course/Homework (homework assignment, biology, chemistry)

Other assignments (multiple choice questions, short answer questions, word problems)
EssayPro offers no free essay conclusion generator or a paraphrasing tool. But it includes numerous essay samples. They are conveniently categorized and labeled. It shouldn't be difficult to find a sample in the field of your interest. Quality is above average. But sample essays are not free of errors and inconsistencies. For instance, some essays suffer from a flawed tense agreement, alternating between simple present and simple past tenses. Some essays don't have headings or subheadings. While this is fine for short essays, they make longer ones difficult to read.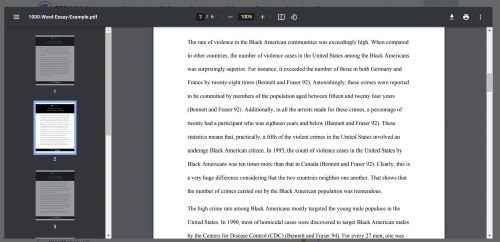 Guarantees
Company offers full anonymity, 24/7 support, unlimited edits, free originality reports, title page, and formatting. Company has a policy of zero-tolerance toward plagiarism. It also claims that 95% of customers return to EssayPro with another order.
Reviews of EssayPro indicate that most papers are delivered on time. But customers complain about complicated dispute settlement procedures. Customers requesting refunds must be prepared for 'a war of attrition' because negotiations are likely to be protracted. You might quit, after all.
Customer Support Based on EssayPro Reviews
The easiest way to contact Customer Support is via website chatbox. When you click it, a list of categories pops up. I was pleasantly surprised to see short videos included under each category. They might provide you with needed answer. This feature saves time for both the company and customers.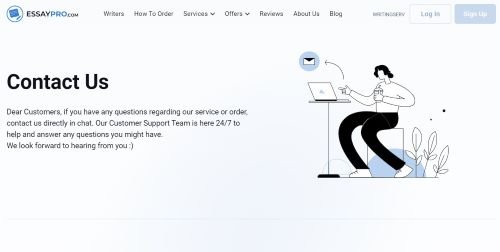 There is also a help center. Enter a question to see if they can pull up an article on subject of your interest. We could not find an email address or a phone number for customer support services. Our EssayPro.com review suggests company might be hiding where it is actually located. It casts doubt on its claim about employing writers from the U.S. and Canada.
Experience and Paper Quality
My overall experience places them somewhere in the middle of the totem pole.
To fill out an order form, one needs to register first. I did so to test system for quality and reliability. Ordering process starts great. It is easy, logical, and hassle-free. I entered all details, requesting a 1000-word essay in physics. I was also able to upload my professor's instructions.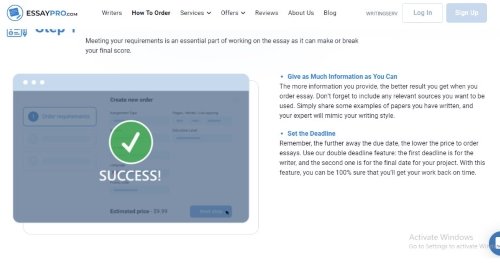 Expecting an equally orderly process to follow, I was a bit dumbfounded by what followed. I was inundated with writer bids. With a total of over 30, it was impossible to assess the merits of offers. Writer profiles are hidden. Reviews of EssayPro question credibility of writers. How does EssayPro expect customers to separate the wheat from the chaff? If lowest quotes are the only criterion, what's the point?
I went on to pick a writer with a price tag of $85, 140 completed jobs, and a 97% success rate. I did not opt for the lowest bidder, hoping to get a quality piece. Well, submission left me with mixed feelings. It was free of plagiarism, but I got lots of grammatical errors and unnatural word combinations. Revisions did not improve my essay significantly. Do I rank EssayPro as top coursework writing service? Not really. They must be doing a fair job when dealing with simple essays.
Ordering Process
Is EssayPro good when it comes to placing an order? Well, it is easy and efficient before you get to bidding process. You can watch a nice video on ordering process too. Follow these steps:
Register to provide your contact information and get your login details.

Enter your requirements.

Get writer bids

Pick the most suitable one to complete your order.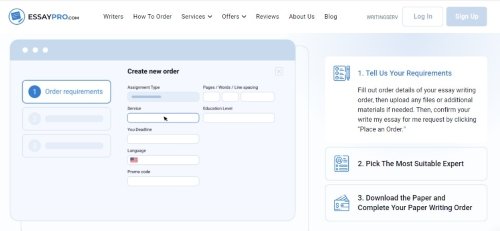 EssayPro's bidding process is complicated. With too many offers, it's impossible to discern top-rated writers from duds. Similar concerns are raised in essaypro.com reviews. Chatting is possible, but it is time-consuming to get involved in long conversations with candidates to tease out details about their qualifications. The whole point of using a writing service is to save time, isn't it? EssayPro should add writer profiles.
Pricing and Discounts
Prices start from $11/page, but you will most likely exceed it if you are looking for quality. A lot depends on your parameters, such as type of work, academic level, and urgency. Expect extra costs for number of pages and educational level.
| | |
| --- | --- |
| Services | Minimal Prices per Page |
| Rewriting | $7.98 |
| Editing | $5.7 |
| Formatting | $7.99 |
| Outline | $3.99 |
| Best Writer | $10.99 |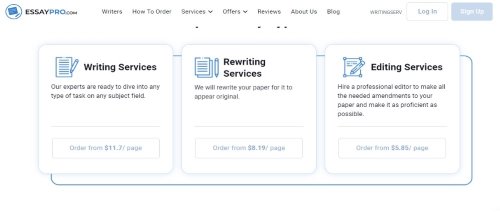 EssayPro offers a calculator to figure out your total price. Review of EssayPro has shown inconsistencies between rates. For instance, the calculator charges $7.98 for rewriting services, while the website indicates $8.19. The same goes for the editing services - $5.7 - $5.85, respectively. The margins are not big, but the company needs to get its act together. Bloopers like these make them look unprofessional. The company offers no discounts.
Writer's Proficiency
Company makes a bold statement that it only employs native speakers from the U.S., Canada, UK, and Canada. They all purportedly have university degrees and a minimum of 5 years of experience in academic writing. I always take such statements with a grain of salt. We all know that online writing services hire ESL writers. Essay Pro reviews recommend that the company offer both types of writers and different price categories.
As per dissertation writing services reviews, EssayPro's biggest problem is it doesn't vet writers. EssayPro reviews show that anyone can register with them as a new writer. The company hopes unqualified writers will eventually quit due to low performance and lack of orders. In the meantime, customers suffer the consequences.
Revisions
This service grants 30 days for unlimited revisions. Rightly so. Given the dubious qualification of its writers, you will surely need to request revisions. Most likely, several times. If you are lucky, you'll get good revisions. If not, you'll have to get involved in a complicated, lengthy, and unsuccessful process of dispute settlement.
Is EssayPro reliable when it comes to making revisions. I'd say yes, it is. Other reviews also bear this out. Writers at EssayPro are very unlikely to ignore your request. Whether revisions will be satisfactory is another matter. It depends on the writer. Customers can safeguard against the need for revisions by choosing higher bidders. But higher bids do not necessarily mean better quality. You might end up paying more for the same quality. If you keep adding extra costs, they might break the bank.
Loyalty Program, Offers, and Extra Services
This company offers additional services at extra costs. Editing will set you at approximately $6 per page. Formatting and rewriting cost roughly $8 per page. There is no loyalty program. Most disappointingly, EssayPro does not offer discounts. Normally, first-time customers can get around 10% off their order. The website mentions promo codes, but it's not clear who gets them and how.
Online Reputation
Review services
Sitejabber includes over 14,000 reviews. The overall experience is positive. Customers are particularly happy with EssayPro's customer service, great overall experience, and easy process. 94% of reviews are positive. The company usually responds to reviews within 3 days or so.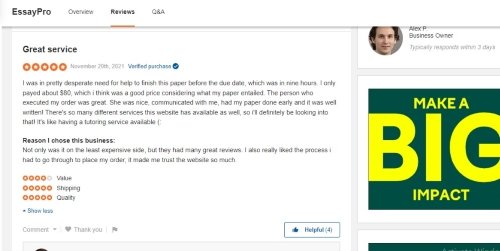 Reviews on TrustPilot are more evenly balanced. There are no bad reviews, and the company gets 25% of ratings in each of the 4 categories (excellent, great, average, and poor). Students report getting average grades for the papers received from EssayPro.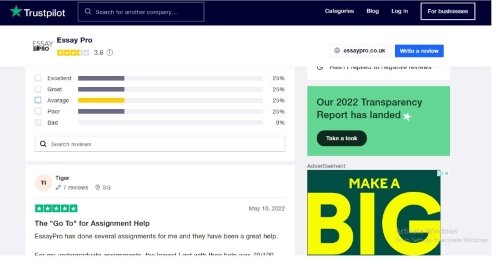 Reddit reviewers don't describe EssayPro as the top service, but they still consider it better than most. Others challenge the company for no discounts and a large gap between well-written and sloppy papers.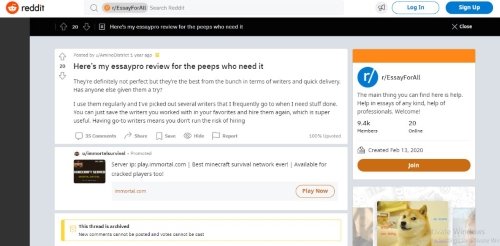 Social media
EssayPro reviews show that EssayPro is very active on YouTube. I found a number of really well-made videos for students. The quality is high, and the range of topics covered is impressive.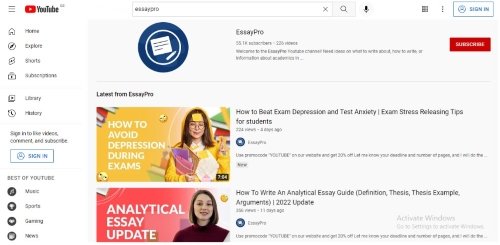 The company is less active on Facebook and Instagram, but it has almost 3,000 followers on Twitter.
Show Me Your Top Services
Faq
Is EssayPro legit?
Based on a detailed EssayPro review, we confirm EssayPro is a legit entity. It has been in business long enough to suggest otherwise.
Is EssayPro safe?
EssayPro is safe to use. Your financial information is secure. You pay a deposit upfront and cover the full cost later.
Is EssayPro reliable?
EssayPro is somewhat reliable. Reliability and quality really depend on the type of writer you get.
Is EssayPro a scam?
We don't think it's a scam. EssayPro won't steal your money. Although, getting a refund is near impossible.