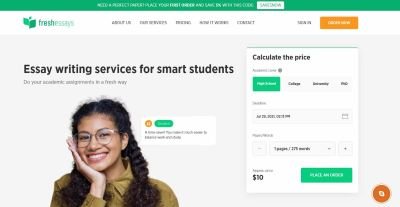 FreshEssays Review
FreshEssays.com has 6 years of business under its belt now, and, in those years has expanded its writing services somewhat into a few areas beyond academic products and services. After 6 years, we believe that an accurate review of this company can be produced, and we have summarized the results of our findings here, in the hopes that consumers will benefit from the information. To perform our investigation, we have studied the website content very carefully; we have reviewed FreshEssays testimonials on the website, and have read the comments about products and services off-site; we reviewed prices, benefits, and had a long hard look at the sample products published on the site itself. The results of this Fresh Essays review are contained below.
Products and Services
Six years ago, Fresh Essays opened its doors to provide academic writing for students of all academic levels. This means that they offer high school essays and term papers; that they provide research and writing products for undergraduate students; and it means that they court graduate students who seek help with research projects, theses, and dissertations. In addition to these products, however, the agency now offers several other products – admissions essays, writing and editing personal statement, and business writing, which actually means resumes, CVs, and cover letters. All of these things are now standard "fare" of FreshEssays.com.
Other services offered by this company include editing and proofreading.
In terms of customer service, there are several methods of contacting the department – phone, Skype, email and chat. Customers report that it is sometimes difficult to use the chat feature, and that was our experience as well.
Trustworthiness
We determine trustworthiness through the commitment of a company to deliver what it promises, to satisfy its customers and to keep its customers safe when doing business online. In other words, is FreshEssays reliable and can it be trusted? Here is what we have found:
Based upon FreshEssays customer reviews found elsewhere on the web, the company does deliver ordered products, mostly on time, and usually in conformance with the customer's instructions. There were some issues mentioned related to revisions and refunds.
The company also has systems in place to protect customer personal information, and the payment procedures are securely protected.
FreshEssays.com also uses a third-party payment processor with SSL certification. This means that customer financial information and safe and secure.
Given these factors, TopWritersReview.com conclude that Fresh Essays is not a scam and is both reliable and worthy of trust.
Writing Quality and Writer Expertise
On-site testimonials are all quite positive about the quality of writing and the writers. Off-site customer feedback, however, indicates that the writing is relatively good but, if top quality is needed, customers should be prepared to pay the extra fee for VIP service. This service involves editing and proofreading, expedited customer service, among other things. This is a bit of an issue for us because high quality should be available as a normal standard.
There is not a lot of information about writers, other than they are degreed and assigned to orders based upon their credentials, experience, and availability for meeting the customer's deadline. The company also states that all of their writers have Master's or Ph.D.'s. If this is the case, then high schoolers will have amazing writers for their product orders.
Pricing and Discounts
FreshEssays.com prices fall within the middle-range for writing services. An 8-page paper at the undergraduate level came to $135.00 for a "standard" writer, but, if we wished to use a top writer, the price would have jumped to $213.30.
Prices begin at $10 per page for a high school essay with a 20-day deadline and move up from that point. A Ph.D. order, with the same 20-day deadline, is priced at $19/page. As deadlines become shorter, and as additional services are added, though, prices begin to rise sharply.
There was no Fresh Essays promo code for new customers to use for a discounted price, and we found no mention of FreshEesays.com coupon codes for any special pricing offers. There are Fresh Essays discounts for customers with expensive orders, however. If an order exceeds $500, there is a 5% discount; if an order exceeds $1000, the discount increases to 10%. This is especially helpful for a grad student who orders a thesis and/or dissertation products.
FreshEssays does have a "bonus" program. Customers are provided a bonus amount with their order that can then be applied to any future order they may place. This is a nice feature; however, many customers stated they would prefer a standard discount program.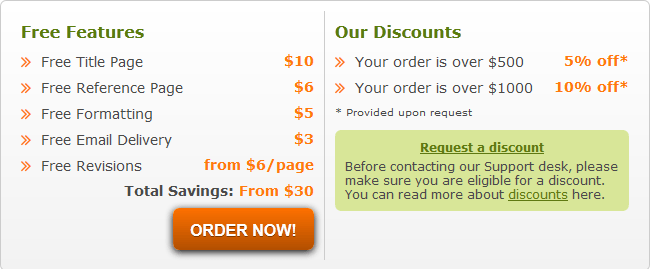 Additional Features
While title pages and bibliographies are free, the company has a stiff fee for a plagiarism check – something most other companies provide for free. The plagiarism check fee can be added as an individual a la carte item or as a part of the larger VIP package.
Conclusion
Our overall impression of Fresh Essays is that it is a legal, safe, and reliable writing service. In terms of FreshEssays.com pros & cons, we would state the company delivers on its promises, and customers are generally satisfied. On the other hand, we can see that high school students with very urgent deadline needs may pay more here than at the other best essay writing sites. As well, it also seems that when college and grad students need top quality, they will have to order the VIP package to ensure that quality. This obviously increases the cost a lot. Customers must take this into account as they consider their options.