Our verdict: Not Recommended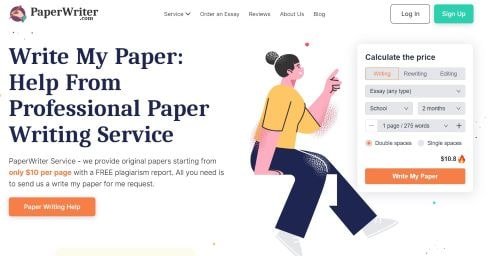 Short overview
Minimal deadline:
6 hours
Guarantees:
Privacy, Refunds, Free Revisions, No Plagiarism, 24/7 Support
Payment Methods:
Available Services:
Academic Writing, Editing, Proofreading, Rewriting, Dissertation Services
Extra perks and features:
Free Plagiarism Report, Blog Articles
Summary
This is the first time I'm visiting these providers and writing PaperWriter review because the company has appeared recently. It hides the true date of its creation, but very few reviews exist, and the oldest date back just to 2020. It means that the agency has been working for several years only and it's far from becoming the most popular academic company in the market. I love exploring old and experienced agencies, but I also enjoy discovering new ones. I hoped that PaperWriter would join my top list at the end of my assessment, and for that, I had to see what services it offers and how qualified its writers are. It seems to have affordable prices and nice policies, and clients could get in touch with managers via email, website or phone number. But what matters most is quality, and if you're interested in seeing how reliable these guys are, you'll benefit from reading this review.
Pros
Good-looking website
Great range of services
Affordable essay prices
Cons
Low writing quality
No free samples
Lack of experience
Weak online presence
Top 3 services
VIP Support
From $14.99 per page
PhD Writers on staff: 80%
From $12.99 per page
Hello There: How This Site Greets Its Visitors
I started my PaperWriter.com review by visiting the company's website. Do they deserve the best essay writing service reviews? Its design was a pleasant surprise: a relevant logo with a hand holding a pen, an image of a quirky-looking student who sees the order form and smiles in relief, and a harmonic color combination. The content is mainly fluent. Whoever wrote it doesn't seem to be a native speaker: their flawed punctuation gives them away, but I saw no serious grammar problems.
The text is pretty generic, it lacks a unique touch that some companies have, but the sections are important and useful for every visitor. Students could see how much they'll need to pay, and what services they'll be able to order; they can read reviews, read About Us section, or check different academic articles in the blog. Sometimes the content gets somewhat overwhelming, especially as the chat message keeps popping out, but all in all, everything is functional. I found nothing huge to complain about and enough factors to praise.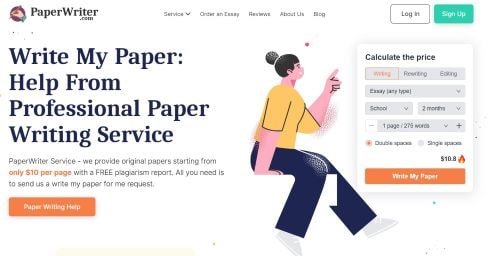 Sea of Academic Services: What Could Students Choose?
PaperWriter reviews discuss various services: students seem to be ordering all possible academic options from this company. I did my own search and I was happy to see that it's true. You can ask these writers to write you an essay from scratch, edit or proofread it, or rewrite a less successful work. Dissertations, analyses, research, reviews, applications, every service is available. I had zero criticisms in this section.
Unfortunately, this brings me to another point in my review of PaperWriter.com, and it concerns samples. Most respectable companies have free essays on their websites: they want to show proof that they care about students' education. Whenever I'm working on the next dissertation writing services review for my readers, I pay attention to this aspect since it has utmost relevance. It is a sign of prestige, and unfortunately, PaperWriter doesn't have it. It's not surprising since the company is young and it might not have time for developing a base with samples, but at least several examples would be good.
What Are the Guarantees Here?
Is PaperWriter good at respecting its clients' privacy and satisfaction? Mostly yes. Students could ask for free revisions or for their money back in case something goes wrong with their order. Complex situations, like a failed deadline, are discussed on an individual basis, and the company makes it clear that it favors the interests of its customers. Refunds could be partial or full depending on your problem.
Privacy policies are a little worse, but they are still functional. PaperWriter offers protection for personal information students share when placing their orders. It warns against sharing sensitive info with writers directly and it lists what info they collect. From bad news, they might share this stuff with marketing teams and you might not be comfortable with some data points they are interested in. It's not okay for a company like this to be curious about your college, permanent residence address, taxpayer identification number, etc. Think carefully before sharing any of it.
Speaking with Operators: Notable Moments
Whenever I'm composing an essay and especially dissertation editing services reviews for students in need, I never miss a chance to speak with operators. They represent the company and are usually the first people clients talk with. PaperWriter.com has an interesting and somewhat complex system of communication. When you click on a chat box, you need to type your question. Then you'll see a list with possible topics of interest: you have to pick one of them if they meet your needs or choose to speak with operators instead. Sometimes operators might interfere by themselves; sometimes not. This is a strange mechanism, but people themselves are pleasant. They do their best to help and address questions. I noticed that some of them don't know English well, but the overall impression was positive.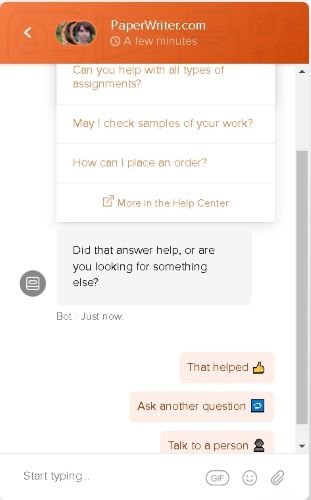 Nuances of Essay Quality
Those PaperWriter.com reviews I found have mixed impressions. Several students are happy with quality, others are not. I was pleased with this company so far, and I placed an order for 5 pages. The writer had to analyze a movie and submit their analysis in 2 weeks. My order cost $54, but I was told to pay $43.20 because of 20% discount. I selected my own writer based on their profile, where they stated how experienced they were and how many orders they completed successfully. My optimism took a blow when two weeks passed and no essay arrived. I contacted my writer immediately but they didn't reply. I turned to operators and they apologized for the delay, assuring me that the paper will be ready shortly. 'Shortly' happened five hours later, which is entirely unacceptable.
Quality is the most relevant section of my detailed PaperWriter review, but unfortunately, I can only describe negative aspects. My essay had over 200 language issues and huge content problems. The writer picked the movie I requested, but they clearly didn't understand what analysis is. Instead of exploring symbolism and metaphors, they focused on basic summary. This is not okay and it went against my instructions. Formatting was flawed and grammar issues hurt my eyes: I can bet everything I have that my writer wasn't a native English speaker as claimed.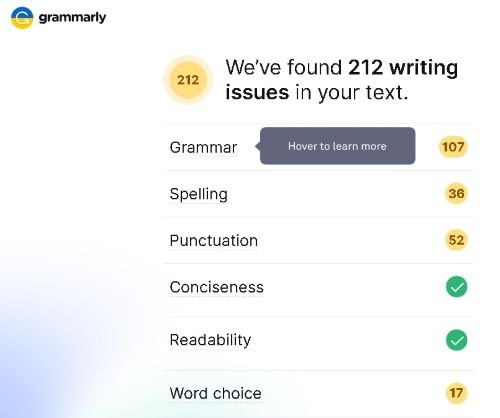 Steps Involved in Order Placement
Placing orders should be a simple task that doesn't take longer than a couple of minutes. No PaperWriter reviews discuss this matter, but I wanted to make an exception and explore it. I had mixed thoughts on it.
Filling in an order form with basic details. Students pick their deadline, type of essay, and essay size.
Creating an account. Share your email, password, and confirm that you read policies & agree with them. I didn't like this stage because it is distracting. It appears right in the middle of the order placement process and breaks it up.
Keep placing an order. Add the remaining details and upload files with the text of your instructions.
Start speaking with writers. This is another aspect PaperWriter reviews don't talk about, but I consider it vital. This company has a bidding system, meaning that multiple writers are going to contact you and compete for a right to write your essay. It's not bad, but writers might get overeager and spam you with messages. They might also ask for higher prices than the ones you saw in the order form, which is a drawback.
Pick a writer & fill up your account. Select an expert you like and add money to your account. You'll release this payment only after you are satisfied with results.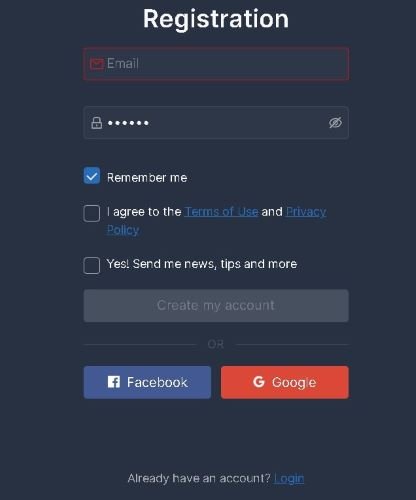 Learn the Range of Prices with PaperWriter Review
While the company uses bidding, the info about minimal prices is posted online. They are low, almost suspiciously so. The bigger problem is that they don't always correspond to reality since writers request what they want.
| | |
| --- | --- |
| Services | Minimal price per page |
| Simple essay | $10.80 |
| Proofreading | $3 |
| Rewriting | $7.99 |
| Editing | $5 |
| Dissertation | $12 |
Students could request discounts. They reach up to 20%, which is impressive. But most discounts apply just to first-time customers.
Story About Writers
I wanted to expand the number of PaperWriter.com reviews with the most detailed one, so I'm going to talk about revisions. The company provides them within 14 days after submission, but they are not always effective. My writer thought long and hard before agreeing to improve their work, and they still failed. Paragraphs began to look readable, but this was the only improvement.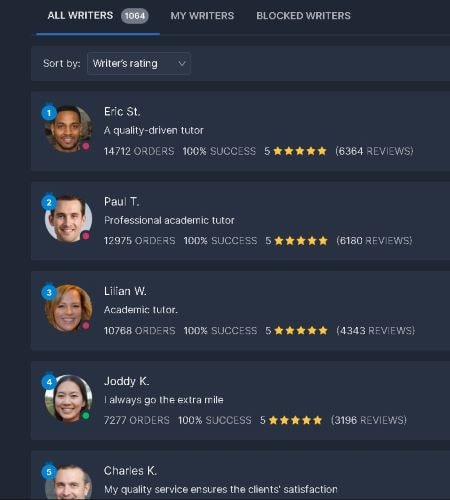 More Options for Company Clients
PaperWriter has only two interesting free features. These are blog articles and plagiarism report. Samples are missing; such vital thing as conclusion essay generator is absent, too. The company states that it offers free outline, title page, & unlimited revisions, but all other firms have the same services. This is a misleading marketing technique, not an actual benefit.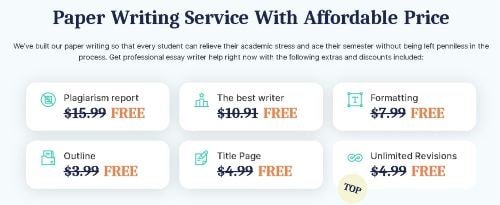 Truth Behind PaperWriter Reviews
As the company is new, it doesn't have a developed online presence. The reviews I saw were mixed, and those that are positive often ring fake. Check these examples out.
SiteJabber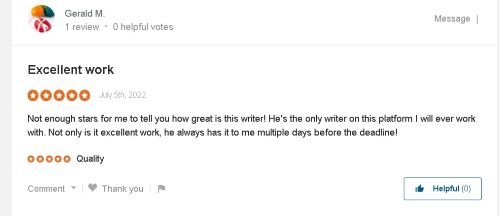 The biggest issue with this review is a curious mention of papers submitted way before deadlines. This is simply not true. Once the client decided on their due date, that's it: their writer might complete an essay faster, but they will still receive it only by their deadline and not a minute sooner unless they are willing to pay more. This comment is likely fake.
TrustPilot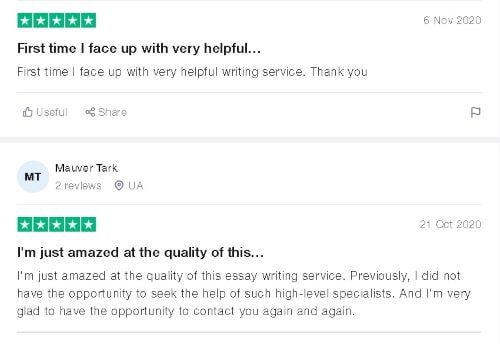 Only two reviews, both positive, but again, they appear fake. Just a few sentences, no reply from management, and overenthusiastic tone. "Again and again" from the second commenter sounds like they're an addict, which is weird for any academic reviews.
Reddit

Reviews of PaperWriter on Reddit are mixed, closer to negative. Multiple people complain about poor quality, something I have experienced personally.
Social Media
The company claims it has TikTok account, but the link leads nowhere. The page says the account is deleted. The other account is on Instagram, with over 2K subscribers, but while it's active, it has almost no student engagement. More development is needed.
Show Me Your Top Services
Faq
Is PaperWriter legit?
It is a young company with barely established online presence, but it provides real services for a wide range of clients.
Is PaperWriter safe?
Mostly yes. It has solid protection policies, though some of them need improvements because your data might be shared with advertisers.
Is PaperWriter reliable?
That's a big no. The company is not perfect and it might let you down because its writers aren't always qualified.
Is PaperWriter a scam?
No, this service is legit in the sense that it provides real writing services. Their quality is another matter: it is not always ideal.