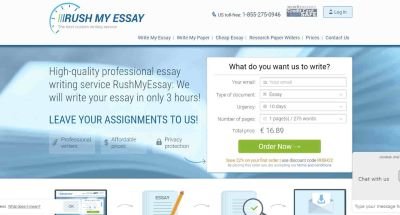 RushMyEssay Review
RushMyEssay.com is one of the oldest online writing companies, having been established in 1997. It focuses only on academic writing. It is the purpose of this review to provide a summary of our investigation of the site, its services, quality of writing, and pricing. In order to produce this summary, we studied the information on the website, the RushMyEssay testimonials found on the site, the reviews and comments about the service found on other review and social media sites, and the results of a research paper we received. The results of all of these pieces of information have allowed us to provide an objective evaluation of the company.
Products and Services
Rush My Essay focuses solely on academic writing needs and offers a large array of products from high school essays to Ph.D. dissertation chapters, as well as personal statement essays and editing services. Customers order their products be completing a detailed order form that provides all of the details of the desired product, including page length, academic level, number of resources and so forth.
There is a customer service department that is open 24/7 and we placed a phone call to ask questions about the service. The phone was answered and we were transferred to a live person who basically explained that we would have to go to the order form and provide all of the details there. The representative could not answer questions about progressive delivery or progressive payments if a dissertation were to be ordered.
Trustworthiness
In order to make a determination of this aspect of the service we relied on Rush My Essay customer reviews found on other review websites and on Facebook. There were two issues that were presented by customers on many reviews – missed deadlines and failure to follow instructions. Customers indicated that as deadlines came due, they were contacted and asked for an extension. As well, several customers indicated that they were "shorted" the number of pages they had originally ordered. The research paper we ordered did come a day late but it was the requested number of pages. Given these experiences of customers, TopWritersReview.com would say that, while the company does not always fulfill all of its obligations, RushMyEssay is not a scam.
Writing Quality and Writer Expertise
Our RushMyEssay review results from customer feedback, samples of written work on the site, and the assessment of quality of the research paper we ordered.
The site states that all writers have at least a Master's degree and that they are all native English-speaking graduates. There is no way to confirm this, of course.
Customer reviews did complain about the quality writing, particularly at the college level. Many stated that the works they received were more on a high school level in relation style and vocabulary.
The samples we reviewed on the site reflected correct grammar; however, we were unable to find any samples that showed actual research with resources cited. Several of the topics should have involved research and did not.
Overall, in terms of quality we are giving a RushMyEssay rating of "Fair."
Pricing and Discounts
RushMyEssay.com prices range from $19.99 to $52.99 per page dependent upon the product, academic level and deadline. There are RushMyEssay discounts published on the site. A 5% discount is given for any work in excess of 15 pages, and progressively high discounts as the number of pages for a single order increases. There is a new customer discount, and a Rush My Essay promo code is published for this purpose. Evidently, our special pricing is given throughout the year and there are RushMyEssay coupon codes for these as well.
Additional Features
Rush My Essay offers several free pages but charges a significant fee for a product to be proofread or checked for plagiarism by an editor after it is completed. Most other services provide this for free. If we had taken advantage of these services, our 8-page paper would have cost well over $200. Further, we were unable to find a RushMyEssay BBB membership which is cause for some concern.
Conclusion
Relative to RushMyEssay.com pros & cons, we recommend students who need the best websites to write essays to look somewhere else. We have to state RushMyEssay company is legitimate but that the quality and trustworthiness is questionable in some instances.