Our verdict: Not Recommended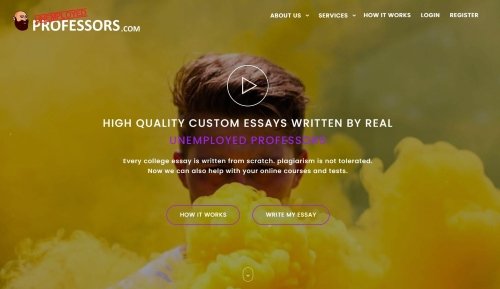 Short overview
Minimal deadline:
3 hours
Guarantees:
Revision Policy, 100% Confidentiality, Money-Back Guarantee, Expert Writers Only, Plagiarism-Free Papers, Free Revisions, 24/7 Customer Support
Payment Methods:
Available Services:
Essays, Research Papers, Dissertations, Theses, Editing, Resumes, Cover Letters, Copywriting, White Papers, Business Papers
Extra perks and features:
Referral Program, VIP Services, Crypto Payment
Summary
Our UnemployedProfessors review led to conclude that this company must be a non-starter. The service looks legit, but its money-back guarantee is an outright lie. Paradoxically, the company refutes its own refund policy by stating all essays are non-refundable in its Terms and Conditions. The website is poorly designed. The company does not disclose any evidence-based information about its writers and past performance. The quality of UnemployedProfessors writer and customer services is below par. The good news is you can pay in cryptocurrency. The caveat is that you will most likely pay for a pig in a poke. We wonder who'd want to make use of their referral program or recommend them to friends.
Cons
Awful website
No samples
No refunds
Low quality
No customer support
Top 3 services
VIP Support
From $14.99 per page
PhD Writers on staff: 80%
From $12.99 per page
Service Overview
UnemployedProfessors have been in business for over 10 years, and we wonder why they've never considered changing the name. We do take issue with it because it imparts negative vibes the moment you visit their website. As a customer, I have to wonder - why 'unemployed'? Does the company hire a bunch of losers? Are they retired and struggling to get themselves up to speed on modern college requirements? Are they professors at all? The red stamp on the banner only makes it worse. It makes you think of something stopped, censored, or turned down - something negative. The mascot with a beard looks more like a retired wrestler rather than a professor. The website design does not follow best practices in the industry. According to Unemployed Professors reviews, most competitors place the key pieces of information (e.g., minimum prices, key perks, or price calculators) right upfront. The video is fine, but you need a trigger to prompt you to watch it.
Once you start scrolling down, it gets better. Unemployed Professors website includes descriptions of services and the business model. A list of top 16 professors doesn't go beyond touting a group of people you can know nothing about. It always looks suspicious when a company tries to conceal the names and credentials of its writers.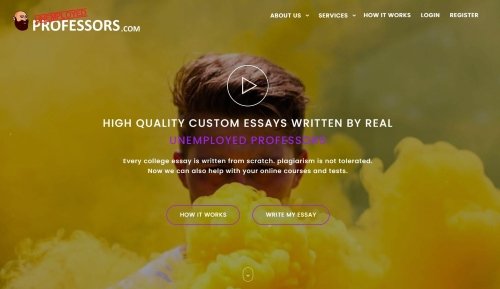 Types of Services Offered
The services cover academic and business writing, including college essays, research reports, dissertations or theses, resumes, editing, and business papers. The website does not provide any samples. This is a worrying sign because most advanced writing companies post lots of samples of their previous work. Instead, company chose posting long and boring articles on what research papers, resumes, or white papers mean. Why would you explain what a research paper means to someone who needs assistance with writing one? Even if there is some legitimate reason, unemployedprofessors.com does it in a way that immediately shoos you away. When you look at this long-winded page, the first thing you want to do is look for another company. The company does not offer a free conclusion generator or a paraphrasing tool.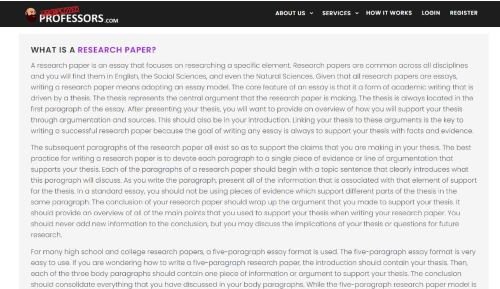 Guarantees
UnemployedProfessors offers revisions, but its refund policy is a hoax. The Terms and Conditions clearly state that "essays purchased from Unemployed Professors are not subject to refund under any circumstance." Don't be fooled by the company's money-back guarantee. Simply put, you won't get your money back after that. Reviews record multiple cases of customers trying to request refunds in vain. That said, you might be able to get your paper rewritten or adjusted. Just make sure you provide a fact-based request with clear examples of errors.
Customer Support
Is UnemployedProfessors good when it comes to customer services? Absolutely not. Customer service is literally non-existent. When you click the Contact Us button, the website takes you to the FAQ page. All you can do is enter your question in "Still Need To Get In Touch" section. There is no indication of when UnemployedProfessors will get back to you. We tried the system several times, and we were still waiting for responses 2 weeks after. This is just unacceptable. We tried browsing the website more carefully several times. We wanted to see if the contact information was buried somewhere else. We had no luck. When studying UnemployedProfessors reviews we realized the company doesn't seem to want to be contacted at all. To be considered among the best essay writing services, a website should include different types of communication means, such as email, telephone, and live chat.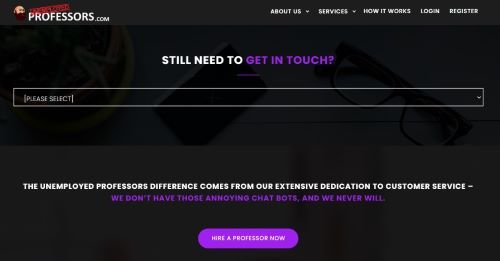 UnemployedProfessors Review: Experience and Paper Quality
Our experience with paper quality was not much different from how authors of other unemployedprofessors.com reviews feel about company. We order a 7-page essay (undergraduate level) on economic challenges in the post-COVID world. We asked for a 10-day timeframe. System did not show a total price for our order. We were promoted to login or register to proceed with order. UnemployedProfessors use a bidding system, tendering the order among its writers. We started receiving numerous bids from writers whom we knew nothing about. We had no basis for choosing one over the other. Eventually, we decided to try our luck and chose a writer bidding $88. This was roughly a median price. We tried to communicate with writer through UnemployedProfessors website, but communication was slow and ineffective.
To give credit, the writer respected deadline. We got our paper on time. The quality of essay is another story. What we saw would barely pass a high school test. Writer did not seem to understand basic economic concepts. Our paper was awash with grammatical errors and factual inaccuracies. The writer used APA style instead of the requested Chicago style. All we had to do was request a revision, but we never heard back.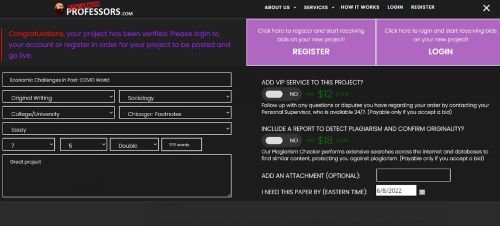 Ordering Process
It is fairly easy to place an order with UnemployedProfessors. You don't see a price because your order is put out for writer bids. All bids are visible. However, customers can't rely on factual data to make an informed selection. Once you choose writer, you'll be asked to make a deposit payment. Website allows you to keep in touch with writer to provide additional materials and instructions. All steps are clearly explained on homepage. You'll need to register before you can engage in process. The final price depends on your parameters and the bid you pick. Reviews of UnemployedProfessors have not found any major deficiencies.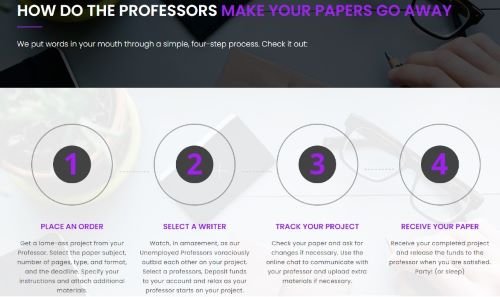 Pricing and Discounts
Pricing policy is based on company's bidding system. UnemployedProfessors.com review shows that when customers place their order, website invites its writers to make bids. You see bids to select writer that fits your requirements. Range of additional services is limited. There is no explanation of what VIP services entail. Am I getting my paper more quickly? Do I get extra professional coursework help? Do I get additional perks or discounts on future orders? None of this is clear.
| | |
| --- | --- |
| Services | Minimal Price per Page |
| Plagiarism report | $18 |
| VIP service | $12 |
| Gold-level writer | $10 |
| Platinum-level writer | $20 |
| Diamond-level writer | $35 |
The plagiarism report is expensive. Most rivals provide it for free or at a lower price.
Writer's Proficiency as per UnemployedProfessors Reviews
Reviews of UnemployedProfessors confirm our conclusion that they are not hiring native speakers. Despite its description of authors as professors, most papers are a far cry from what is considered high-quality papers in academic world. Website does not provide writer profiles and names, so customers are making a leap of faith when they pick a writer with the most acceptable bid. While range of subjects covered is impressive, we have every reason to believe writing quality is subpar across board. We assume company employs ESL writers with low qualifications.
This company uses a referral system to live up to its promise of being the best dissertation service. Existing writers can recommend new, prospective writers to company for hiring. We're not convinced of effectiveness of system.
Revisions
Is UnemployedProfessors reliable when it comes to revising poorly written essays? Revision policy is poorly administered. Customers can request revisions if they feel writer has not followed instructions. They are required to present proof of gaps. But there is no effective system of communicating with writer of company. Writers may choose to ignore your request, and so does management. It doesn't help to send recurring messages through website. Most likely, they will fall on deaf ears. Customer support is dysfunctional. UnemployedProfessors makes it clear that customers have no recourse to refunds under any circumstances. Not only is this weird, but it's also unfair. Basically, you must be lucky to get your piece done well. Chances are slim.
Loyalty Program, Offers, and Extra Services
It doesn't offer discounts or special offers. VIP service is available at an extra cost ($12), but there is no explanation of what's included. Customers can pick more qualified writers, but their skills cannot be verified. A plagiarism report will cost you $18. Company might be sending out promo codes to loyal customers, but we didn't see them in UnemployedProfessors reviews. This is a missed opportunity. It does not help company compete with rival companies.
Online Reputation
TrustPilot
We carried out a detailed UnemployedProfessors review of customer comments on review service websites. TrustPilot ranks company quite high. 77% of 82 reviews rate it as excellent. We looked at reviews, and they really lack substance. Most authors just say they liked services without giving examples. This makes us think most reviews are fake.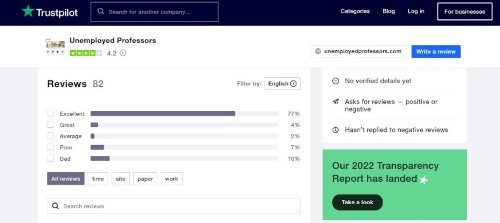 Reddit
UnemployedProfessors were active on Reddit a couple of years ago. They were aggressively promoting their brand and services. But we found comments from lots of unhappy customers who have no plans of using their services again.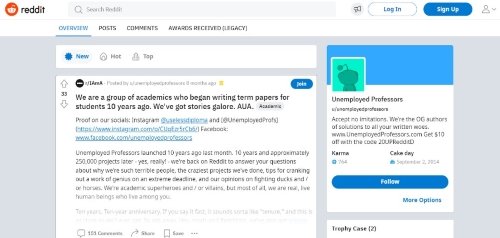 ScamFighter
ScamFighter does not recommend this website. Review of UnemployedProfessors shows they employ unprofessional writers, provide low-quality work, and have no refund policy.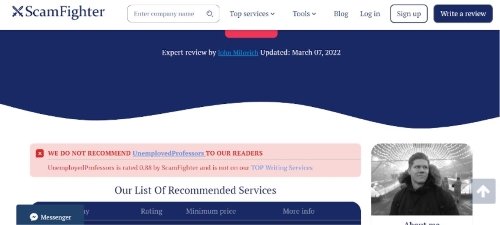 Social Media
Company is not prominent on social media platforms. It's not very active on Facebook. The last post is dated April 2021. The same is true of Twitter where company was active as far back as November 2018. It still has 2,224 followers there. 276 people subscribed to UnemployedProfessors on YouTube. The latest video has 14,866 views.
Show Me Your Top Services
Faq
Is UnemployedProfessors legit?
Yes, the service seems to be legit, but the company fails to provide trustworthy services.
Is UnemployedProfessors safe?
The company uses safe payment systems. Customers can also pay in cryptocurrencies.
Is UnemployedProfessors reliable?
No. Unemployed Professors is a poorly setup business. It fails its customers and damages its reputation.
Is UnemployedProfessors a scam?
Depends on how you look at it. They don't steal money, but they don't give you what you've paid for.Depends on how you look at it. They don't steal money, but they don't give you what you've paid for.