Our verdict: Not Recommended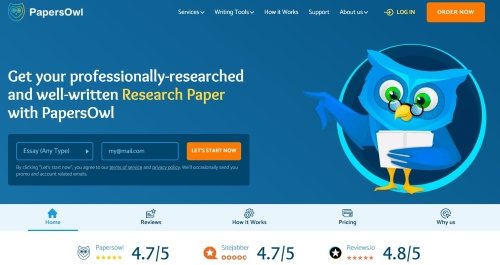 Short overview
Minimal deadline:
3 hours
Guarantees:
Revision Policy, Refund Policy, 24/7 Customer Support, Privacy Policy, Plagiarism-Free Policy, On-Time Delivery
Payment Methods:
Available Services:
Essay, Research Paper, Dissertation, Coursework, Term Paper, Research Proposal, Case Study, Article Review, Thesis, Admission Essay, Presentation, Speech
Extra perks and features:
Apple Pay, Plagiarism Checker, Conclusion Generator, Paraphrasing Tool, Citation Generator, Thesis Generator, Essay Title Generator
Summary
We decided to carry out a PapersOwl review because of its dubious reputation noted in testimonials and customer reviews. The key finding, which will raise many eyebrows, is that PapersOwl and EduBirdie have the same owner - Plan B Services LLC. EduBirdie does not rank high in the reviews of trusted online sources. Nor does PapersOwl. The company has a bidding system, and it claims to hire only professional experts. But our experience shows that PapersOwl's writers do not have the qualifications necessary to meet customer demands. Overall, the company punts the ball when it comes to living up to high performance and academic standards. We recommend avoiding this service.
Pros
Free revisions
Live chat
Easy ordering process
Cons
Bad reputation
Low quality
No discounts
Cumbersome website
Confusing terms
Unclear pricing policy
Top 3 services
VIP Support
From $14.99 per page
PhD Writers on staff: 80%
From $12.99 per page
Service Overview
Is PapersOwl legit? This is a legal company. PapersOwl has been in business for 6 years, but we identified serious issues with its reliability. PapersOwl is not registered with the BBB, although it claims to be based in Wilmington, DE. The company is a clone of EduBirdie - another writing service with the same features. The website says nothing about that. The owner did a poor job of developing distinctive services for the two entities.
The website states that refund requests must be sent to Bulgaria! This may well be a Bulgarian company.
Information on the website is not well-organized. You must dig deep to find what you're looking for. An owl mascot pops up, but this is as good as it gets. Writer credentials cannot be verified. The homepage does not include a calculator to quickly estimate the cost of your order.
It is possible to chat with writers you like to find out more. PapersOwl reviews show that many testimonials and writer ratings are fake. When customers have issues, it's extremely difficult to get help. Responses are late and unprofessional. Once you make the payment, forget about getting a refund, no matter how poor the quality of your paper is.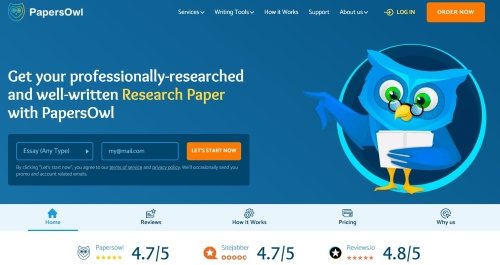 Types of Services Offered
PapersOwl offers multiple services. They include essays, research papers, case studies, theses, dissertations, and editing. Additional services, such as admission essays and lab reports, are included in a separate category labeled as "other services." Editing covers essays and research papers. Company also offers free tools, including a plagiarism checker, conclusion generator, paraphrasing tool, and others.
The website includes essay samples listed in alphabetical order. We reviewed some, and they contain simple grammatical and logical errors.
Title: Gender: Stereotypes and Prejudice
Length: 3 pages
Analysis: Take this sentence, for instance: "A stereotype is a common biased of a certain group…" The following sentence is flawed too: "From the birth of gender equality movements, gender stereotypes have been an issue affecting everyone." The reader can wrongly infer that the movements gave rise to gender equality. These and other drawbacks, corroborated by Papers Owl reviews, make me think that their writers are good at content spinning rather than content creation.
Quality: Low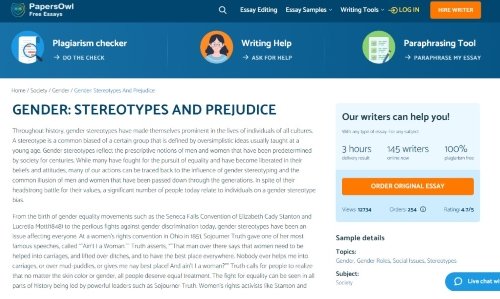 Guarantees
The money-back guarantee is a hoax. Writing services explain revision and refund policies upfront on their websites. With this company, you need to read the confusing Terms and Conditions only to learn that you should send your refund request to Bulgaria by mail! It must take ages before anything gets clarified or settled. Customers have 3 business days to request refunds. We don't trust the terms. Based on our detailed PapersOwl review, we don't recommend that you trust them either. If you decide to place an order with PapersOwl, just forget about revisions and refunds.
Customer Support
You can reach customer support by phone or by email. You can also fill out an online query form. Live chat is available for quick queries. We contacted the service by email only to get a reply 3 days later. The online chat is better. Agents get back to you quickly, but they often need to consult their colleagues to provide clarification. Reviews of PapersOwl have shown that customers often get contradictory responses to the question about the company's refund policies. One agent offered to send the refund request by email. The other one promised to put the customer in touch with a manager, but that never happened. No way this company can be considered the best essay writing service in 2022. It just doesn't walk the talk.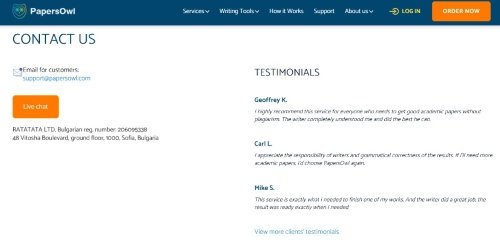 Experience and Paper Quality Based on Papers Owl Review
Is PapersOwl good? Our experience with them is as good as its reputation, meaning bad. The only good thing about it was that we received our paper on time. The rest of it was a slew of blunders, errors, misunderstandings, and resistance. We signed up and chose a 500-word admission essay. All necessary details were added. The weird thing about it was that it recommends Gold writers (top 50) as the best choice. How come Gold beats Platinum (top 20)? It does not make sense. We picked a Gold writer for the cost of $45 and put money in his account. This was a shot in the dark because there was no way for us to verify credentials of writers offered. Chatting doesn't help much either. All have fake names, so you don't find them on LinkedIn or other platforms.
The paper was turned around on time, but it was a total disaster. I wonder which college would even consider admitting a student with such horrendous writing and analytical thinking skills. We believe content was copied from some other essay. Revisions would make no sense; paper had to be written scratch. We sent a letter to company's Bulgarian address requesting a refund, but we don't expect a reply.
Ordering Process
Ordering process is straightforward. According to PapersOwl reviews, it is similar to what you are accustomed to seeing with other online services. This section is clearly laid out on website. Choose all details related to your assignment. Make sure you get parameters right. Login is easier through your Facebook account.
You'll see a list of recommended writers. Here's where confusion descends on you. No basis for making informed decisions. Writer profiles don't look authentic. You need to top up your account balance before making payment. This feels uncomfortable because you might be paying for a pig in a poke!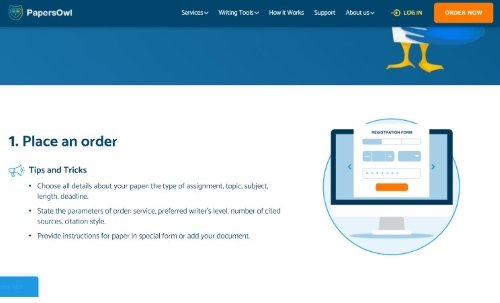 Pricing and Discounts
Because PapersOwl uses a bidding system to connect writers with customers, prices vary significantly. Despite our careful ransacking of website, no prices are indicated for additional services. This is extremely inconvenient. It drives customers away from business. PapersOwl.com review also suggests there might be hidden costs.
| | |
| --- | --- |
| Services | Minimal Prices per Page |
| Gold writer | +10% |
| Platinum writer | +20% |
PapersOwl.com has a referral program. For every referral, you can earn $35, which is added to your account balance. No limit to the number of referrals. We're not sure you'd want to use this benefit given low quality of PapersOwl services.
Their website offers some handy tools, including a free essay conclusion generator, thesis generator, essay title generator, and more. PapersOwl touts its discount system, which encourages customers to post reviews on trustpilot.com or reviews.io. For each review, you are entitled to 10% off your next order, which is not fair. It encourages people to post fake reviews to earn their discounts.
Writer's Proficiency Assessed by Papers Owl Reviews
PapersOwl claims it works with over 500 top-notch experts. Most have university degrees. It also divides its writers into three categories: all levels, Gold, and Platinum. PapersOwl relies on a bidding system to let writers see and bid on orders placed. While this gives customers flexibility in choosing suitable writers, it is not based on credible evidence of qualifications of writers. Our assessment is that PapersOwl hires a bunch of ESL writers from across the world. Their command of English varies, and, if unlucky, you might get a horribly written piece. Some are completely resistant to any revisions. Online Papers Owl reviews confirm our findings and conclusions. Testimonials and ratings on website look nice but far from genuine.
Revisions
PapersOwl's revision policy is convoluted. They don't provide clearly laid out guidance on website. We had to go through minutiae of company conditions document to learn that revisions are allowed at PapersOwl's discretion. Requests must be submitted within 3 days of paper submission. Quality Assurance Department reviews them. Reviews of PapersOwl note that revisions are impossible or meaningless. You can help writers do their best before they submit work. Once you get the paper, you're left to your own devices. Experience of dealing with Quality Assurance Department is Kafkaesque. You don't get an answer no matter how hard you try. This is not what you're planning for when using online services, so think hard before you get involved with PapersOwl. It's not worth the effort.
Loyalty Program, Offers, and Extra Services
Company does not have a loyalty program. It offers a referral program. Customers can earn $35 for every referral registered. They can also get a 10% discount if they place another order within 3 hours after preceding one. 10% is offered for posting papersowl.com reviews. Regular promotion codes for 5-10% discounts on academic papers are sent out by email.
Online reputation
SiteJabber
Is PapersOwl reliable? We also looked at the best dissertation writing services reviews to find out more. PapersOwl has over 3.330 reviews on SiteJabber. Most are positive. Website gets a lot of praise, but the substance is lacking. Not clear why and what company is given credit for. Overall rating of 4.67 looks skewed.

TrustPilot
Reviews on Trustpilot are more balanced. There are only 14, but they give a more realistic account of its services. Some customers are happy with papers, but others consider them entirely useless.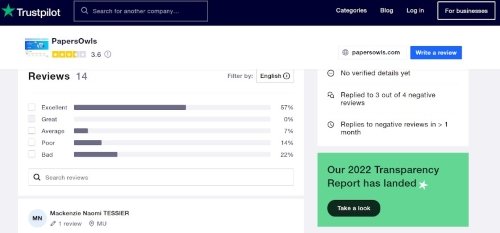 Reddit
There are a couple of reviews on Reddit. Both are negative. Customers complain about late delivery, high costs, lack of customer care, and poor quality. They were not able to get any revisions to papers.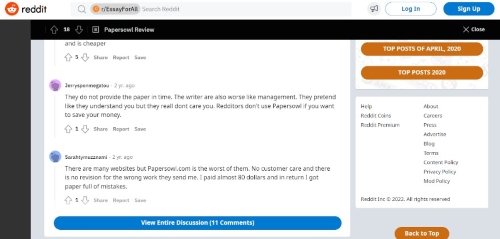 Social media
PapersOwl can be found on Facebook, Twitter, Instagram, and TikTok. It has over 3,600 followers on TikTok, where it is more active than on other platforms. Some videos are fun to watch.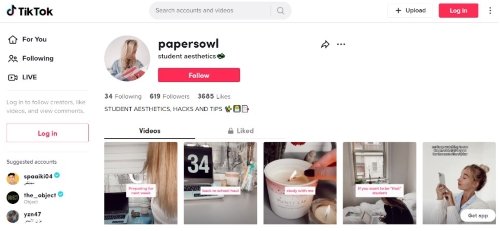 Show Me Your Top Services
Faq
Is PapersOwl legit?
PapersOwl is legit, but it belongs to the same company that also owns EduBirdie. Review of PapersOwl shows it is a Bulgarian entity.
Is PapersOwl safe?
It is safe. We did not identify any instances of fraud or embezzlement. Once you make the payment, you won't get a refund.
Is PapersOwl reliable?
PapersOwl is not reliable. We recommend staying away from its poor-quality services.
Is PapersOwl a scam?
PapersOwl is not a scam, but it won't meet your expectations for top-notch academic papers.