Our verdict: Not Recommended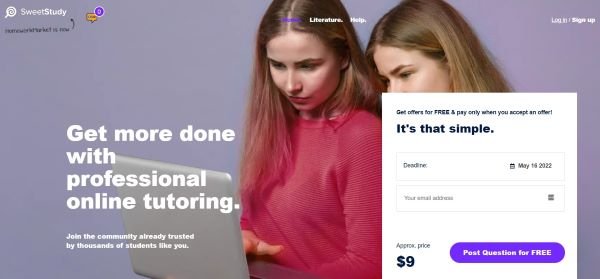 Top 3 services
VIP Support
From $14.99 per page
PhD Writers on staff: 80%
From $12.99 per page
Honest SweetStudy Review 2022
Multiple factors inspired us for this SweetStudy review, and your requests were the largest ones. This is a strange company with a strange background: as soon as we started researching it, we faced surprise after surprise. It's next to impossible to establish how long it's been operating, especially since it changed its name. What you know as SweetStudy used to be HomeworkMarket, and it did a total rebranding because it got numerous negative reviews in addition to intense spam attacks. It still offers homework help, and we were eager to try it out.
Official Criteria for Writing Sweet Study Review
Before searching the web for essay writing websites that can provide quality service, we developed detailed guidelines that we swore to follow. These guidelines keep us on the right track and help us analyze different firms fairly. With SweetStudy, we did the same: we started by looking into its background and dragging every piece of info about its past to the surface. Our team took a close look at client reviews, policies, prices, and the website with all its content. Between placing an order and speaking with the company's representatives, we drew the first conclusions, and they sharpened as we analyzed the essay we got. The final brainstorming happened next, with each of us expressing our opinions and deciding what rating SweetStudy deserves.
Step One: What Are the Writing Services in This Company?
We started this SweetStudy.com review by analyzing its services. This proved to be tricky because the company doesn't have any explanations on its website. You have to explore and navigate it to understand what you could order — and even then, it's not a guarantee. Here are the options available to clients:
Asking questions. Students could ask academic questions and get quick answers online. The company promises that the first question is going to be free, but in reality, this isn't true. You have to type the title and question itself, upload relevant files, create an account and wait for offers with answers. You'll have to pick one and pay for it. Questions can be diverse, which is a good thing, and SweetStudy has enough writers to handle any type of request.
Hiring a writer. SweetStudy reviews discuss different papers. You could share your essay prompt and pick the best candidate to handle it. Many of them are going to place a bid on your order — read their requests, study their profiles and make certain you can trust the person you're hiring.
Paying for ready answers. This platform has a database with older answers that might meet your requirements. Some colleges ask the same questions, and you could find replies to them on SweetStudy. But they aren't free — you'd have to pay up to $100 to use any of them for yourself.
Booking a tutor. If you need lengthier and deeper cooperation with an expert, you could hire a tutor. Each of them charges different prices and specializes in their unique area.
We liked that SweetStudy targets different directions. Few companies cover writing, tutoring, and databases with answers at once. The only problem is that everything is structured oddly. The website is confusing, and chances are, you won't find what you need easily. This company could benefit from clearer organization.
Step Two: Insights from Sweet Study Reviews
Whenever we're writing college essay editing service reviews for our readers, we check what previous customers said. The case of SweetStudy is confusing. Under its old domain, it got a lot of criticism, but at the moment, most reviews are positive. They commend the firm's quality, prices, and timely deliveries. When we looked closer, our suspicions grew. These comments sound unnaturally happy — they are just gushing praise. Look at this example: "Ms. Tutor: produces A+ work and A+ Quality and Reliable Papers/Work/Answers. Miss Tutor is Proficient; Professional; Punctual; Knowledgeable; Superior Work; Experienced. The Best; none other compares to her. Outstanding; all the time-perfect!" Do you believe that this review is real? We don't. It looks like a personal advertisement. This makes us doubt SweetStudy's reputation and its authentic approach.
Step Three: Secrets of Writing Quality
Quality became the most interesting part of our review of SweetStudy. This company has "literature" section. You could open any book you see there & access its summary and key information. This is helpful for students who want a quick update on a story they've been assigned at college. But this is it. We found no free examples of essays, which is vital for any academic writing firm. Literature summary is good, but Wikipedia offers the same information, so its value is questionable.
What we wanted to learn most was if there is some truth to SweetStudy.com reviews. Are these people capable of writing a good paper or are they scammers? When we placed our request, we received about ten bids. It means that writers are active enough to help customers in need. The problem was, that most of these bids looked dubious. Writers managed to make mistakes even in their greeting messages, which didn't inspire trust in us. We chose one after some deliberation. They sent us a paper by our deadline, but it looked terrible. It wasn't written by a native speaker for sure, with how many errors and wrong constructions were in it. We tried to ask for revision but our request was rejected —no one was willing to correct anything for free. This was a hugely disappointing experience.
Step Four: Communication with Managers
Reviews of SweetStudy don't mention anything about customer support. We share this confusion. Before ordering personal statement services from writers, we speak with operators or managers, but here, we had no such option. Getting someone online was a challenge — we spoke most with writers. The whole communication system is a mess.
Step Five: The Matter of Pricing
SweetStudy charges different prices for its help. It starts with $9 and progresses up to $100 depending on what task you need. Overall, our team considers it affordable for most students. It's unfortunate that it accompanies bad quality.
Step Six: More Points for Consideration
A great thing that affected our opinion during review was the collection of crucial academic materials. SweetStudy.com stores education files with theories and guides from various universities. You could read & download any of them and use them in your studies. A blog is present as well. We are skeptical about its writers since the articles have language issues, but the content of some of them is useful.
Cutting to the Chase
What should you think about SweetStudy? That's entirely up to you. We only share information and provide suggestions — you decide the rest.
Benefits
Different services on offer. Students could order essays, answers to their questions, or tutoring.
Low prices. Smallest price for these services is $9. This is very cheap.
Academic materials present. Academic summaries and educational materials are available for free and don't require registration.
Drawbacks
Unprofessional writers. Our paper had low quality and there was no revision. Based on older reviews of SweetStudy, many clients faced the same issue.
No tools. You won't find a summarizer, title generator, or the best plagiarism checker and proofreader here.
Non-existent management. Don't think about having discussions with managers — they don't appear to exist.
Confusing situation with reviews. Reviews about the old domain of SweetStudy are mostly negative. The newer ones sound so saccharine that we doubt their authenticity.
Final Words: Rating SweetStudy
Some aspects of SweetStudy's work impressed us. This service has a large collection of summaries and useful college materials. It charges low prices and covers multi-layered services, from tutoring to standard writing. But its writers lack professionalism; managers never reply and fake reviews are present. We can only give SweetStudy 4.5 points out of 10. Keep browsing our website for info on more effective firms. We've covered hundreds of them and we guarantee you'll find the best helper with their help!