DissertationCapital.com
http://www.dissertationcapital.com
Pricing

4.4

Support

4.0

Quality

3.3

Delivery

4.0

Usability

3.8
Extra Features:
Payment Methods:

Credit Card

MoneyBookers

Support:

Live chat

24/7/365

Additional Features:

Money back guarantee
DissertationCapital Review
DissertationCapital.com is an academic writing service which focuses on graduate level research and writing. We are providing this review based upon our investigation of the company, its website, what others have to say about their experiences with this service, and our own experience of communication with the company and placing an order. This DissertationCapital review is the result of all of these factors.
Dissertation Capital Services
The company website advertises research and writing products for students who need theses and dissertations. They do offer their services to undergraduate and graduate students both, because there are some undergraduate programs that do require a thesis paper prior to graduation. In addition to full research and writing, they also provide editing and proofreading services, as well as formatting. Students may order individual sections or chapters or full works.
Quality of Products/Writers
The Company states that all of its writers have Ph.D. degrees and that many are professors and research professionals. They state that they use only "certified" thesis and dissertation writers. We wonder what the word "certified" means, for there are no certifications for writers. Perhaps they are certifying the qualifications of their own writers prior to employing them.
To assess quality of products, we have relied on Dissertation Capital testimonials found on the site, which were, as expected, quite positive. We did find some other customer reviews elsewhere on the Internet. These stated that the products ordered were delivered on time, but there were certainly some issues regarding quality.
One feature of this service is what it calls a "Free Draft." Students who want a dissertation or thesis may complete a form providing the details of their need and receive a "draft" of their work within 24 hours in their inbox. Many DissertationCapital customer reviews stated that they did certainly receive their free drafts, but they were really very scant outlines, and, where writing did appear, the language usage and grammar was not good. Our experience was quite similar.
We ordered a free draft of a doctoral dissertation related to an educational topic, involving differentiated programming for students at risk of failing. We gave quite a few details regarding an original research study that had to be designed and data which had to be reported in the results chapter. We received a draft a little over 24 hours later which was little more ta an outline and some poorly written prose.
Overall, we would say certainly that DissertationCapital is not a scam. However, many of the claims we find to be quite exaggerated, such as the ability to produce a full dissertation in 24 hours. It is also important to say that, at this point there are no DissertationCapital BBB complaints.
Prices and Ways of Payment
DissertationCapital.com prices are a bit pricey in comparison with other sites, but they also state that they can complete full theses and dissertations. There is a pricing calculator on the site to input information and get a quote. Our quote for a full dissertation of 120 pages was $3954.00. All major credit cards and PayPal are accepted and payment methods appear to be secure.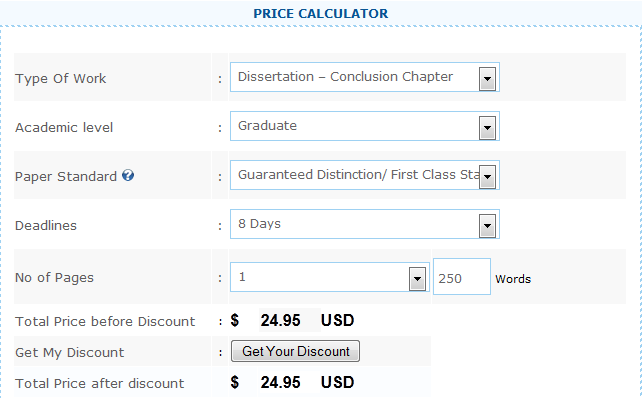 Discounts
DissertationCapital discounts are published on a separate page of the site. All new customer receive a 10% discount, and there is a Dissertation Capital promo code to be entered in the order form. On the discounts page, there are progressive discounts for returning customer based upon the number of pages in the order. These discounts range from 10% to 21% for 251+ pages. There are DissertationCapital.com coupon codes for each of these discounts.
Extra Treats
Perhaps because of the nature of the products offered, there are no free pages or other benefits. Nor did we see an offer for a plagiarism check, something that would be important.
Final Note
Regarding DissertationCapital.com pros & cons, we can say that they do deliver something when it is ordered; however, there are certainly some concerns for quality. We therefore give a Dissertation Capital rating of "Fair-to-Poor."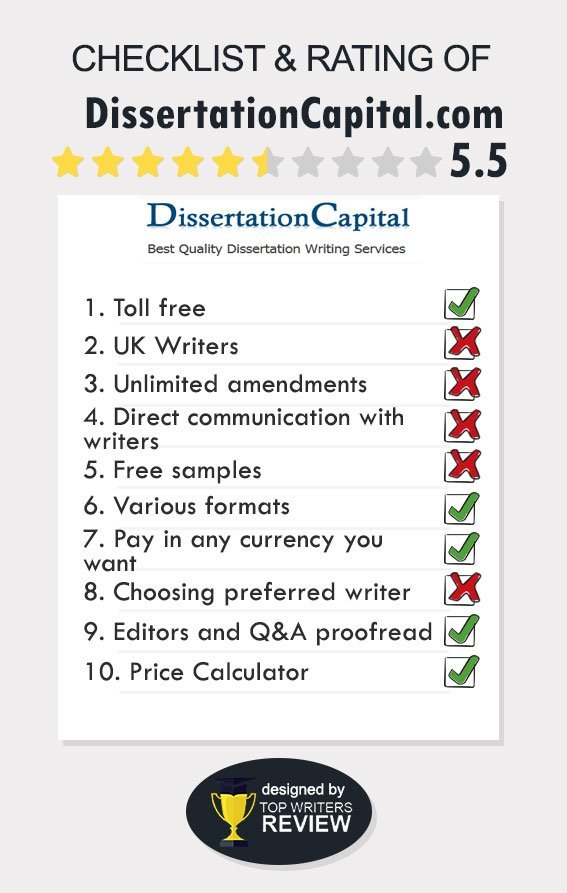 Customer Reviews of "DissertationCapital.com"
Pricing

Support

Quality

Delivery

Usability
Melvin
commented
DissertationCapital.com
Definitely, not the best service I`ve ever worked with. They don`t pay enough attention to the quality of writing and it seems that there`s no editing or formatting after finishing the piece. I had to spend a few hours correcting mistakes and paraphrasing sentences so that they didn`t sound alien to English. They deliver quite fast though, and the support team are friendly.
Pricing

Support

Quality

Delivery

Usability
Joe
commented
DissertationCapital.com
They seem to have been around for some time. That`s why I don`t really understand what is wrong with their writers. They make so many mistakes in a simple movie review. It looked like a draft! I was shocked (the deadline was in two days) and asked for a revision. They refused to do it for free and demanded to pay the whole sum once again. I am looking for another service to finish their work.
Pricing

Support

Quality

Delivery

Usability
Dorrothy
commented
DissertationCapital.com
The thesis I asked for wasn`t that bad. It wasn`t that good either. My fears weren`t fully implemented. However, I have more bad doubts, than good believes in their writing help.
Not scammers but the quality is terrible.

Nice website and friendly support. ...

Could have been better. Their quality sucks.
View ALL comments